There's no denying that Ukraine has so much to offer any tourist, wanderer or business trip taker. With numerous bustling cities and plenty of quaint getaways – visiting Ukraine is truly a cultural experience that can't be missed.
It is, however, often difficult to know just when to travel to this rich and welcoming country; there's simply too much variety throughout its seasons and months.
But just like anywhere, there are special days to commemorate the passing of time in the yearly cycle or to celebrate certain aspects of a country and its people.
So, why not pick one of these festive days to plan your visit to Ukraine around?
Here's just a small guide to 5 of the best days to travel to Ukraine on to get you started.
Kiev city day
This festive day is exactly what it says on the tin: A day of celebration for and in the capital city of Ukraine, Kiev.
Generally taking place on the final weekend of May of every year.
So, travel to Ukraine then if you wish to experience a bustling city filled with color and joy.
The entire city comes together to put on performances, enjoy firework displays, take part in charity sporting events, and soak up culture at the many exhibitions.
Why try your hand in one of the competitions, or join in on the signing and dancing. With the old and young alike taking part in spring on the rejuvenation of a historical city.
With both of these aspects mixed together, don't be surprised to see a flurry of beautiful traditional dresses, shirts and embroidered clothes or folk festivities that continue on into the wee hours of the morning.
Europe day in Vinnitsia
Taking a break from the metropolitan vibe of Kiev, you'll find a beautiful, vibrant and compact city with a comforting air of country a village weaved naturally into the energetic and bustling aura of a megapolis.
There's simply so much to do and so much to see in this traditional city!
So, if you're undertaking the difficult task of deciding when exactly to soak in the culture of Vinnitsa – Europe day is your best bet.
Another celebration in May, you'll find that Europe day falls every year on the third Saturday of May. 
With the main streets of the city being transformed into open-air galleries and festivities such as musical concerts, art performances, dancing, silent mimes, and activities for the children – it would be a crime to miss it!
So, why not make a proper trip of it and travel over to Kiev city for Kiev day after enjoying the festivities in Vinnitsa.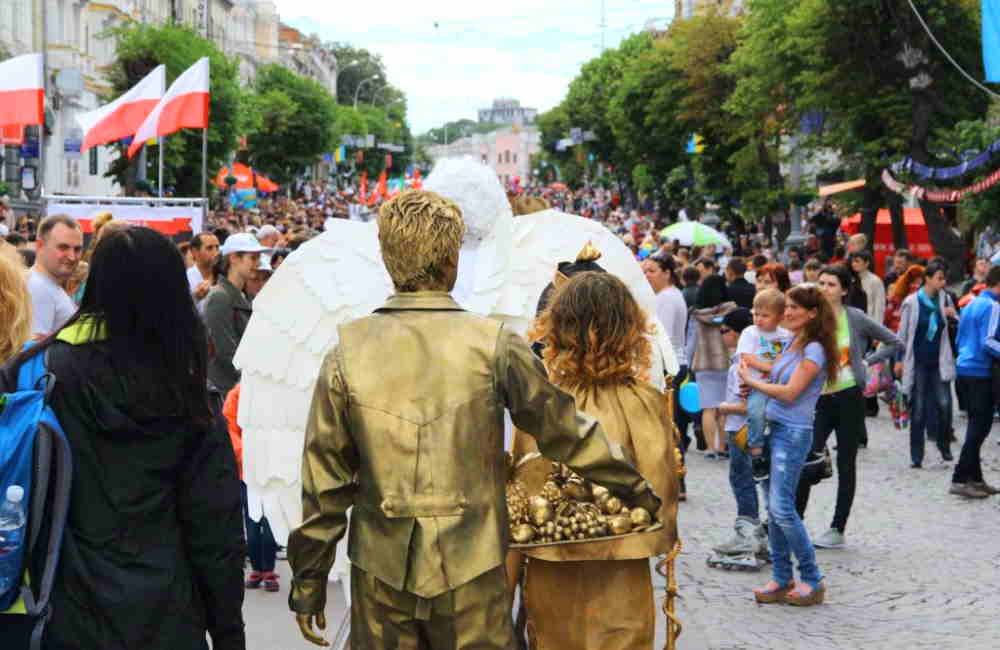 April fools' day in Odessa
Why not play around a crack some jokes by attending the devilishly fun April fool's day in Odessa.
It's no surprise to anyone that this fun-filled day takes place on the 1st of April every year and there's a reason why the universally celebrated day is so famous in Odessa.
Famed for their unique sense of humor, April fools' day becomes a mix of colors, balloons, wacky wigs, clowns, carnival costumes and above all else: smiles and laughter.
Take a peek at the clown parade, a classic tradition that is central to the carnival.
You'll be treated to a veritable fusion of mimes, musicians, dancers, and a whole variety of brightly colored clowns.
New Year & Christmas eve in Lviv
Lviv is a delightful and attractive city with its romantic yet cozy undertones. It's not surprising then that the wonderful Christmas season is particularly wonderful here.
Home to the most restaurant/cafés/bars per capita in Europe, you'll have a great selection of warm and cozy places to choose from when diving in out of the cold.
Picture yourself with a coffee cupped between your swiftly warming-up hands as you look out from a unique and toasty café onto the plethora of festivities. Pure bliss! And a common occurrence in Lviv.
The restaurant/cafe culture is so famed within the city that some particularly high-quality or standout places have become a tourist attraction in their own right.
Fascinating places such as the mysterious house of legends that is known as Kryivka, Dyzga which is an art gallery and café, the Gosova Lampa pub-museum, and the thematic café, Masoch.
Consider adding some of these marvelous places to your must-see list when in Lviv.
And we can't forget about the huge Christmas fair that is held in the heart of the Lviv city center, with the main events taking place around the market square.
It's there that you can warm up on a crisp winter night with some delicious mulled wine while enjoying some delectable homemade sausages, donuts, and much more!
Don't forget to pick up some of the handcrafted souvenirs from the local crafters and look into the plethora of festivities happening every day in Lviv during the Christmas time.
Maslenitsa in Kiev
The Pirogovo museum is by far one of the most popular places to visit in Kiev. Somewhat unique, it is an open-door museum that works to recreate the living conditions and day to day life of medieval Ukraine.
Every year, a Malenitsa carnival is held within the museum. Malenitsa, otherwise known as butter week, is an ancient Slavic holiday.
In our modern times, Malenitsa is celebrated on the eighth week before Eastern Orthodox Easter.
You could even say that the Malenitsa carnival is a farewell to the winter season!
The tasty pancakes, prepared with traditional recipes, on sale during the festivities are just another reason to take part!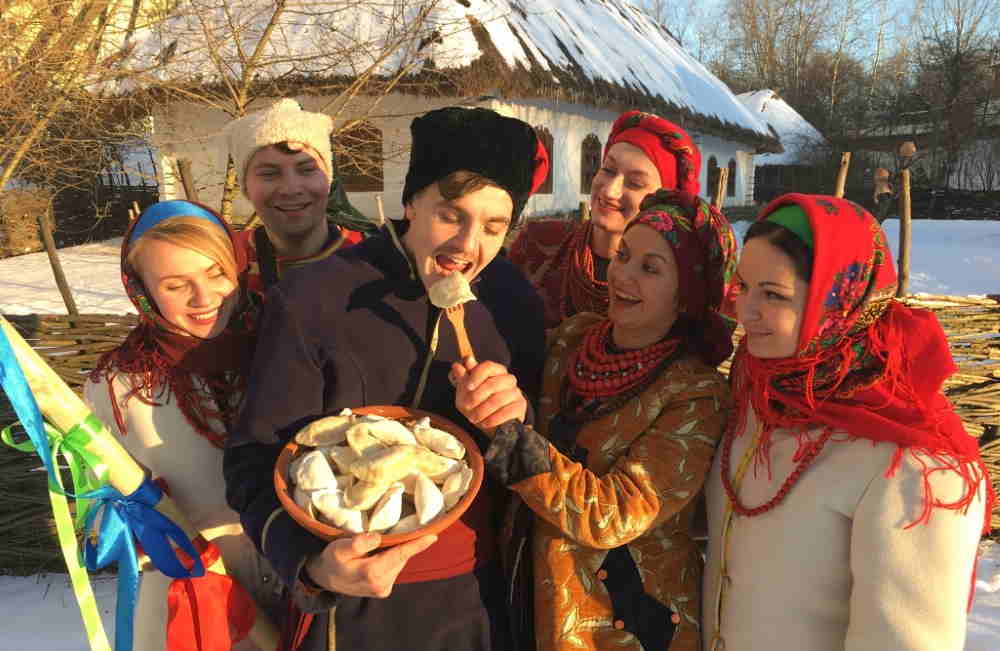 So, no need to get overwhelmed by the many choices to be made when planning a trip to Ukraine. Pick one of these fantastic and fun days for not only an enjoyable experience but for a glimpse into the beautiful, rich culture of Ukraine.
Just get in touch with me and let's plan your visit to Ukraine together!
See you in Kiev 🙂