The true Ukrainian experience, its friendly people and fascinating culture
With all that's been happening in the news with the conflict in Crimean, and US President Donald Trump, and the fact that Ukraine is still a fairly recent democracy, it's reasonable to assume that there might be some myths and misconceptions lurking about Ukraine and Ukrainian people.
Ukrainians are friendly and peaceful
Ukrainians are very friendly hospitable people, but a little bit shy at first!
It might be easy to assume that Ukrainian people are somehow warlike and hostile because of Russia's recent military actions in Crimea.
Because of the historical connection between these two countries, it is easy to assume that Ukrainians are ultra-nationalist when, in reality, recent elections indicate that most Ukrainians voters are social-democrats who lean politically left of center.
Are Ukrainians politically corrupt with a bankrupt education system?
Myths such as these have roots in Ukraine's Soviet past, but the reality is that Ukraine holds free and fair elections and boasts a strong education system.
Recent statistics indicate that the country ranks fourth highest in the number of higher education degrees per capita.
Higher education in Ukraine is meeting the demands of an increasingly tech-centered workforce by providing professional education and training.
Ukrainian culture is more closely related to Western European culture than one might assume.
With a continental climate — cold winters and hot summers — Ukrainians are extremely passionate about sport and take advantage of the season to play everything from water polo to snow skiing.
Ukrainian people have a rich history and culture that is evident in the architecture, arts, and food.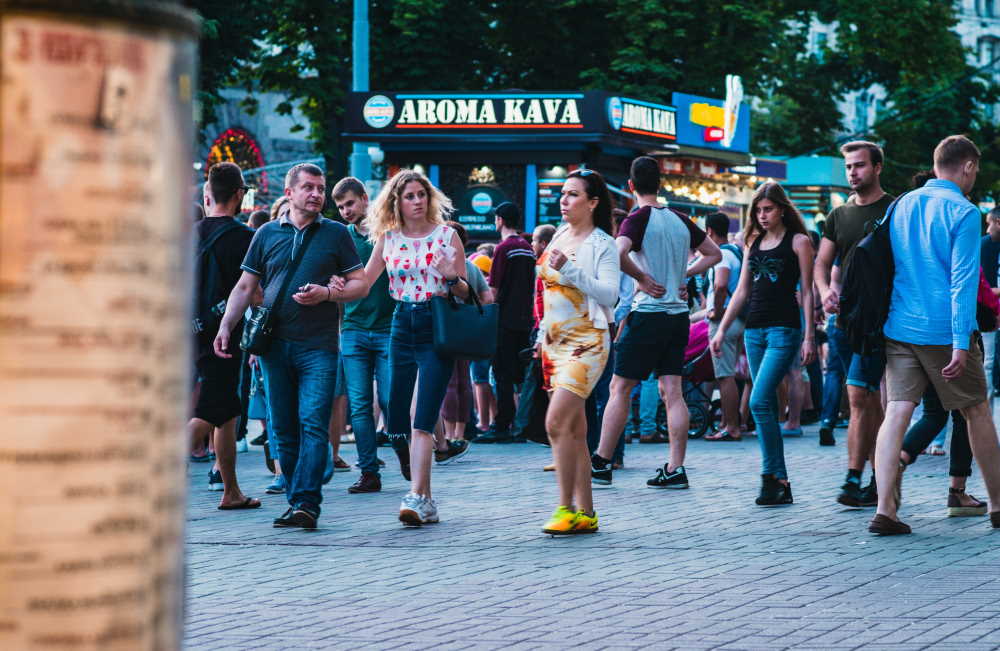 Is Ukraine a friendly country toward tourists?
Ukraine is a very friendly country. We welcome guests with open arms and love to share our culture.
The average Ukrainian citizen lives their life one day at a time working a job, going to school, and raising a family in peace. We love to spend time in nature and indoors watching television/cinema or going to the opera.
Ukrainians love to eat, and mealtime is a chance to talk and laugh and catch up with each other — the more, the merrier. Ukraine plays host to millions of tourists every year.
Tourists from all over the world come into the capital of Kiev, and once they're here, they find the exchange rate to be a welcome reprieve from many of the high-priced cities of Western Europe.
How friendly are people in Kiev?
As the capital of Ukraine, Kiev is the epicenter of art, politics, and culture. Kiev is a beautiful city that displays the rich, multicultural heritage of the Ukrainian people in its architecture.
The people here love the city and are proud to be citizens of the capital city.
Ukraine's connection to its ultra-conservative Soviet past is all-but disintegrated. With many young people, specifically young women, gaining university degrees and access to Western music, culture, media and ideas freely flowing since the early nineties, Kiev has become a mecca for younger citizens.
There plenty of coffee houses, restaurants, and bars, as well as nightclubs in Kiev. There's something for everyone here.
While Kiev has the breathtaking vistas and all the trappings of a major city, it retains some smalltown appeal. The people here are very in-tune with nature and understand the need to preserve the health and biodiversity of their cities.
Billed as "The Green City," Kiev boasts a veritable forest-worth of trees tucked between buildings and along the avenues. These trees offer citizens and tourists alike a shady reprieve from the warm spring showers and hot summer sun.
The greenery and broad walkways invite people to come outside and help to promote the active lifestyle of Kiev's citizens.
The initial draw for many tourists may be the fantastic feast for the eyes provided in the architecture and natural marvels in the city or, perhaps they just can't get over how inexpensive it is, but they stay for the food.
For the most part, you'll find fairly healthy food in Kiev. From paska—a whimsical Easter bread—to borsht—a type of beetroot soup served hot to the enjoyment of meat-eaters and vegetarians alike, the food culture of Kiev is vibrant, warm, and inviting.
The food of Ukraine finds its roots, like many others, in a peasant-tradition, and its true beauty is in its simple homey ingredients that make tourists feel right at home.
Picture, for dinner, Chicken Kiev served with a fresh garden salad as the main course, a breaded and baked chicken recipe that is a staple in Ukrainian restaurants and is guaranteed to make your mouth water.
For an appetizer, varenyky, or pirogi. Much like the pierogi of Poland, varenyky are traditionally filled with a mashed-potato mixture but can come with anything from cottage cheese to strawberries. And, for dessert, a classic Ukrainian dish of walnut-stuffed prunes—this dish so deliciously uncomplicated and, there's something about softened prunes and crunchy walnuts covered in sweet and condensed milk that brings all Ukrainians back to their childhood.
The true Ukrainian experience
If you haven't fallen into a food-coma and you aren't too tired from your sightseeing tour, you might find yourself back in the hotel or hostel, or maybe at a bar enjoying something on the TV.
Ukrainians, much like any other nation, enjoy a healthy amount of television.
We get our news from the TV, we watch sports on TV, and our current president once starred on a television program in which he played a dramatized version of the modern, anti-corruption president that he is in real life.
The national sport of Ukraine is football or, as they say in the US, soccer, but we have a passion for many different sports.
Ukrainians have had a long tradition of Olympic competition and have brought home a total of thirty-five gold medals in sports like gymnastics, boxing, shooting, wrestling, sailing, and rowing, to name a few.
Since the days of Soviet control, Ukraine has produced incredible basketball players, and in 1992 Ukraine formed its own professional basketball association called SuperLeague.
The national team made it into the FIBA World Cup in 2014 and performed admirably, and they've qualified once again in 2019.
We're hoping for a big win! And we hope you'll come and see for yourself.
Just get in touch with me to schedule your own personal guided tour of Kiev.
See you in Kiev! 🙂