Roaming plans are expensive!
And yes, I understand that for some of you turning off your number for couple of days is not an option maybe because of business or for any other personal reasons. Nevertheless, you must agree that the international calls and data roaming charges are a total rip-off.
That is why you should allow yourself to use a local Ukrainian SIM card with a local number during your stay in Kiev. By doing so, you will enjoy high speed mobile internet service at extremely low prices.
There are three major cellphone operators in Ukraine:
Kyivstar, Lifecell and Vodafone; the last is the best known one, especially for Europeans. Vodafone is a solid company, yet like any other carrier, it has its pros and cons.
Personally, I use Lifecell. Coverage and service are decent and prices are the lowest among Ukrainian cellphone carriers.
All of these companies have prepaid and contract plans; always opt for prepaid as they are more flexible, cheaper, and keep your personal information private. You can expect a good unlimited data plans to cost between $5-$6 per month.
In general, any of these three cellphone providers is an OK option. The differences between them are minimal, you will not even notice it as a short-term user. Now, let me give you a better idea about prices, what to expect, and main features of these mobile service providers:
Top cell phone carriers in Ukraine
Kyivstar
I do not think you will get better cellphone coverage in Kiev unless you use Kyivstar. It is not named after the city for nothing!
Kyivstar is Ukraine's biggest cellphone provider and does have impressive coverage with reasonable pricing. Take their internet data plans for example as they have ones as cheap as $3/month. They have both limited and unlimited data plans. You will be better off using the latter as megabytes of data seem to vanish quit quickly with the limited plans.
Customer care is impressive. I tested it on a friends phone, called and spoke in English, and received decent consultation through their customer care line. Here are some of their prepaid phone plans: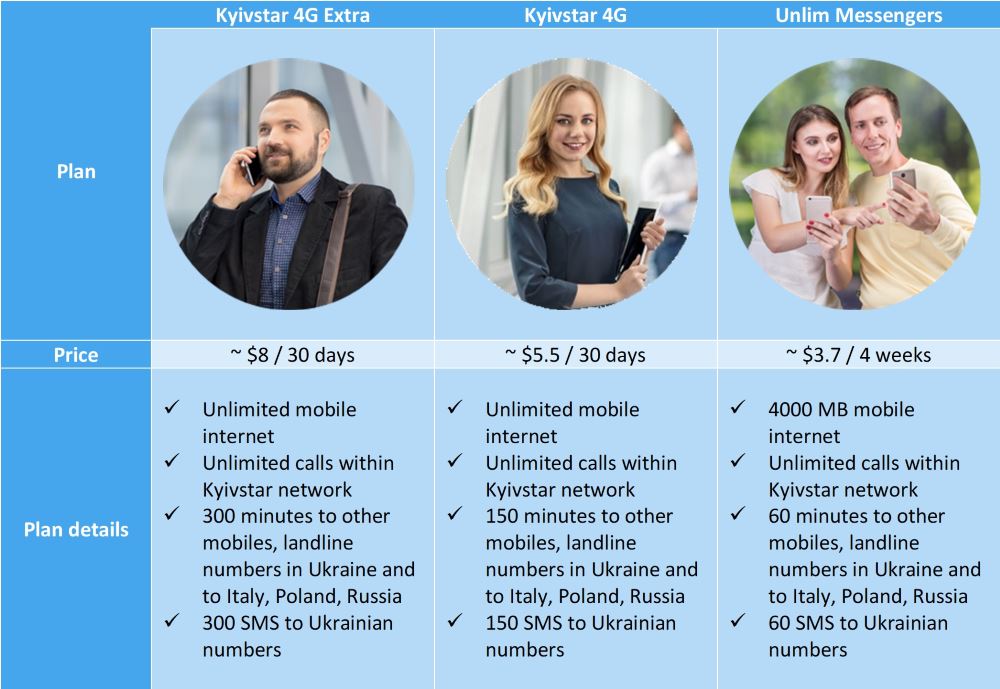 Just in case prices change, check out their website for current numbers.
Vodafone
You might also hear some locals call it MTC or UMC – both are the old names of the company before it was sold and renamed – today it is Vodafone Ukraine. Hard to say if it is subsidiary of the British telecommunication giant, since they only licensed the name, but this is not our concern here. Let us talk about this carrier's main pros:
It has great data plans and probably the best mobile internet coverage in Ukraine.
I have never had a Vodafone number before, yet many of my friends do use it (mainly for business needs). No one ever complained about quality and everyone loves their unlimited data plans for their affordability, speed, and quality.
So, if you need a solid data plan for intensive internet use throughout Ukraine, get a Vodafone number when you travel to Kiev.
Although you are less likely to need it, their automated help system is available in Ukrainian, Russian, and English. The customer care line also has a separate channel for English speakers. As for prices, here are some of their best current plans: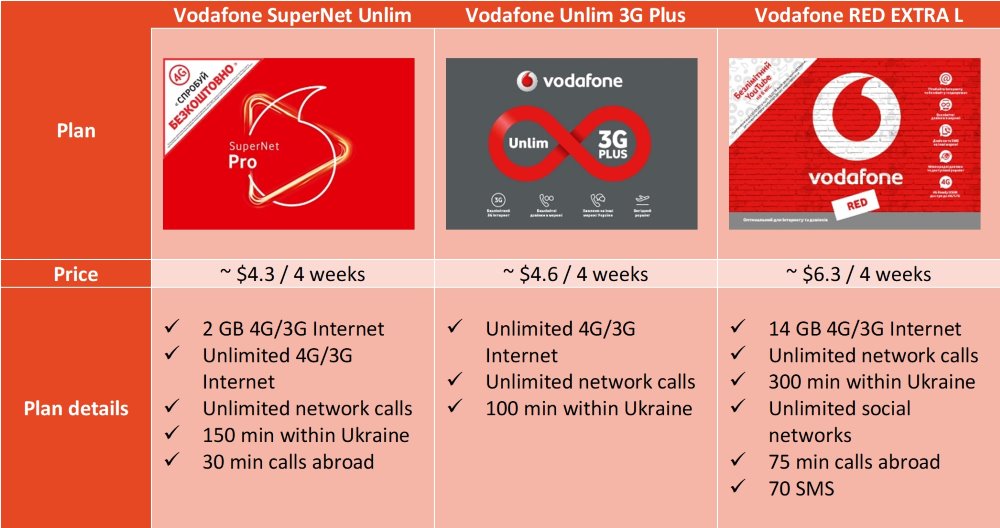 They usually adjust their prices every 3-4 months, you can check them on their website.
Lifecell
The one keeping the balance in the force!
This is the youngest company among the big three mobile service providers. It started as a joint venture between Turkcell and a Ukrainian holding company; today the former owns all of their shares.
Lifecell claims to cover more than 98% of the inhabitant territory in Ukraine. Regardless of these numbers, my experience shows that coverage is poorer than of its rivals Vodafone and Kyivstar.
The help and information menu comes in three languages. I experimented with calling their customer care line speaking English, they put me through to an English-speaking operator and it worked out fine.
I highly recommend using Lifecell during your stay in Kiev. They have a plethora of options and plans. I compared between different plans to pick the best data plan package for the money, and these are the best options:
Lifecell update prices regularly, so consider checking their updated rates.
Where can I buy a SIM card?
You can practically buy a Ukrainian SIM card anywhere in Kiev: in shopping mall, from cellphone retailers, at the counter in major supermarkets, many electronics stores, cellphone carriers service center, and outlets.
The process is easy, you do not need to provide your personal information. Just pick a carrier, choose among the available numbers (if you are picky!), then pay for it and that is it!
Most of the time, you do not need to activate your phone after purchasing SIM card. However, ask in advance if you will need to add any money to the number before activating the phone plan, and ask for assistance from the consultant/vendor to avoid any extra hassle.
Is it worth it to buy a SIM card at the airport?
Yes, and it will save you a lot of time and effort. To find a place selling Ukrainian phone numbers in Boryspil International Airport, just turn to your left after you reach the arrival hall, or look for a cellphone accessories retail booth on the ground floor.
The consultants who work there usually speak English well as they mainly serve international travelers. They will help you install the SIM card, activate it, and make the first test call.
However, you need to be aware of one thing: they usually tend to offer phone plans that allow people to make international calls at lower rates, these plans are good exclusively for that purpose, but I find them impractical and expensive for internal or mobile internet. So make sure to state that you are not interested in them and ask for a good internet data plan.
How to activate my Ukrainian phone number?
My advice is to never leave the store or the place where you bought your Ukrainian SIM card without a fully functional phone plan for a month.
In case you need to active the number after that, no worries, you can do this:
Online
Anytime of the day by visiting the carrier's official websites, then filling in your number, choosing the amount you want in Hryvnia (local currency), put in your credit/debit card information and check your phone within seconds you should receive an SMS confirmation.
But be careful, make sure not to authorize a monthly activation of the number, and decline any automated offer of this kind when it appears.
Refill cards
If you are hesitant about using cards online, then head to any major supermarket, cellphone stores, small booths around the metro stations, or mobile phone accessories at the malls and ask for a refill card (voucher) for your courier for the amount you want. Then you will need to scratch off the area hiding the Voucher's code and follow the instruction on the card itself to successfully activate the phone.
If you can locate any store location for your Ukrainian cellphone carrier, they can activate your number directly and charge you for it.
Automated payment machines
Another option is to use an automated payment machine, that look like this:
Unlike the other options, you will need to pay a commission, chose your carrier, fill in your number (double check!), and the machine will calculate the total you need to pay; after acceptance, you will need to feed the machine the full and exact amount, no change will be refunded. These machines can be picky sometime, so make sure all your cash bills are fresh and crisp!
SMS confirmation should come within minutes, but I have experienced a delay for more than an hour before my money was on the phone.
At the end, if you are staying in Kiev for couple of days or weeks, just buy any SIM card with an unlimited data plan, and decent minutes to other numbers within Ukraine, and you will not need to activate your number until you travel back home.
Even if you had to, you will not need more than $4-$10 in total for your Ukrainian number and data plane during your visit to Kiev, and you are always welcome to call me from your Ukrainian number to organize your private guided tour in Kiev!