Driving in Ukraine is not that scary!
Ukraine is a beautiful and sprawling country with plenty to see and experience. For those who like to see the world by the roads, it's worth noting a few things before you pack up the car and head out on the road.
The most obvious observation to remember is that while Ukraine is a European nation, it not a member of the European Union, so entrance to and from Ukraine is a bit more stringent than in the EU.
Driving in Ukraine with US, UK and other foreign licenses
Yes! If you have a valid driver license in your country of origin, you can obtain an international driver's license there and use that to drive in Ukraine.
As noted before, you need an international driver's license to drive in Ukraine if you're not a native.
To get one of those, you need a valid driver license in your home country (in the case of the US, a National Driver's License).
As long as your paperwork is in order, you should have no problems being able to drive, as long as you can read the language and are eighteen years of age.
A preprogrammed GPS is advised for those not familiar with a Cyrillic alphabet. For those who prefer maps, knowing the alphabet is a good idea.
Driving in Ukraine
Ukraine is a big country, and its roads are long and numerous.
Home to many forests and marshes, anyone who expects to drive cross-country in Ukraine is advised to have an understanding of off-road driving.
The roads will be worn, wet, pockmarked, and in some rural areas not necessarily paved.
Caution is definitely advised, since the speed limit is usually around 130 km/h (~81 mph) on motorways.
Just because you can go that fast may not mean you should, though the locals almost certainly will.
Driving in Kiev
Kiev is a wonderful city to visit, and if you're driving a car in Kiev, there are a few things you should know.
The speed limit in towns and cities is usually 50 km/h (~30 mph), and 90 km/h (~56 mph) outside populated areas.
Also, city roads are well maintained and paved, making for a much smoother and easier driving experience than in the country. As a result, driving in Kiev is very similar to driving in any other city.
Note that Ukraine does not tolerate mixing alcohol and driving, regardless of how little or much you actually drank.
Kiev, like any major city, has its fair share of reckless drivers. It isn't unknown for people to use the sidewalk as an alternate lane when there's a lot of traffic, the person is in a hurry, or they don't want to drive on the road for whatever reason.
Keep an eye on the road and other cars, know where you're going, and obey traffic rules.
Can I travel to Ukraine with my own car?
Yes, but there is some paperwork.
Since you'll be dealing with immigration, customs, and the motor vehicle administration, you'll be filling out a lot of forms to several different government groups.
Also, if you keep the car in Ukraine for longer than two months, you'll have to get local plates.
More details on bringing and driving your own car in Ukraine can be found in a previous article: Traveling to Ukraine In Your Car.
How can I rent a car Ukraine?
For those who don't want to deal with all the hassle of bringing their own car, renting a car for a trip to Ukraine is an excellent alternative.
Car rental services are available at every major Ukrainian airport. Though the paperwork and staff do speak English and the process is straightforward than you might think.
As long as you're at least 21, you should be able to rent a car as long as you have the proper driver's licenses, as mentioned before. However, you can expect to pay a decent deposit if you are younger than 30.
If you are wondering where to rent a car, SIXT is a great site for taking care of your Ukraine car rental needs.
More detailed information on car rental is available on a previous post: Renting a Car in Kiev.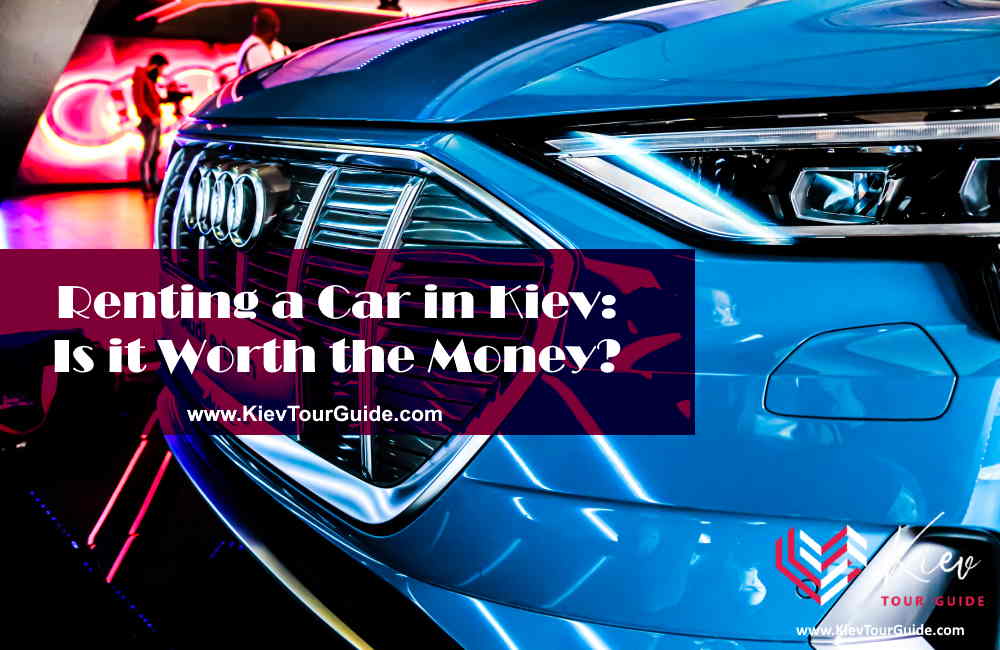 Driving in Ukraine is a wonderful way to experience the beautiful countryside and cities alike. From the forests and marshes, to the vibrant towns and cities, the road is calling to those willing to meet its requirements.
As with any trip, make sure you have your paperwork in order, have a plan for what you want to do vehicle wise, be prepared for rough roads outside of the cities and reckless drivers in the cities, and, above all, make sure you have fun.
Driving a car in Ukraine is a great way to enjoy your vacation, so make sure you plan accordingly and enjoy your stay!
And make sure to book your personal tour of Kiev!
See you in Kiev 🙂