There are two civilian airports in Kyiv that operate international flights. The first and larger one is Boryspil International Airport; the second smaller airport is Kyiv International Airport (Zhuliany).
Depending on your airport of arrival, you will have several transportation options. The ideal one is Uber, or airport official taxi service.
Shuttle bus is also a good option if you are on a budget, but you will be better off using Uber considering that a ride will not cost much and will save your time by taking you directly to your hotel or apartment in 15-40 minutes.
These transportation options can cost you as little as $2 or as much as $30, and unless you reserve a private greeting pickup service, anything you spend more than that will be an overpayment.
Before breaking down the pros and cons of all the transportation options from Kyiv airports and to downtown Kyiv (or any other area), there are a couple of things you should know (and do) when you travel to Kyiv:
Write down your address
Do this before you even leave your house!
Phone batteries tend to die at the most inconvenient times, and you do not want this to happen while checking where your hotel/apartment address is after your arrival to Kyiv!
It is better to have your address written down on a small piece of paper. You can rewrite the English version of it, but this will probably confuse taxi drivers and other people who you might ask for directions, so better print out the full address in Ukrainian or Russian.
Also, make sure to screenshot the location of your address on Google Maps or print it out if you can. Remember that you will not have decent access to the internet once you leave the free Wi-Fi zone at the airport, so consider buying a Ukrainian SIM card before you wander into Wi-Fi-less territory.
Declare how much cash you have
Remember that you need to declare in writing any cash amount the exceeds 1,000 Euros. However, my advice is to avoid any inconvenience and always declare the full amount regardless of whether it is less or more than 1,000 Euros/Dollars.
For that purpose, you will need a declaration form, it should be available at the airport, just request help from the customs officers and airport staff if you have trouble finding one. I must note that customs officers rarely request travelers to present it nowadays, but better safe than sorry. Filling one will not take more than 2-3 minutes of your time.
Do yourself a big favor and bring your own pen, this will save you a lot of time!
Click here for More information about Custom Control in Ukraine
Exchange some money
Unless you have some Hryvnia (local currency of Ukraine) on you, you will need to either exchange some money or withdraw it from ATM.
The latter is the better option as you will feel ripped-off once you compare the exchange rates at the airport to them in downtown Kyiv. On average, you lose 3-4% when you exchange money at the airport.
Exchanging $50 would be enough to cover your transport and give you healthy reserve that you may need until you settle in your hotel or apartment, and maybe even buy you some groceries or a cup of coffee.
Buy a SIM card
This should be your first purchase in Ukraine: buy a SIM card with a healthy data plan. Look for telecommunication company stands and ask for a Lifecell, Kyivstar, or Vodafone prepaid SIM card.
It should not cost you more than $5. The consultants at the stand/booth usually speak good English, so you should not experience any problem communicating with them. Ask for help to install the SIM-card and activate it, and then test it yourself.
Read my Ukrainian SIM cards guide to find out about the best mobile carries, how to buy a Ukrainian SIM card, and what are the cheapest data plans.
Boryspil International Airport
This is Kyiv and Ukraine's busiest airport. If you booked a flight landing in Boryspil, you should find its international code KBP highlighted in the destination part of your ticket.
The airport is relatively big consisting of five terminals, but only one is currently active, Terminal D.
Geographically, the airport is located to the east of Kyiv just next to Boryspil, the small city it was named after. The distance between the airport and downtown Kyiv is around 29 kilometers (~18 miles).
When it comes to transport, there are four good options to get to Kyiv from Boryspil:
Uber
Taking an Uber ride is the ideal option, as many travelers are acquainted with the ride-sharing app and have been using it for years.
Uber is cheap in Kyiv, and most drivers are more likely to speak some English than your average taxi driver in the city.
Some Uber drivers hang around the airport area, but the majority of them are from the city of Boryspil itself which can make finding some addresses in Kyiv a little bit complicated as the drivers themselves are not locals to the downtown area.
I asked many of my non-Ukrainian friends and tourists about their Uber rides from the airport to Kyiv and how helpful were their drivers?
I received positive feedback, and for the few times when an address was hard to find, the drivers helped and never left them until they successfully found and reached their destinations.
As for price, the average ride to downtown Kyiv costs $12-$17.
Taxi
You will hear "taxi" getting repeated endlessly by some taxi driver in casual clothes from the moment you reach the arrival hall and until you leave the airport. My advice is to never use their services. It is not safe. Most of them are just trying to hustle you and are not legally licensed as taxi drivers.
You could trust them to take you to your hotel/apartment and win a 100% rip-off guarantee! They will charge at least double the average price.
If you want to use a taxi, there is an official airport taxi reservation desk in the arrival hall. Just approach them, they will give you an estimated quote and bill you for the ride. However, please remember that traffic jams and change of route may affect the final cost. Variations from the quote can be between 50 cents to one dollar.
All taxis have a meter, and last time I checked, they accept card payment as well as cash, and a representative can even escort you to your taxi.
The cost of an official airport taxi ride from Boryspil Airport to downtown Kyiv is around $18-$25.
Shuttle bus (Sky Bus)
Once you leave the arrival hall and come out of the airport building, go forward toward the street then to the left. You will probably see one of the official airport shuttle buses waiting for passengers, if not just wait for a couple of minutes for the next bus to arrive, there is around a 20-minute interval between each shuttle.
The Boryspil shuttle bus is called Sky Bus and has distinctive pink and silver colors. All are big and comfortable with enough space to accommodate any extra luggage you have. It is a great budget option with the shuttle bus ride costing between $2 and $4 depending on your stop.
You will have two stops options: the first is near Kharkivska metro station, the second stop is at the bus station next to the entrance of Kyiv central railway train station.
Kharkivska metro station stop
If you come out of the bus at Kharkivska metro station, you might find it a little bit chaotic for your taste as the area is used as a market of goods, fruits, and vegetables. Vendors occupy the area surrounding the station's entrance which usually looks like this:
Go down the stairs and follow the tunnel all the way until you reach the station's entrance. The metro station has a unique clicking sound, so just follow the sounds and you will get there without any problems!
Kyiv central railway train station stop
The next stop is at the train station; there are no stops in between. Once you arrive at the train station, you can then order an Uber, or walk to Vokzalna metro station, to navigate to your destination.
Fare payment
Before departure, the driver will collect payment from passengers and hand each one of them a ticket for the ride. Make sure to call the name of your stop before you pay.
Call Khar-kiv-ska if you plan to stop at the metro station on the edge of Kyiv, or call Vok-zal if you want to and are willing to take the ride all the way to the central train station and then find your way from there.
Shuttle train
As of late 2018, the shuttle train service between Boryspil Airport and Kyiv central railway train station is up and running.
You can check the train schedule here: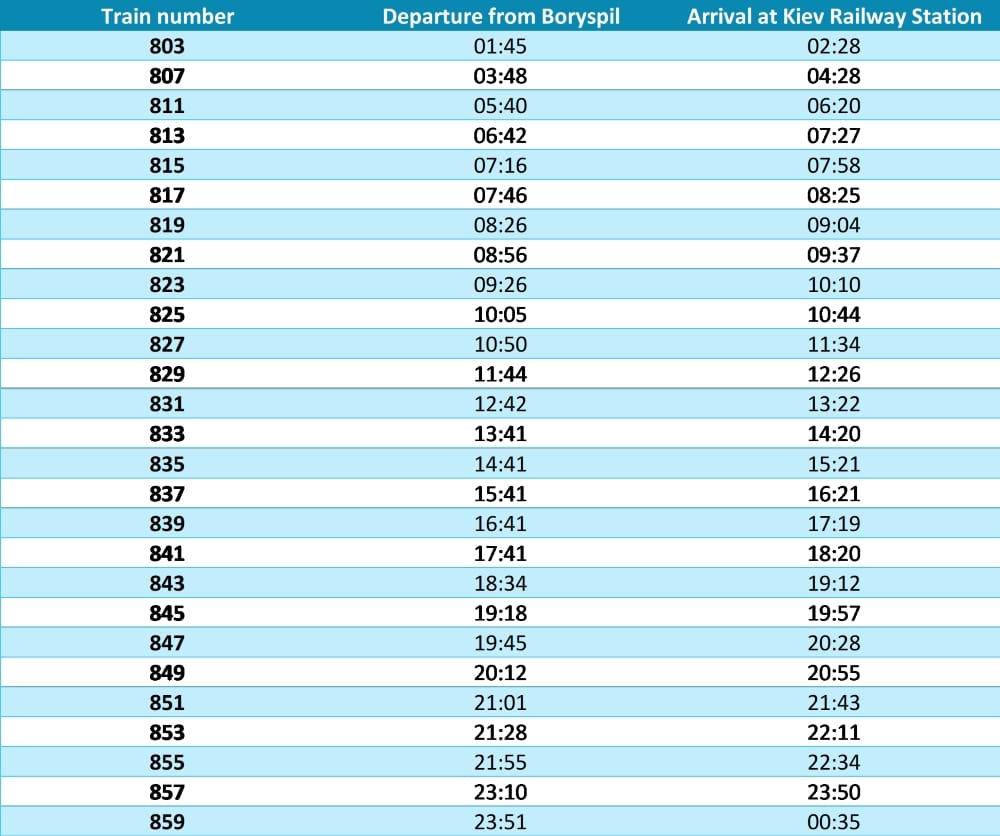 As for the trains themselves, they are pleasant and comfortable for a short ride. You will have only two stops along the way: Darnytsia train station (not your stop!) and Kyiv central railway station (your stop!).
The ride costs $3 and takes 37 minutes. There are signs inside the airport's arrival hall to guide you to the train platform; when you reach, buy your ticket either from the ticket counter or use one of the two automated ticket machines. But be aware, these machines take card payments only.
The most notable advantage for this means of transportation, unlike the shuttle bus, is it can skip all traffic jams.
Kyiv International Airport (Zhuliany)
This is the second airport in Kyiv where your plane will land if you have the international code IEV indicated as your destination airport.
Its official name is Kyiv International Airport, although everyone calls it Zhuliany which is the name of the district where it is located.
This airport is more compact than Boryspil, and it is only 8 kilometers (~5 miles) from downtown Kyiv. It is practically inside the city, and transportation will not take much effort, time, or money.
Your transportation options from Zhuliany to your hotel/apartment are as follows:
Uber
Catching an Uber ride from Zhuliany will be easier and much cheaper than Boryspil. Your car will arrive in about 5-10 minutes, and the ride itself is about 10-15 minutes.
Expect to pay $4.50-$6 for a ride to the Kyiv downtown area.
Taxi
If you prefer a taxi to Uber, then install a local taxi application like Uklon to order a cab.
The ride to downtown will cost you between $4.50 and $8.
Your driver is less likely to be speaking any English. The airport also lists contact numbers of their official taxi service. I tried to call them both, however my calls never went through. So, better use Uklon if you need a taxi.
City bus (Trolleybus) and Minibus
If this is your first time in Kyiv, do not experiment with public transport. Yes, it is safe, but inconvenient with all the luggage especially for someone who just landed.
But if you must, you should go to the airport's bus stop and wait for the city bus (trolleybus) № 9.
Best-case scenario, the ride will take 35 minutes and will cost you 30 cents.
The last stop when you get out is called Palats Sportu, which means the palace of sports.
It should look like this:
And this how you can get from any airport in Kyiv, to the city!
If you prefer to have a friendly face to pick you up, transport you to your hotel, and give you useful orientation and information until you settle, contact me and I will arrange for it. And I will be happy to greet you myself at the arrival hall 🙂