Kiev adventure tours and extreme tourism is gaining more popularity every day as adrenaline lovers always pursue the next great adventure. I am an active outdoors person who has adventure running through her blood. So, it is no surprise that adventure and extreme activities have special place in my heart. Thankfully, I live in a city where there is no lack of adventures!
In this article, I am sharing with you the vibrant world of active tourism in Kiev and the great adventures awaiting you in this amazing city, many of which I have experienced it myself.
Kiev is not only the capital of Ukraine but also the undisputed capital of fun and adventure of Ukraine, and maybe in all of Eastern Europe.
There are countless activities you can enjoy in Kiev from investigating the underground city in Kiev, jet skiing, fly a plane, to skydiving and shooting military grade weapons. There are no limits to the adventures you can experience in Kiev. You can even drive a tank if you want to… a tank!
If you do not mind expanding your horizons beyond city limits, step outside a few miles to a treasure of activities surrounding Kiev that takes advantage of the region's colorful terrain, forests, rivers, lakes, hills, and spectacular nature around Kiev, making for the perfect backdrop for fun adventure.
Buckle up, and let's explore together what amazing adventures Kiev has to offer.
Float over Kiev in a hot air balloon
When it comes to flying, nothing can top a hot air balloons. The ride is both an adventure and a romantic experience. Regardless of whether you are afraid of heights or not, there will be a moment when you will feel at peace, that sensation follows the first adrenaline rush, and replace it with calmness and even happiness as the balloon gently elevates.
If you came during cooler weather, do not be surprised when you feel the need to take off your jacket. Thanks to the burner above, it can get hot inside the basket sometimes!
In case you've never experienced it, I advise you to take the chance and fly over Kiev in a balloon. After all, it is on everyone's bucket list!
I am sure you will appreciate the panoramic view of the forests, rivers, and skyline over the city. This adventure is good for solo travelers as well as for couples, families, and friends. Hot air balloons require clear weather, so make sure to plan your trip to Kiev accordingly if you would like to add it to your to-do-list. Check out my article about Kiev weather and what activities you can enjoy during each season. There is always something to do in Kiev for every day of the year.
Flying in early winter is possible, under specific conditions, but it would be better to plan your trip during spring/summer season, for both safety reasons and to enjoy a better view in warmer weather. Balloons are delicate and they require good weather. Even during clear days, there are no guarantees that you will go up, until you go up!
Don't be disappointed if the ride is postponed, due to weather conditions. Unfortunately, it is something beyond your control. Even so, the ride will deserve the wait. Expect a full refund if you paid in advance.
Ukraine has number of associations and balloons clubs whose members fly as hobbyists. Many are licensed professionals. So, if you are booking this ride online make sure to check and double check the provider, and his/her reputation and safety record to guarantee a pleasant experience.
Kiev Ballooning Society is one that provides many options that includes romantic flights, balloon racing, and even balloon pilot training.
The cost depends on flight duration and number of passengers in the basket. For a 30 minute flight with only two passengers, expect to pay around $80 – $90 per person. The price per person should drop as the total number of passengers increase.
If you need my help with booking a hot air balloon flight, let me know!
FlyBoard
We had snowboards, skateboards, and now it is FlyBoard time!
Flyboards are fun mixture of air and water that the little child inside you will tempt you to experience. Kiev offers you this unique experience in selected places along the Dnieper River.
Just allow your fantasy to lead the way as there are no limits to what you can do with it. Just imagine all the acrobatic tricks you can perform. That will be an amazing video to share with family and friends 😉
It is amazing how you can go up to 5 meters (~16 ft.) on only water pressure. There will be 5-10 minutes of instruction about the device, safety, and how to control it before you are allowed to fly it over the river.
Riding a flyboard for 10 minutes in Kiev will cost $35 on average. Generally, they are unique, addictive, and simply fun!
Ride an ATV (quad bike) across Kiev countryside
Kiev has an amazing countryside that's worth exploring, and what better way to do so than on an ATV (All-Terrain Vehicle)!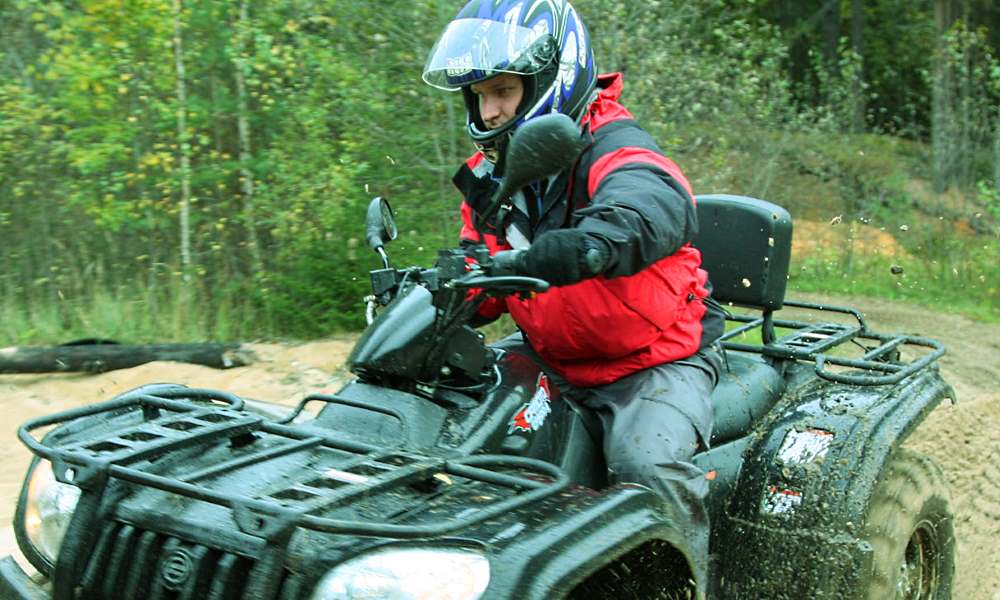 I discovered the joy of ATV riding for the first time in Egypt of all places. Yes, I had to find out that I liked it on another continent! Naturally, I sought continuation of the experience and found out about how the colorful terrain around Kiev, makes for exciting ATV rides that I often get to enjoy.
It feels like one of the best off-road adventures that you can go on as a group in Kiev. No licenses are required for ATVing, just a decent detailed instruction by a qualified professional instructor before he gives you the green light.
You will also be obligated to wear safety equipment to insure your safety during the ride. These protective gears will be given to you.
If you are not an experienced rider, or if you are trying ATV/quad bike for the first time, then you might need to read a little bit about it and watch some videos first.
It will be a good idea to spend the first 20-30 minutes on the beginners training field until you get a good grip on the handles.
Don't get me wrong, ATVs, or quad bikes as some may call them, are great for a fun ride. However, if you are planning on going all in and explore the full potential of your ATV on the roughest of terrains (for example forest terrain), then do not fall for the illusion of safety given by the four wheels on the ATV. It can be more challenging to ride than a dirt bike, which is a plus for many experienced riders!
Renting an ATV in Kiev is very affordable. Renting one for an entire hour can be as low as $15. Make sure to ask about guided ATV tours; they will take you to interesting hidden parts of Kiev's countryside.
Shoot military grade weapons
Maybe it is a primal thing, but there is something about firearms, that make shooting a gun a satisfying experience for many people. Of course as a sport in a safe environment, and not at people!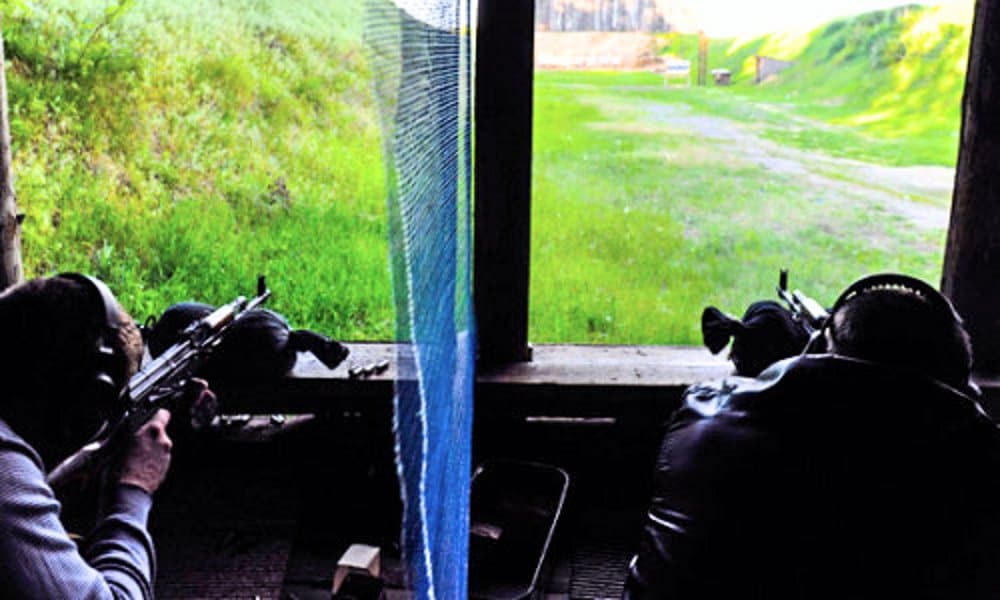 One of the most popular toys among kids (especially boys) are guns and pistols. There are select places in Kiev where the toys are replaced with real metal, and the blast of gunpowder.
Here in Ukraine, we cannot just own firearms. There is a strict category for people who might have access to firearms (besides police and armed forces), making shooting a gun an exotic activity. There are only few licensed places in Kiev where you can have the experience of shooting military grade weapons.
Strictly, under the supervision of former well-qualified military firearms instructors, you can practice shooting different types of classic Soviet weapons, including the legendary AK-47 and its modernized twin, AKM. Safety comes first. That is why the instructor will focus on safety requirements and how to handle each weapon appropriately.
The arsenal's list includes many classics such as the exotic Dragunov sniper rifle, Kalashnikov LMG, and the Ukrainian made Z-10 rifle.
Besides Soviet guns and weapons from the former eastern camp, you will also find familiar guns like the classic American M-16 and M-4 carbine rifles.
Shotguns, pistols, and revolvers are also available to try, among them F-500 pump-action shotguns, a variety of Makarov pistols, CZ-75 Fort, Fort-21, Glock-17, small-caliber Margolin, and Taurus pistols and many others.
Co-pilot an aerobatic aircraft
Flight is always an amazing source of adrenaline, so how about taking it to the extreme?
That is exactly what will you get by becoming a co-pilot on an aerobatic plane with one simple rule to follow:
Never sit inside an acrobatic plane with a full stomach. I avoided this mistake, and I really advise you to avoid it too!
Theses plane are smaller, lighter, and built for more maneuverability than the average aircraft. Many of them are used for the purposes of training or are built specifically for extreme air acrobatic shows (aerobatics).
Our Ukrainian pilots are known as some of the world's best-trained pilots, and specialized acrobatic pilots are in a league of their own. To my surprise, I met many who spent more time behind an airplane controller than driving their own cars!
There is a variety of aerobatic planes in Kiev, the most common among them is the classic Soviet Yak-52 airplane. It can elevate up to 4000 m (~13,125 ft.) and reach a maximum speed of 285 km/h (~177 mph).
You will have to undergo basic instruction where you will meet your pilot and be informed about safety instructions. Then you will board your plane. If you want to, your pilot will give you the chance to take control of the plane for a while, just do not take it too far!
Ride the zip line over Dnieper River
Did you hear about the zip line over the Dnieper River in Kiev?
The zip line works only during warmer times of the year. You can find the zip line at the very heart of Kiev, in Marinski Park near the Arch of Friendship, the landing spot is at Trukhanov Island. It is a 530 meters (~1739 ft.) journey over one of Europe's largest and longest rivers.
You will be given a harness to wear to attach you to the main cable. For safety, you will also be given a helmet to wear which you can attach a GoPro camera (available for rent) to capture your flight over Dnieper.
You can also use your own phone (better with attached to selfie stick), but keep a good grip on it.
The adrenaline rush is amazing! Flying without wings, or engines attached, with the water's blue surface adds more magic to the moment. The landing is smooth and you will come to complete stop before you reach the arrival tower on the island.
After landing, you can go back by crossing the pedestrian bridge that connects Trukhanov Island with the mainland. You do not need to rush back though. You can spend some time on the island. It is one Kiev's top tourist attractions with its pleasant sandy beaches, entertaining cafes, restaurants, and beach clubs.
The zip line ride is cheap. Last time I checked, it was only $8 per person.
One final and important note: there seems to be some questionable issues with the zip line lately, as the provider of the original zip line over Dnieper claims there is confusion between them and some other entity. You can find more information about it here. My advice is to take the ride only if you are satisfied with the safety standards onsite.
Drive a Soviet tank
Remember the tank chase scene from James Bond's Goldeneye movie?
What if I tell you that you can drive this same type of tank yourself in Kiev?
Of course, do not expect to cruise through the city with your tank. There is a designated tank range for that purpose.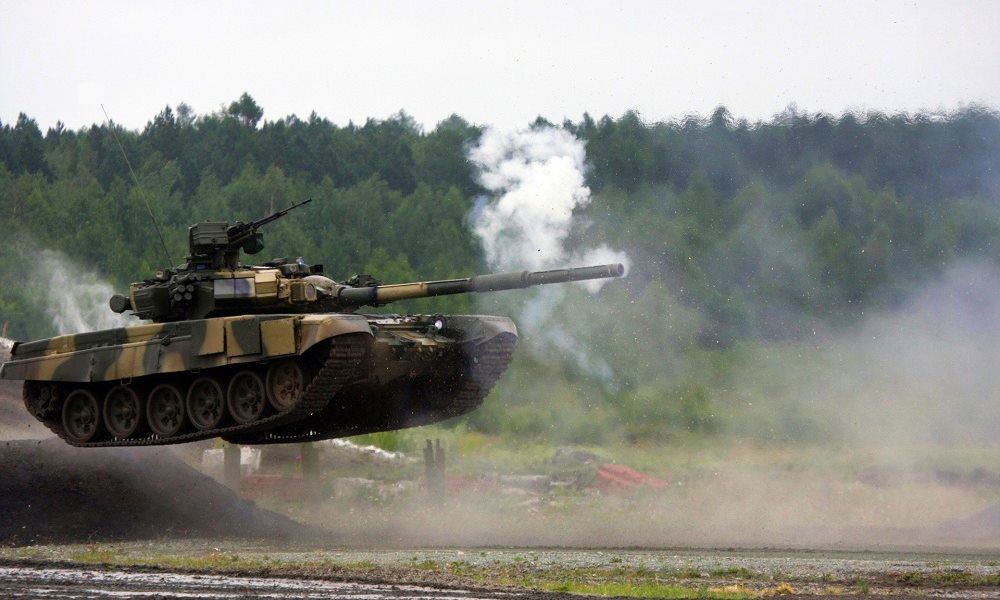 There are couple of places where you can rent a tank to drive around for a couple of hours in Kiev. All have multiple variations of real heavy armored military vehicles that you will have the chance to choose from. You can enjoy riding in a classic Soviet armored transporter BTR or a legitimate T-64 tank with the option to upgrade to the driver seat.
If you opt for a tank, the ride will give you a taste of the vehicle's capability on different terrains: dirt, mud, forest, and water obstacles, too. Before you take over the wheel, the driver will give you a crash course on tank driving, only then can you finally take control of the 32 ton beast.
The tank can accelerate up to 60 km/h (~37 mph), while the BTR can reach 90 km/h (~55 mph) and swim with a maximum speed of 10 km/h (~6.2 mph). By the way, there is a special BTR vehicle built specifically to be able to swim to its destination and you can also try it.
So, which one to choose?
Well, the BTR is faster and lighter, designed to overcome all obstacles on any terrain, making for a fun ride and drive. But a tank is a tank! It's larger, heavier, and more powerful… did I mention that it is a tank?! If you are torn between the two, take them both! Let me know and I will help you to get good deal on your experience!
Explore the ghost city of Chernobyl
The Chernobyl exclusion zone is one of the ultimate destinations for hardcore extreme adventure lovers. The reactor itself is still, and will continue to be, off-limits.
Since the Chernobyl incident, a 30 km (~19 mi) zone in all directions centered around the reactor was established, and tens of thousands of residents evacuated from different towns and villages within it. This area is called the exclusion zone.
This Kiev adventure will allow you access to the exclusion zone and enter the ghost city of Pripyat once home to 50,000 people, many of whom were the engineers and technicians of Chernobyl nuclear station. Pripyat is only 3 km (~1.8 mi) away from Chernobyl Nuclear Power Plant and 180 km (~112 mi) from Kiev. You will also get close to the power plant itself and its surroundings.
To reach Chernobyl from Kiev, you will need to register with a professional licensed provider who will drive with the rest of the group and facilitate the necessary permissions to access exclusion zone. If I am to recommend a specific tour or provider, it will be Chernobyl Tour.
The surreal post-apocalyptic cityscapes will leave an everlasting impression on you. It is hard to describe the overwhelming sensations that takeover you as you explore the streets of Pripyat, walk into abandoned houses, shops, and kindergartens. It is a tragic fate for what used to be a vibrant growing city and home to some of the country's best scientist and engineers.
Many photographers take advantage of the unmatched panoramic scenes of the legendary ghost city and spend the day capturing spectacular one of a kind photos.
Regarding the cost, it is almost the same everywhere starting from $85 per person for group tours and may reach $500 for private tours.
Experience paragliding
This is how freedom feels like!
Using nothing but a thin piece of fabric and couple of belts attached to it, paragliding is the one of the simplest known approaches to flight. Although it might seem similar to skydiving, there is a clear difference between the two.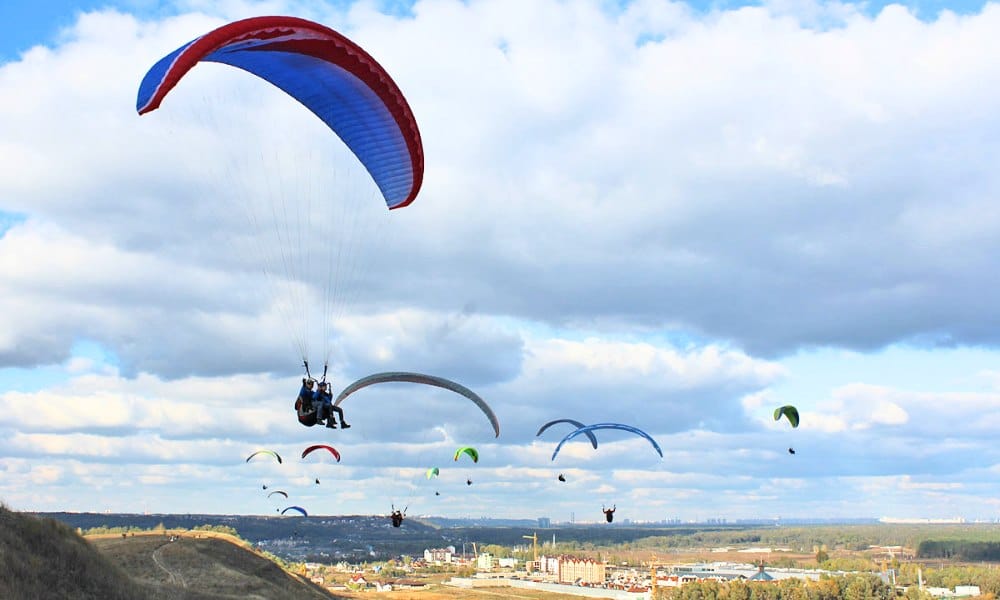 In paragliding you do fly, and can go higher or lower for hours, unlike parachute jumps, where you basically fall to the ground.
If you dare to leave the comfort and sense of safety of airplane cabins and decide to experience paragliding in Kiev, you will have the opportunity to feel like a bird!
It is a combination of adrenaline, freedom, and peace, in that order!
There are multiple variations of paragliders with the simplest consisting of a parachute like part, called the wing, and a harness attached to it.
There is a big paragliding community in Ukraine, with healthy presence of many hobbyist and professionals in Kiev, one of the well-known paragliding societies in Kiev is Kiev Paragliding Club. If you decide to go paragliding in Kiev, only a professional pilot can accompany you.
You will takeoff from Kiev countryside, not from inside the city itself. There are powered and unpowered paragliders, the former comes with an engine attached. Expect decent instruction by your instructors. He will explain to you the do and do nots of paragliding and what to expect. You will be given protective gear to wear and a harness which will be attached to your instructor and the wing.
The flight it is similar to skydiving with and professional skydiver. Each flight is 15-20 minutes on average. However, the professionals can fly for a couple of hours and cover hundreds of miles, literally!
So, if you are interested in a long flight, the possibility is there, after all it is an adventure!
According to one pilot, the average speed for paragliding is typically 20-40 km/h (~12-25 mph) and an unpowered paraglider can easily reach 75 km/h (~46.6 mph). Before your flight, ask for a GoPro rental to capture your experience, or use your own.
Paragliding in Kiev is the type of adventure that takes your adrenaline through the roof and then brings a wide smile to your face. The view is spectacular and relaxing, especially if opting for long flight over farmed fields, grasslands, rivers, and forests.
The best time for paragliding in Kiev is during summer and spring, in dry days with fair wind. The cost is affordable and ranges between $50 and $90 for a 15-20 minute flight with a professional paraglider pilot.
Like any weather dependent activity, always check and double check the weather forecast before you visit to Kiev to make sure that you can enjoy this experience. And if my assistance is required at any time to arrange a flight for you just let me know.
Explore Kiev's underground
Unlocking the secrets of Kiev's undergrounds is one of the most amazing adventures that anyone can experience. It is an adventure I have not experienced, but I am considering it!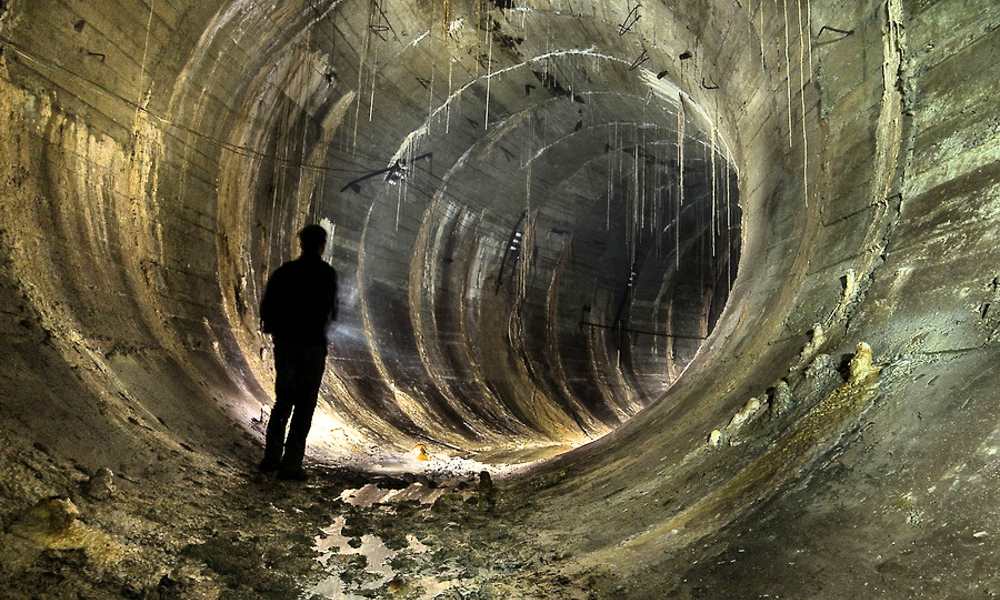 I spoke with a local undergrounds enthusiast who described the tunnels world beneath Kiev surface as an underground labyrinth that seems like a maze of endless tunnels running under the city.
Your Kiev underground tour will take you through a network of tunnels, some of which were built during the time of the Russian empire and the Soviet era with earlier networks dating back to the 19th century. These used to be mining shafts at the time, busy with workers and miners. You can find some of their leftovers in the form of small tools and bowls.
The tunnels can get very narrow and wet, so wear something you don't mind getting smudges on. Wear something you will not miss and if you didn't pack anything you are willing to sacrifice, don't worry, just swing by any secondhand clothes store and get a onetime outfit for less than $10.
Expect to encounter some bats, rats, and other small friendly creatures. And no, there are no mystical predators roaming the tunnels!
The average Kiev underground tour takes about 3 hours during which you can explore up to 3 km (~1.9 mi) of the undergrounds' tunnels. The tours are organized is groups of 4 to 10 participants under the supervision of a professional guide. If you prefer a private tour, it is also possible.
Although many tour providers offer access to Kiev's underground, only few do so while maintaining high quality of services and taking safety precautions seriously. Before proceeding with your subterranean journey, the tour provider should supply you with special gear that includes a flashlight, robe, boots, protective helmet, and gloves.
On average an underground group tour in Kiev costs $20-$30 per person. Private tours can cost up to $80-$100 per person.
Mysticism has always surrounded Kiev undergrounds. The legends of the secret Stalin's Second World War tunnels to the ghost and spirits of the undergrounds. I do not know about the ghost, but the existence of secret tunnels and rooms from the Soviet era is a possibility. Who knows, maybe you will stumble upon them down there!
Take a helicopter tour in Kiev
So, how about touring Kiev in a helicopter?
Exploring Kiev from a helicopter gives you a different look at the city and allows you to realize a childhood dream and experience that glamourous lifestyle. In Kiev, a helicopter is just a daily transport.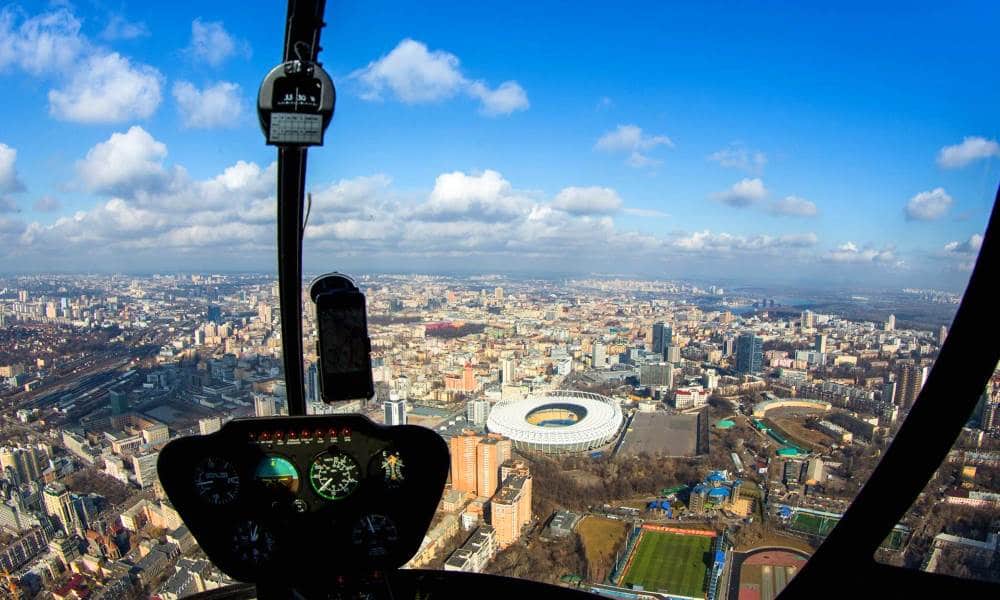 Depending on where you are staying, a helicopter might pick you up from the top of your hotel, take you around the city in a tour, then land at a party destination, the airfield, or bring you back home!
The ride can also be fast and extreme as the helicopter can accelerate to over 200 km/h (~124 mph) and perform a variety of sharp maneuvers.
Flying in a helicopter in Kiev is considerably affordable compared to other places and countries. The price range for a 15-20 minute helicopter ride in Kiev may cost you anything between $80-$150 per person.
This will be a lifetime experience and something to remember. So, why not?
Fly a plane over Kiev
You can experience flying over Kiev from inside a private plane cockpit and take the experience to the next level by taking over the controls and get your first flight lesson and fly a plane in the skies of Kiev.
There are several small airfields on the outskirts of Kiev with several types of small airplanes that you can choose from. You can hire a cab or an Uber to get to the airfield yourself or ask to be picked up from the city.
For safety issues, your pilot will insist on flying during clear weather. This makes for smoother flight and allows you to have better view of the city and countryside. You will fly above the city itself, Dnieper River, forest, fields, and also the Kiev Sea (Kiev reservoir).
The best part of the trip is when your pilot allows you to take over plane controls. You can try it yourself after a short introduction to the basics. The cost of renting a plane is less than a helicopter ride.
Depending on the size and type of the plane, you may expect to pay $150-$300 for a 90 minute flight. Since this experience is popular among my tourists, I became well acquainted with one of the best pilots in the city with access to large collection of airplanes and at a good price to guarantee the best value. Contact me for flight booking and details!
Flying over the city, rivers, and forests will provide you with delightful experience, and leave you with many happy memories.
Go skydiving
Skydiving is one the most daring adventures that Kiev has to offer. It is simply amazing!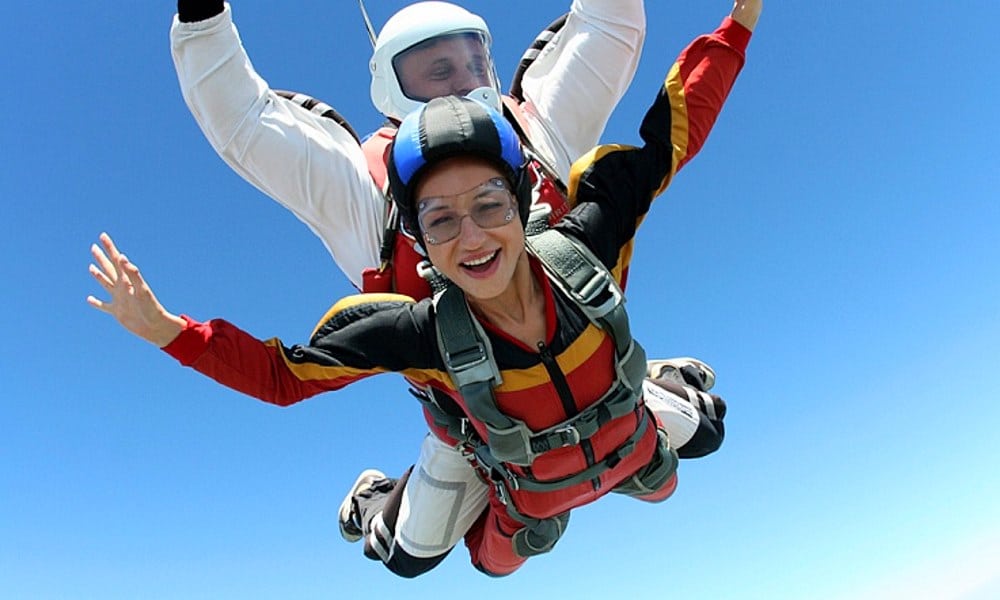 The adrenaline rush takes over you before making the jump, as you sit in the plane, while it is climbing to the required height for your jump, with waves of tension making your whole body vibrate, and you experience these final moments of hesitation before facing the plane's open door, then you make your longest jump.
A popular place for Skydiving, and a favorite of mine, is Chayka. They are based in their own airfield, and even have and aerobatic team. You can just book a parachute jump or register for a full training program (if you can spare the time).
You can rent a skydiving outfit onsite for as little as $2-$3. Before the jump, you must go through training program to discuss safety, techniques, what to expect during the process, and what to do during skydiving.
There are two options for your first jump: either to make it with an instructor or solo.
Jumping for the first time with an instructor is always safer. You will be attached to the professional skydiving instructor with a harness. He will be controlling the fall and the parachute. You will make the jump from 3000 to 4000 m (~9842.5 to 13,123 ft.) high, your freefall will continue for up to 60 seconds before the instructor opens the parachute.
If you are planning on making your first jump solo, you can do so, however, expect more detailed instructions on the ground, with basic training that can take up to 3-4 hours sometimes. The jump itself will be 1000 m (~3280 ft.) high, the freefall will continue for couple of seconds only before the parachute opens, and start your slow landing.
Naturally, you would like to capture the moment, so you will be able to select from many options including a cameraman that will jump with you to film a full video, and even work on the montage to deliver a professional clip of your skydiving experience.
The cost can be as little as $30 depending on the height of the jump, with and instructor or not, filmed or not, and so on. Based on the previous factors and others, the cost of each jump may vary from $30 to $150.
Try skiing
There are couple of small skiing resorts in and around Kiev. All are great options for skiing and snowboarding lovers who can practice their favorite sport every weekend without the need to travel.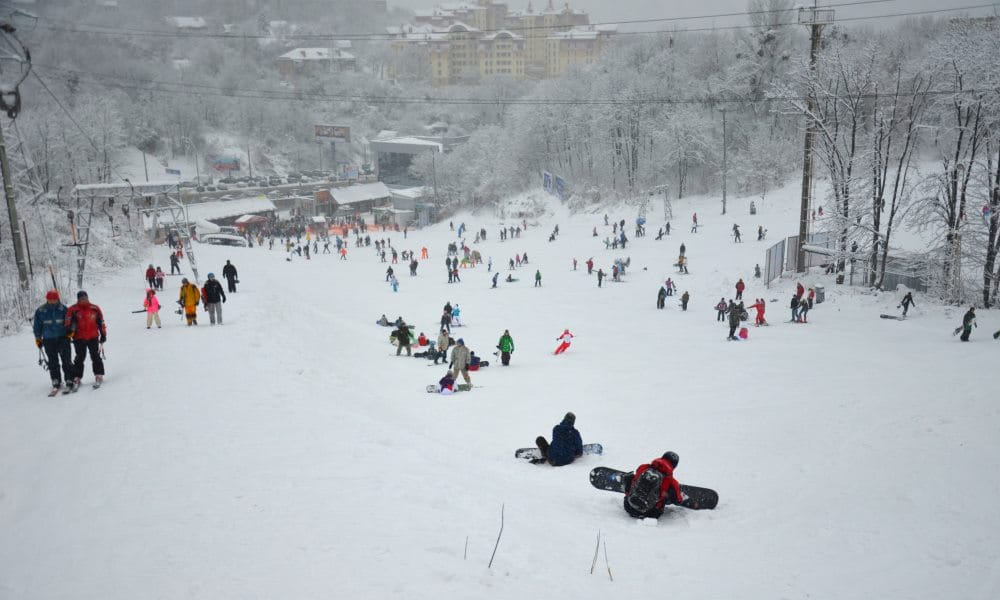 The skiing palace I prefer, and often go to during winter time, is Protasov Yar. It is Kiev's beloved mini skiing resort and favorite destinations for entertainment and adventure for its residents and tourists alike. Located right inside Kiev, within walking distance from its city center, the resort is a testament to the unique mosaic city that Kiev is.
The skiing complex is situated on a hill with decent elevation and has four runs 150 – 500 m (~492 – 1640 ft.). Longer runs are meant for professionals and experienced skiers, while shorter runs are for beginners and first timers.
You can go to Protasov Yar anytime during the day or night. The place is more crowded during the afternoon, so better go there early before it gets too crowded, or you can opt for a nighttime skiing session.
Fun fact:
There is live streaming of the runs that you can view on the complex's website, so you can take a better look and know what to expect beforehand.
Even if you have never skied before in your life, there are many instructors who will give you a one on one training session at small cost of around $20-$30 per hour. Full day lift passes cost around $3, and the price for renting full set of equipment is around $10-$12 for a full day.
The complex works during winter, however there are other activities that take place there during summer and warmer months like open-air movie nights and others that take advantage of the hills.
If you are in Kiev during winter, and would like to enjoy and outdoor activity, take my advice and put it on your list of things to do. Get out and ask for directions to Protasov Yar!
Bungee jump over Dnieper
You cannot call yourself an adrenaline addict before you get baptized with iconic bungee jumping, and a loud scream!
You can find two ideal places for bungee jumping in Kiev, both over the Dnieper River.
Our pedestrian bridge connecting the Kiev's left bank with Trukhanov Island is a great location for your jump. It is not too high to discourage you from jumping, but high enough to make your adrenaline pump!
The bridge is only 26 m (~85 ft.) high above river level, and the jump will cost you around $8-$10.
Another great spot for bungee jumping in Kiev is Hydropark, with its 43 m (~141 ft.) fixed platform making for more extreme experience. Expect to pay around $18-$20.
Weight and age limitation may apply; these vary from one provider to another. Usually jumpers should be 16 and older, weighing no less than 45 kg (~100 lb.), but no more than 125 kg (~275 lb.).
Bungee jumping is a thrilling experience within your grasp in Kiev. Just make sure to try it on a light stomach!
Enjoy jet skiing
How can a city with no ocean or a sea have so much amazing water activities? Kiev has it its fair share of water adventures, thanks to its jewel-blue life stream: the Dnieper, the massive river passing through Kiev, and the source of the city's prosperity.
Jet skiing is among the many water adventures of Kiev. I have experienced it myself. Jet skis are the coolest watercrafts ever invented, and riding one is always a pleasant experience.
Unlike riding a jet ski in the open sea, the Dnieper River in Kiev gives a unique jet skiing experience, with variety of areas to ride, river extensions, and small sections that are unreachable for average boats.
Regardless of whether you are a beginner or a pro, you can certainly enjoy a pleasant jet skiing experience.
Wearing a life-jacket is necessary. It will be part of your safety gear when renting a jet ski.
In case you are familiar with riding jet skis, expect nothing more than basic instruction before you start your ride. If it happened to be your first time, do not worry, an instructor will explain the basics, controls, technique, and take you through the process of your first ride.
You can book as short as a 5 minute ride or go for up to an hour. The prices in one place might be double in another, so shop around.
There are several places where you can rent a jet ski in Kiev. Trukhanov Island's beach is my personal favorite of them all.
Five minutes will cost you anything from $12 to $25. An entire hour with instruction can reach $150. Do not rush and take an hour, just go and test drive of 5-10 minutes, and if you still want more, book the full hour of jet skiing on the Dnieper.
So, which one of these exciting activities would you like to experience when you visit Kiev?
If you need my assistance in managing your travel, or want a private tour of Kiev, feel free to contact me!
Since you are here, you might also be interested in: