How much cash can I bring with me to Ukraine?
Of course, your credit/debit card can have a million on it with no problem. But there are limits to the amount of cash you are allowed to carry in with you when traveling to Ukraine.
According to Ukrainian customs information on Boryspol airport's official website, you can bring up to 10,000 Euros (or equivalent) in cash into Ukraine.
My advice is to set the same limit for dollars as well and bring no more than 10,000 United States Dollars in cash.
Note that you are required to declare in writing any cash amount the exceeds 1,000 Euros. However, to avoid any inconvenience declare the full amount regardless of whether it is less or more than 1,000 Euros/Dollars.
The declaration form is available at the airport, if you have trouble locating it you can request help from the customs officers and airport staff.
Remember to keep this form with you until you leave Ukraine as customs officers can ask you to show the cash declaration upon your departure if you are leaving with a Euros/Dollars.
The current legislation allows you to take cash with you in an amount that does not exceed what you brought with you into Ukraine. (For example, if you bring in $1,500 in cash, you cannot leave with $1,600 in cash).
Even if you can bring 10,000 Euros/Dollars in cash, it might not be wise to have that much cash while touring, partying, or walking around the streets in Kiev, or anywhere else.
Using your credit card will be better. If you prefer to use cash to credit cards for any reason, just make a money order in advance through Western Union, or any other operational money ordering service in Ukraine, and cash it when you need it after arrival.
One other thing to pay attention to when bringing cash is to make sure that all bank notes are new with no tears or writings on them. Many banks here will not accept them even if they have writing or minimal damage, while others will exchange it, but will charge you an extra 7-20% of its value.
Not a welcomed loss, so keep your bank notes fresh!
Can I use Euros and US Dollars in Ukraine?
Ukraine is not a member of the European Union, or the Euro zone, therefore making a direct purchase of products and services with Euros is not allowed. Officially, only local currency Hryvnia is accepted at selling points, cafés, shops, restaurants, clubs, etc.
So, you will need to change your dollars, Euros, Pounds, and any other currency you brought with you before purchasing anything in Kiev.
Meanwhile, your credit card is accepted regardless of its currency as long as it is eligible for use outside the borders of your country. The amount is converted automatically to its equivalent in Ukrainian Hryvnia when charged.
Having said that, there are some service providers and sellers who are willing to conduct business transactions directly in Euros and Dollars, but it is not common so don't rely on it
What is the currency in Ukraine?
Ukraine's currency is the Hryvnia. Officially, it is the only accepted cash currency in Ukraine. Any other currency needs to be exchanged at an official currency exchange office or bank before making any cash purchases.
You can find the official up to date exchange rate in Ukraine here:
There are nine paper denominations in circulation: 1, 2, 5, 10, 20, 50, 100, 200, and 500 hryvnia.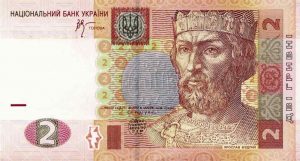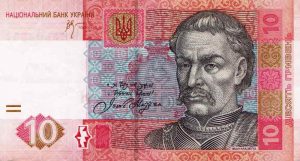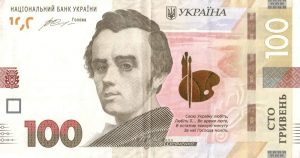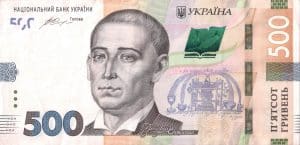 Where and how to change money in Kiev?
Money exchange has become a daily practice in Kiev. There are many banks, currency exchange offices and booths around Kiev. So, you are less likely to have trouble with finding a place to change your Dollars/Euros/ etc.
You need to have a form of identification (travel passport) to exchange money at banks, however identification is waived at dedicated currency exchange booths.
The best time to make the change is during the day time as the rates fall miserably after business hours (especially at night). So, make sure to exchange enough cash during daytime if you intend to explore Kiev's nightlife later.
This is a list of the best exchange spots in Kiev that offer the highest exchange rates in a safe environment:
Remember to always exchange in installments as you go, even on daily basis. It is better not to exchange the entire amount you brought with you at once because legislation does not allow nonresidents to buy foreign currency.
Always use an official licensed outlet when exchanging your money. That means the bank and currency exchange offices. Please distance yourself from any offers to change money on the streets by unknown individuals.
It is illegal, and can warrant arrest by the police, administrative fines, and confiscation of all cash present during the transaction.
The difference between the black market and the highest official exchange rates is something between 2-5%. It is a small margin that doesn't justify the risk!
What is the best currency to take to Ukraine?
The most practical foreign currencies are the best to bring with you in cash to Ukraine.
United States dollars and Euros are the easiest foreign currencies to exchange anywhere in Ukraine. Following them are the Polish Zloty and British Pound.
There are other acceptable currencies for exchange in Kiev, but the rates are not as favorable, and you will probably lose more than if you have just exchanged for some US Dollars or Euros before you come to Kiev.
If you are bringing Swiss Francs, Canadian or Australian dollars, you are more likely to get a better rate for your money exchanged at a bank rather than in a currency exchange office. Nevertheless, there are a number of exchange offices that will buy the currency from you at decent rates.
Below is list of the exchange offices and banks who exchange larger variety of currencies:
Can I use my credit card in Kiev?
Yes, and it is easier and more convenient to pay for products and services in Kiev with your credit/debit card.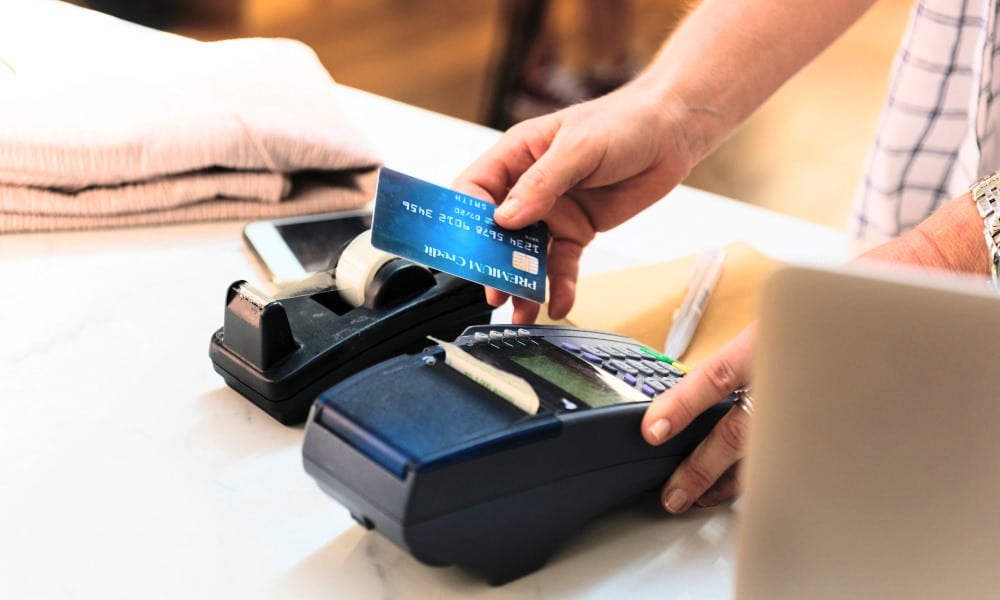 Most of retailers, shops, restaurants, and service providers accept credit cards in Kiev. Having a shop in the city that does not give this option is rare.
Low budget hotels and some small corner shops might prefer to run a cash only business. The same applies for traditional markets. Also, do not expect to pay for taxi or public transport with your credit card, these are cash only.
Can I withdraw money from ATMs in Kiev?
For most international credit/debit cards issued outside Ukraine, there are no special restrictions on the use of ATMs in Ukraine. It is the same as in any other place in Europe. As long as the card is eligible for use internationally, you are good to go.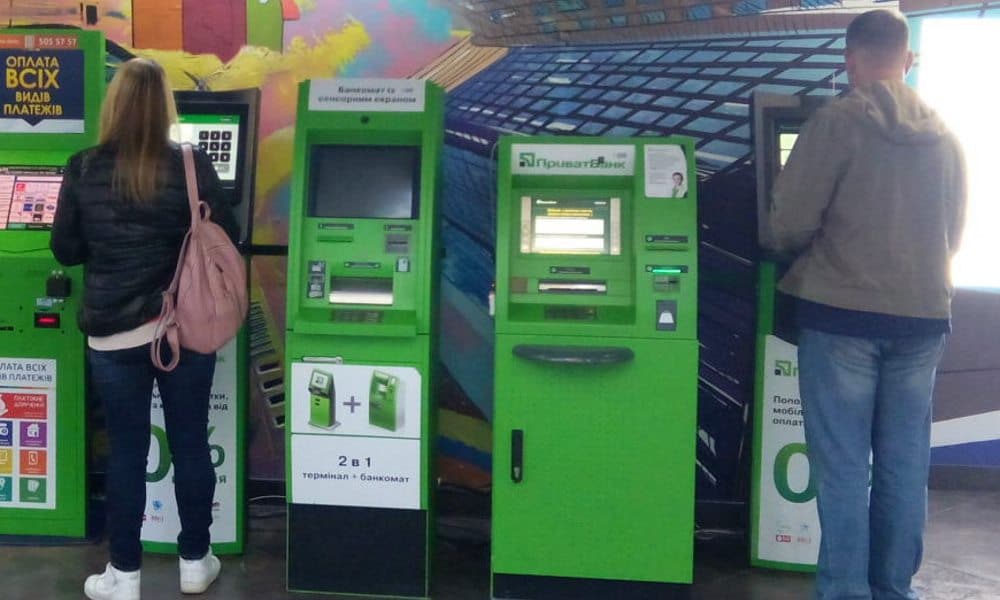 You can make withdrawals within the limits set by your bank. However, a number of my tourists experienced issues with withdrawing money. I inquired with some of the local banks and they gave me long replies!
I can summarize them by saying: some foreign banks have exclusive agreements with their counterparts in Ukraine, limiting their clients ability to use ATMs.
Therefore, it would be a good idea to inquire with your bank to know more about their policy regarding credit/debit card use in Ukraine and withdrawal fees.
I often come across warnings where governments recommend their citizens not to use their credit card when travelling to Ukraine due to high risk of credit card fraud. The reality is that credit card fraud is not an issue for the everyday Ukrainian. Fraudsters seem to concentrate their efforts on the banks.
So, such a radical recommendation is an overreaction in my personal opinion.
Nevertheless, credit card fraud is not to be taken lightly. Common sense and carefulness can keep you away from becoming a victim of credit cards scams, both at home and abroad.
What can you buy with 100 hryvnia?
To better understand the money value of the Ukrainian hryvnia, let's see what you can do with a 100 hryvnia.
As 2019 is just starting, the current value of 100 hryvnia is $3.60 USD (3 dollars and 60 cents). Today, this will give you a 15-20 minute taxi ride covering 12 km (~7.5 mi). It is also enough to buy you a light dinner in some café, or get you two Big Macs and leave you with some change.
Fun fact; the cheapest Big Mac burger you can buy, would be in Ukraine.
100 hryvnia also can buy you a brand new prepaid SIM-card with unlimited minutes within the network and an 8 GB data plan.
How much money do I need for 5 days in Kiev?
About one out of four of my tourists ask me about how much money they will need to allocate or bring with them when they travel to Ukraine.
Well, that depends on the purpose of your visit and how long you intend to stay. It is also a matter of budget, that is if you are a travelling frugally or if you do not mind to spend extra.
The majority of tourists who come to Kiev spend five days on average during their visits. How much you are going to spend depends on your preferred travel style. On average, you can expect to spend $1,500 to $3,000.
The average budget for a tourist in Kiev that includes accommodations, transportation, sightseeing, entertainment, food and dining according to travel style:
Budget traveler $250 – $800
Midrange traveler $1,000 – $1,500
Luxury traveler $1,500 to $3,000
If you are travelling on a tight budget, you can probably manage to spend around $50 dollars a day on everything, while staying at a decent hostel like Dream House Hostel.
But, if you can allow yourself a budget of $1,500-3,000 for 5 days to one week, you can enjoy your stay at a fancy apartment/holiday rental or a Five Star hotel, eat at the best restaurants, be entertained at the best clubs in the city, and even experience a new adventure in Kiev every day.
How much do Kiev hotels cost?
Finding a hotel in Kiev that fits your budget, taste, and preference will not be an issue as long as you have all the right tools to do so.
Budget hotels
Average price range from $25 to $50
Finding a hotel that combines cheap price, high quality, and great location is possible only in dreamland! Unfortunately, to get a cheap hotel, one of the other two factors will be affected. So, don't expect the best of quality in service and level of accommodation or location in city center.
I do not recommend cheap hotels in Kiev because they have a lot more cons than pros.
However, if you want to spend no more than $45 per night on your hotel accommodation while staying at Kiev city center, consider Royal De Paris Hotel. It is on the far side of Arena City complex located directly next to a busy nightclub, which music can be clearly heard in many rooms. However, you can request an upgrade to a quiet room if available.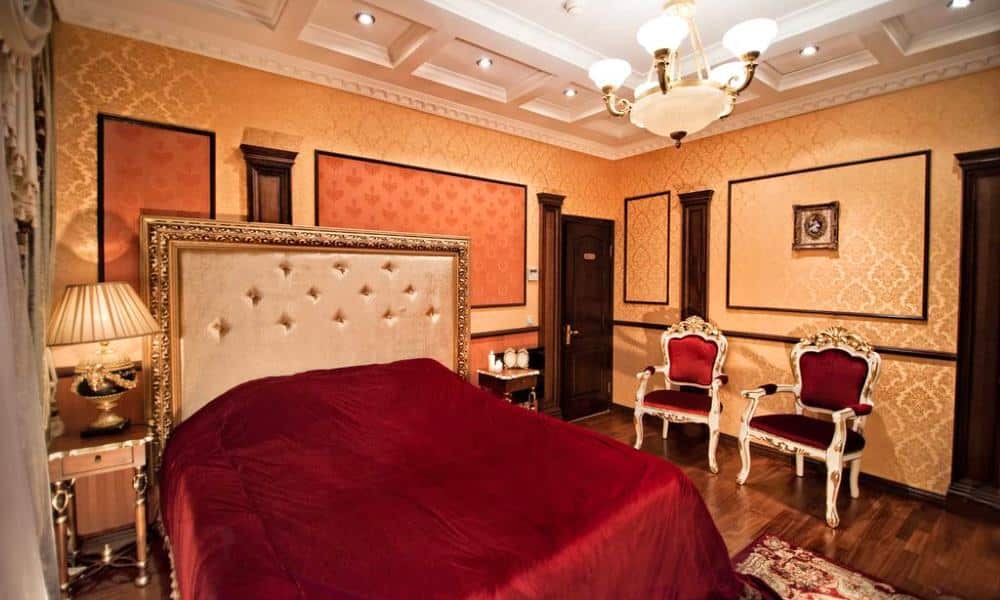 However, that will put you out of the $45 – $50 range. So, just go for a midrange hotel in the center or settle for a good budget hotel, even if it is outside the center area.
Midrange hotels
Average price range from $50 to $180
It will be better not to pay much attention to the number of stars when searching for budget hotels in Kiev. Focus on price, location and quality of service. There are many three and four star midrange hotels in Kiev. Hotel Ukraine, Dnipro, and Premier Rus are my personal favorites in this category.
Expect to pay $50 – $180 per night for good hotel in Kiev city center.
Luxury and five stars hotels
Average price range from $180 and up
For a hotel to be a Five Star hotel in Kiev, it needs to meet outstanding level of quality and comfort as well as provide remarkable stay experience for their guests. The crown jewel among luxury hotels in Kiev is Premier Palace. It continues to be the best place to stay, and on my personal recommended list, for reasons I detailed in Where to Stay in Kiev.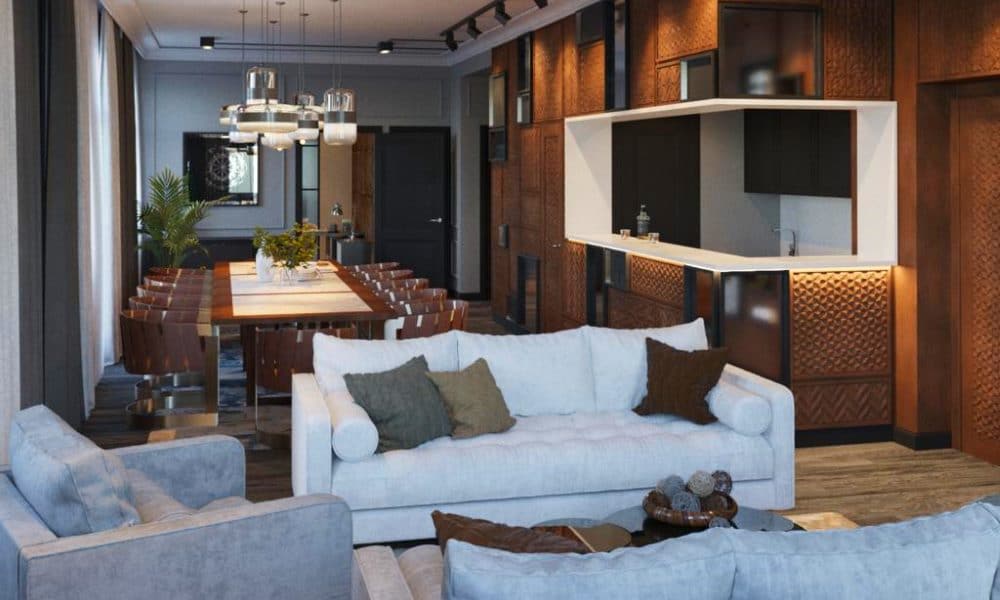 You can easily browse Booking and select a hotel suite to your preferences. I have also combined a well-vetted list of Kiev Hotels to help you find good places to stay in Kiev for all budgets.
Read ⇒ Kiev Hotels
How much do Kiev apartments and holiday rentals cost?
If you highly value your privacy and are not that much interested in having hotel service during your stay in Kiev, or just prefer to cook your own meals, then you can rent a private apartment.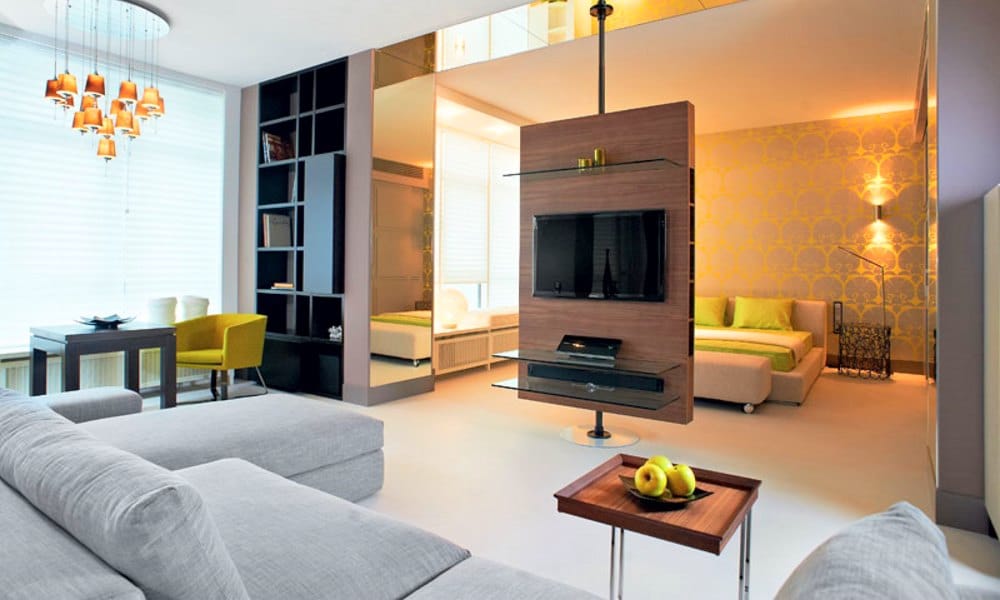 This option is more cost effective than a hotel, with prices ranging between $25 and $75 per night for budget and midrange options. As for other more spacious and luxury options at the heart of the city, they can easily reach $150 per night.
Budget apartments
Average price range from $25 to $38
If you are a tourist or are coming to Kiev for official or personal business, stay away from this kind of apartment! It is not worth it!
Unless this is a midrange apartment and there is a special offer on it, do not go anywhere near it. There is always something wrong with them, either everything inside is ancient, broken beds and furniture, bad locations, dirty, or a shady apartment owner!
Midrange apartments
Average price range from $40 to $80
A decent midrange apartment in Kiev, can be easily be rented for $50 per day under one condition:
Leave nothing to chance. Confirm your booking 7-10 days in advance.
If you want to find a flat of this category in Kiev city center, then expect it to be a studio or one room apartment. Often you will pay more during holidays, weekends, and peak season.
Apartments that are more spacious, but with the same $50, will probably be located 15-20 minutes from the center area. However, opting for smaller a space and better location avoids the hustle and extra expenses of daily transport. In addition, you also save your time by being nearer to the city's center.
Luxury apartments
Average price range from $85 to $200
Yes, you cannot put a price cap on luxury. There are holidays rentals in Kiev that cost $1,000 dollars per night or more; there are other luxury ones for $100.
Yet, you can get yourself a good apartment to stay in for maximum of $200 per night. Such apartments usually have spectacular designs, are located in the center of Kiev, and have good security.
How much do Kiev hostels cost?
Average price range from $5 to $25
Renting a bed space or a room in a hostel is a good solution if you are on a tight budget. The place I am familiar with, and recommend, is Dream House Hostel. It is also highly praised by my tourists, and a good place for the solo traveler that would like to meet other travelers to Kiev and socialize with them.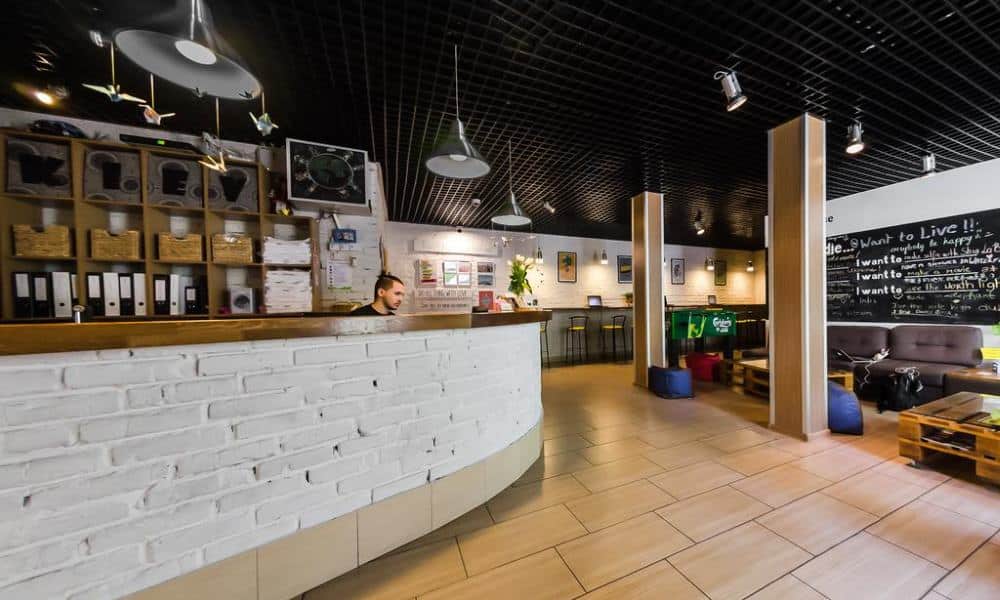 Bed lining is included in the price and usually there is very good Wi-Fi included as well. However, you will need to pay for disposable slippers and extra towels. Also, bring your own personal lock, as hostels sometimes charge for renting you one during stay.
To view my personal picks of the best hostels in Kiev for tourists, read the resource page Kiev Hostels.
Read ⇒ Kiev Hostels
Transportation cost in Kiev
Kiev has a comprehensive Metro (underground train network). Combined with busses, trams, microbuses and electric-powered busses, you will not have a problem reaching any place in the city using only public transport.
Average transport price range:
Airport shuttle bus: $3.50
Airport shuttle train: $2.80
Access to use the metro system: $0.30
Tram: $0.30
City electric bus: $0.30
City bus ride: $0.30
Minibus: $0.30
Taxi/Uber ride within city limits: $2.80 to $6.50
Google Maps can be of great help to set routes and inform you about what transport to take.
Another great resource to help you navigate public Kiev transport is Easy Way. Use the website or download their Apple or Android app to guide you to your destination and find your way around the city. Easy Way will also provide you with the correct tram/bus number, when it will arrive, and all fares in advance.
If you pick a cab from the streets, you are setting yourself up for a rip off!
If you need a taxi, you can order one by phone, or download an app for local taxis in Kiev like Uklon.
However, my advice is to avoid all that and just use Uber. The quality of cars is better and many drivers speak some English.
Food and dining costs in Kiev
Eating out at restaurants in Kiev is affordable and does not cost much. With some management, $15 dollars a day is enough to have 3 meals a day. Many tourists express surprise when they find out how much the same meal costs in Kiev compared to what they are paying for it back home.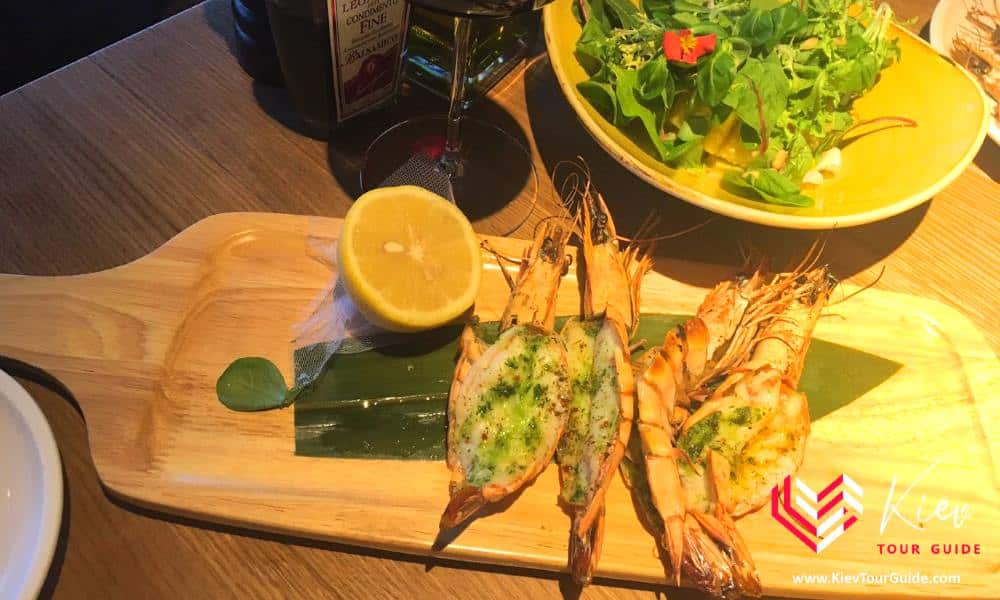 The restaurant/café scene in Kiev is amazing. You will have a vast selection of Ukrainian and international dishes (Vietnamese, Japanese, Italian, French, Turkish, Lebanese, Iranian, and many more).
I have never met a guest of Kiev who did not find something to enjoy during his or her stay. Actually, many of my guests discovered new things they really enjoyed while dining in Kiev.
If you have an unlimited budget or tight one, it does not matter, you will enjoy your food!
Small budget
Average meal price:
Breakfast $2 – $4
Lunch or dinner $5 – $20
Fast food might be the obvious choice when travelling on a small budget as you can opt for familiar restaurants like McDonalds, KFC and Dominos, or any other local Ukrainian fast food place that you might find around the city.
You can enjoy a good meal for under $4 or treat yourself with a three-course meal and a soft drink at decent restaurant for around $15-$20.
A great place that will not break your budget is Puzata Khata. It is a large chain of buffet restaurants in Kiev and Ukraine, and they serve delicious and freshly prepared dishes. You will not be disappointed!
Another good option would be to cook for yourself. So, depending on your taste, you may expect to pay between $35-$60 for a decent weekly groceries package including meat, chicken, and vegetables from any supermarket.
Medium budget
Average meal price:
Breakfast $5 – $15
Lunch or dinner $20 – $60
Setting a midrange budget is enough for opening the doors to fabulous dining experience. You can start your day in places like Cvetochnaya Lavka that specializes in serving delightful breakfasts that can cost you $8-$12 dollars.
As for lunch or dinner, you can enjoy a three-course meal with a glass of good wine in a good restaurant in Kiev city center that will cost you $35 – $40 dollars.
Large budget
Average meal price:
Breakfast $15 – $50
Lunch or dinner $100 – $500
Limitless options are what you get as a tourist in Kiev with a healthy budget. At the price range above, you can enjoy your meals in the best restaurants in town. That includes places like Coin and Veranda.
Drinks and alcohol
Beer in a bar/restaurant $2 – $3
Beer from a grocery store $0.50 – $2
Glass of wine at a restaurant $2.50 – $20
Bottle of wine at a restaurant $21 – $100 (midrange)/$200 – $800 (high-end)
Prices of alcoholic beverages in Kiev are moderate. Naturally, stores and supermarkets are much cheaper (half price sometimes), but not as fun as the bars!
Kiev attractions and museums costs
Most of Kiev tourist attractions are free to access. The rest will charge you a small entrance fee.
Attraction/entrance fee:
Khreshchatyk Street – Free
Independence Square (Maidan) – Free
Second World War Museum – Main exhibition is free, open air Soviet heavy military equipment exhibition entry fee is $0.18
Saint Sophia's Cathedral – $0.10 to $1.8
Kiev Pechersk Lavra – $0.18 to $2.5
Landscape Alley – Free
Kiev Fortress – $1 to $1.8
Chernobyl National Museum – $0.35 to $1.8
Microminiatures Museum – $1.8
Experience extreme adventure $10 to $100
Pinchuk Art Centre – Free
National Museum of Natural History – $2.9
Aviation Museum – $1.8
Guided sightseeing tours in Kiev can cost you from $20 to $80 for group tours, and $40 to $200 for private ones.
Without local guides, you may expect to pay around $2-$10 for different activities and paid attractions such as museums, historic cathedrals, etc.
Recommended daily budget for visiting Kiev
So, taking into consideration accommodation, food, sightseeing and entertainment, what would I recommended your daily budget to be?
Budget traveler
Take the best budget apartment you can get in the capital Kiev, or rent a room in Dream House Hostel. Spend some time cooking one meal a day, and having another in a decent, but not fancy, establishment and a third fast food option.
Let us exclude paid attractions for most of the time and stick to using public transport, and maybe one taxi or Uber if it is late at night.
Plus or minus a few dollars, this would cost something around $75 per day. This is your suggested daily budget.
Medium budget traveler
Average daily budget $300
Stay at a midrange hotel or apartment, enjoy your breakfast at the hotel, or one of the good cafés at Kiev city center, three-course lunch and dinner in good restaurants.
Visit a couple of Kiev's top tourist attractions, and maybe go on an adventure during the day, then enjoy your evening at a bar before following it by partying at one of Kiev's best nightclubs.
If this would be your daily routine, expect to spend $150 to $300 every day.
Luxury traveler
Average daily budget from $500
It is similar to the medium budget traveler, but with more comfort and catering to your needs when it comes to your stay. You will have the options of staying in Five Star hotels or a luxury private apartment.
You will eat at the fanciest restaurants and party on the best clubs. Your daytime entertainment can go as far as renting a plane and fly around Kiev for an hour or so.
All this can be managed for with a daily budget of $500 and up.
I hope that you find this information useful. If you require travel management assistance or want a private tour of Kiev, feel free to contact me!
Since you are here, you might also be interested in: