Kiev nightlife is an amazing adventure awaiting you to experience. It is the perfect blend of Ukrainian culture, vibrant Kiev lifestyle and bright tradition of Ukrainian friendliness.
Fun Guide to Enjoy The Glamourous Kiev Nightlife Experience
Without a doubt, Kiev is a treasure for tourists, as it offers beautiful cityscapes, restaurants, historical and architectural monuments. However, its main attraction is the Kiev nightlife, and it is attracting millions of tourists each year to the city.
There is a Nightlife Party in Kiev for Every Taste & Budget
Nightlife in Kiev is not a "one size fits all", but a mixture of many tastes.
There are wide selections for nightlife events, from glamourous to more frugal Kiev night clubs, disco to beach clubs and even after party clubs. Wow! They go on until early in the morning to the next day's afternoon.
Winter is Coming & Kiev is Partying!
Despite the cooler winter climate in Kiev, this non-stop, magnificent party capital can offer blood warming evenings and entertainment thanks to wide range of discos, night clubs and bars of all kinds and themes.
Ukrainians are very friendly, love to have fun and party hard until the morning. The last is a tradition brightly reflected by the never-ending, fantastic parties of Kiev Nightlife.
Partying with Kiev Sexy Girls
You can make new friends while partying and enjoying Kiev nightlife. Clubs and bars are great place to meet beautiful, sexy Ukrainian women.
Elegant, glamourous, and stylishly dressed, the friendly ladies of Kiev are pleasant company. Remember to keep it classy and approach with friendly smile.
Arena City, Heart of Kiev Nightlife
Kiev loves to party, and Arena City is a great place to start.
Due to its central location just next to the historic Bessarabska Square, Arena City Kiev is one of the most visited places by tourists.
It is the largest entertainment complex in Kiev and is the honorary capital of fun, party and Kiev nightlife.
Inside Arena City, there are some of the most famous Kiev night clubs, bars, restaurants, shops, and strip clubs.
I recommend you come to Arena City early in the day, experience the best food outlets, have dinner, and then some fun in a club or where ever you like to hang around overnight, party, and dance!
Address: Baseina St, 2a, Kiev.
Standard working hours, depending on the facility.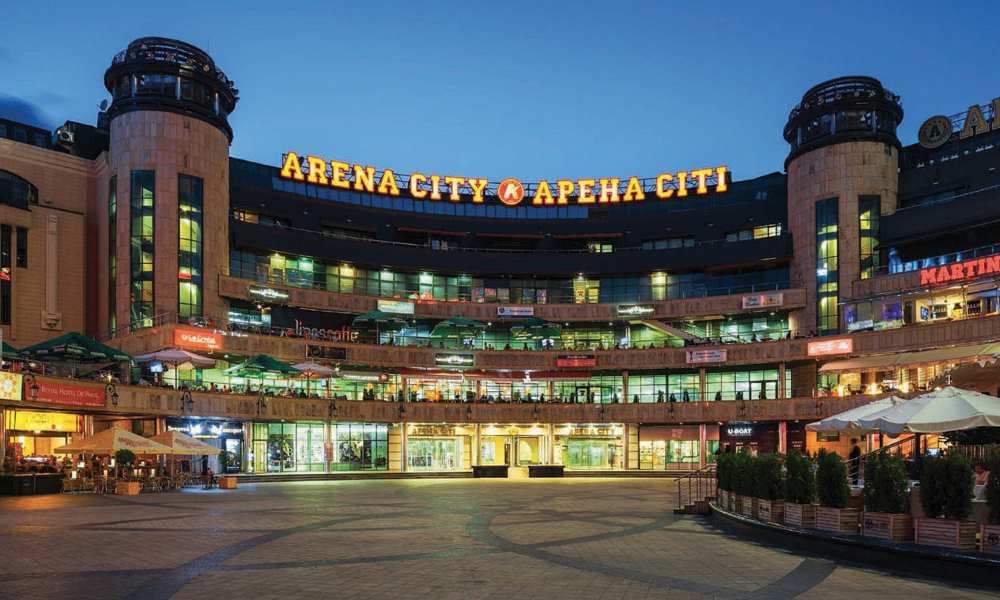 The Best Night Clubs in Kiev
SkyBar Club
Located in Arena City, SkyBar Club is an adult entertainment complex in Kiev.
SkyBar is one of the most famous night clubs in Kiev. It has over ten years being known as the best Nightlife party spot in the city.
Staying on top of Kiev nightlife outlets is never easy. That is why the club underwent reconstruction for a few months, but has already opened its doors, as spectacular as ever, hosting customers and entertaining them with fresh collection of global entertainment ideas.
SkyBar is not just a night club with a dance floor. It also has a restaurant, fancy lounge, and a beautiful terrace overlooking the city center.
In addition to hosting events with international DJs, karaoke nights are also organized at SkyBar during the week.
There is a tight dress code enforced at the entrance, so better dress up!
Address: Velyka Vasylkivska St, 5, Kiev.
Standard working hours: Thursday to Saturday, from 11:00 pm to 6:00 am.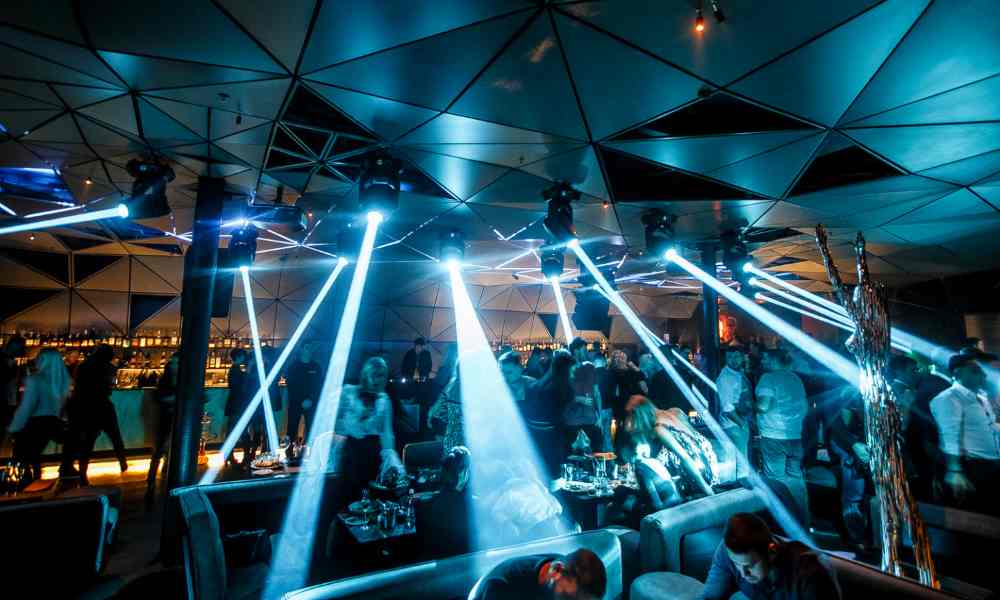 CHI Club
CHI works as night club only twice a week (Friday and Saturday), for the rest of the week it's open as a restaurant.
Within a few months, CHI managed to establish itself as a prime Kiev nightlife destination. It became known as the fancy VIP nightclub and restaurant in Kiev, mostly attracting wealthy clients.
Prices are on the high side compared to other night clubs in Kiev. Nevertheless, it's always busy on weekends, and getting inside might be very, very difficult!
The bar at CHI serves great cocktails, and the music played in the club is enjoyable. Most often the music is played by famous international DJs, and goes back and forth between house and trance music.
Dress code is formal at CHI!
Even if you reserve a table and make a deposit, it doesn't mean that you will pass dress code if you chose not to dress up. So, a word of advice: suit up!
CHI is THE hook up place, as the ladies there stylish and glamorous, and quite sophisticated.
As experienced tour guide in Kiev, I would highly recommend you go there. And as your nightlife tour guide, your chances of enjoying good evening at CHI will octuple!
Address: Parkova Doroga St, 16 A, Kiev.
Standard working hours: Friday & Saturday, from 11:00 pm to 6:00 am.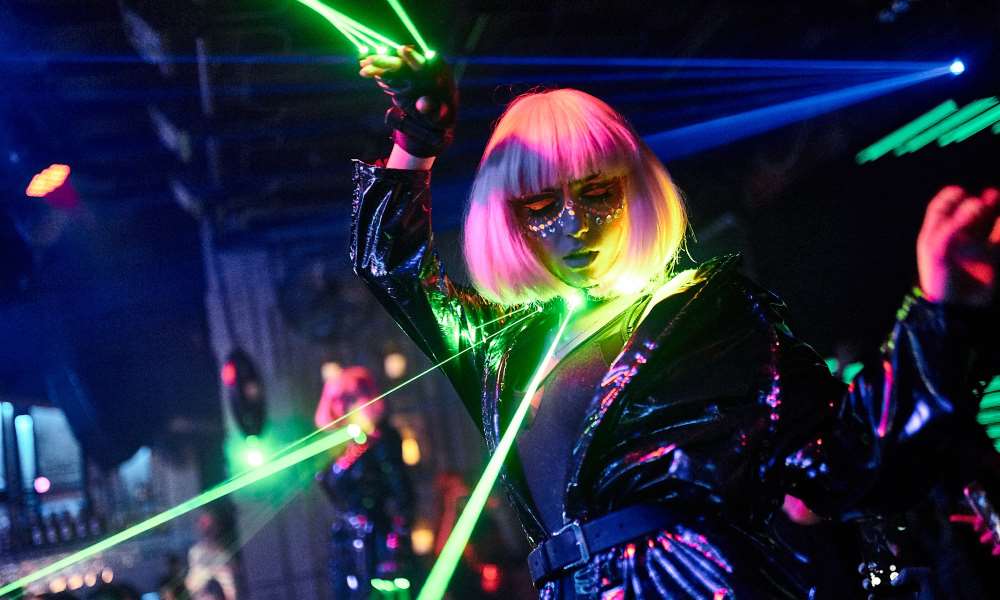 D.Fleur Club
Not far from the Dynamo Stadium, D.Fleur is one of the most famous night clubs in Kiev.
Interior design and decoration are an elegant feast for the eyes, spread out over three floors.
The ground floor is a restaurant and lounge bar area, where you can have a drink, initiate and enjoy some conversation.
If you feel like dancing afterward, just go up to the next floor where the main dance floor is located. There is a balcony on the upper level with a good view of the dance floor.
The music played at D.Fleur is not exclusive to a genre or style. Usually recent popular songs are played. Special party events are also organized from time to time.
Prices are between mid-range to expensive compared to the average pricing policy of Kiev night clubs.
There is an X factor making this club trendy among locals and especially popular with women. It is easy to find yourself dancing in the midst of beautiful women!
Dress code is less formal. Just the standard dress code.
So, what do you think?
Should I include this when I plan your Kiev nightlife tour for you?
Address: Mykhaila Hrushevskoho St, 3, Kiev.
Standard working hours: Thursday to Saturday, from 6:00 pm to 6:00 am.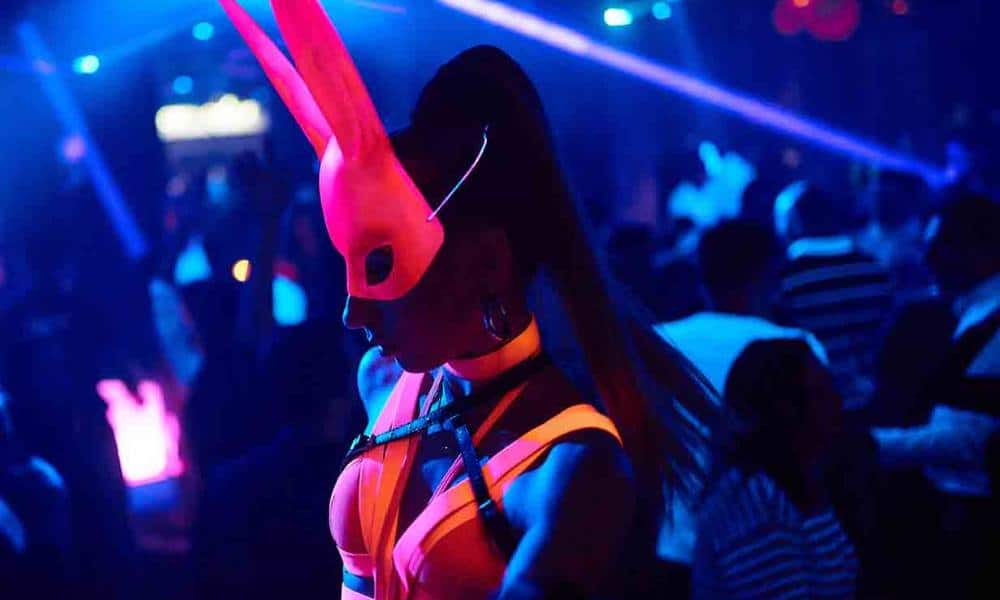 Caribbean Club
Not far from Kiev central train station, the Caribbean is a known nightlife destination, and one of the oldest night clubs in Kiev.
As the name suggests, the club plays mainly Latin music, with trance and RnB music also played depending on the night's program.
Caribbean Club's diverse and vibrant atmosphere attracts both locals and tourists. Special shows including live music and exotic dancers are quite common.
Maintaining this atmosphere helped maintain the club's popularity, especially with women between 25-35 years, making it a great meet-up place.
Prices for table reservations and drinks are reasonable.
ID checks as well as the dress code are relaxed. So, feel free to walk-in with confidence.
Address: Symona Petlyury St, 4, Kiev.
Standard working hours: Wednesday to Saturday, from 6:00 pm to 6:00 am.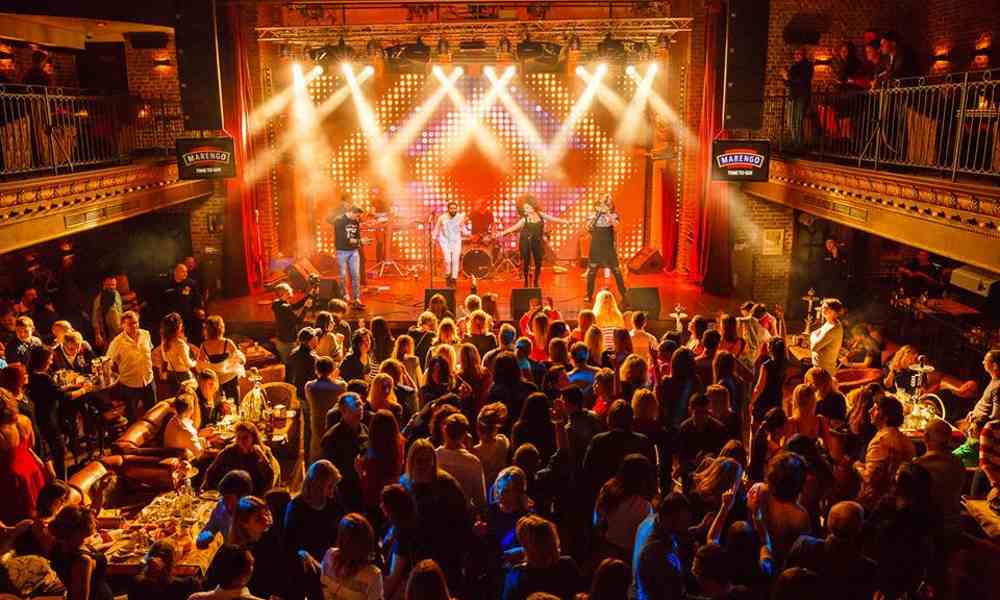 Heaven Club
Located at the heart of Kiev and gaining more popularity every day.
Heaven Club is well known not only as a night club, but also sensational after party club where partygoers can continue partying through the night until the next day.
The club is often full around 3:00 am and on some occasions can remain open until noon!
When other Kiev night clubs close, the party moves to Heaven Club. Why not follow it?
ID check is there to keep the troublemakers away, and dress code is relaxed.
Address: Borysa Hrinchenka St, 7, Kiev.
Standard working hours: Friday and Saturday, from 12:00 am to 10:00 am.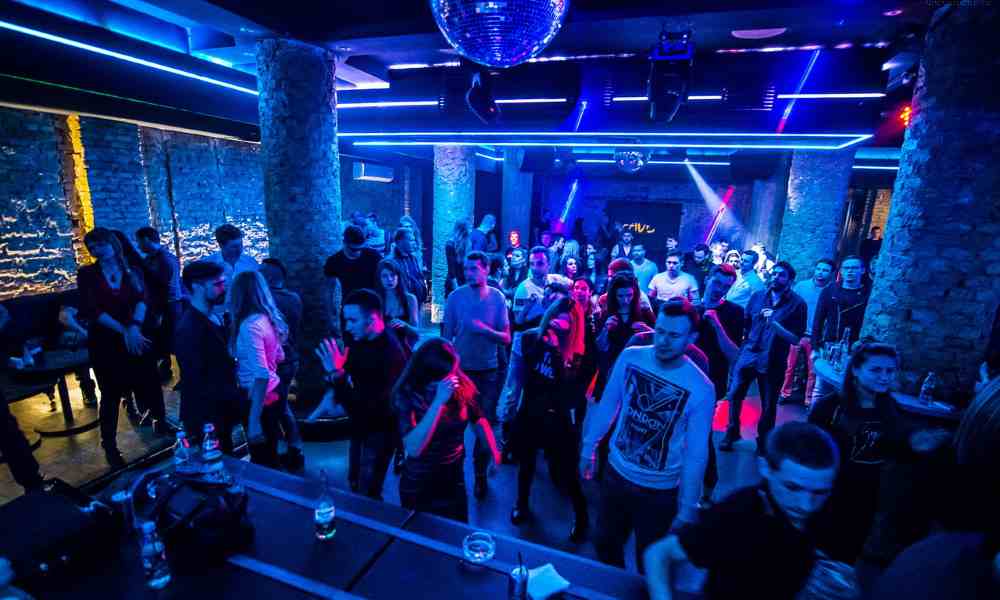 Forsage Club
Forsage's youthful vibe makes it popular among university students and youth in Kiev. The average age of the goers is something between 18-24 years.
Friday and Saturday are the best time to join the party.
Some tourists find Forsage Club amusing and tend to pay it more than one visit.
The club occupies three floors, each of which plays a different type of music.
Prices are low. Reserving a table with a minimum deposit for drinks will cost up to $30.
Forsage's advantage is its own disadvantage. It is a student-oriented club and comes with all the issues and difficulties associated that.
Address: Harmatna St, 51 A, Kiev.
Standard working hours: Monday to Thursday from 10:00 to 6.00, Friday from 10:00 at 7:00, Saturday from 18:00 at 7:00, Sunday from 18:00 at 6:00.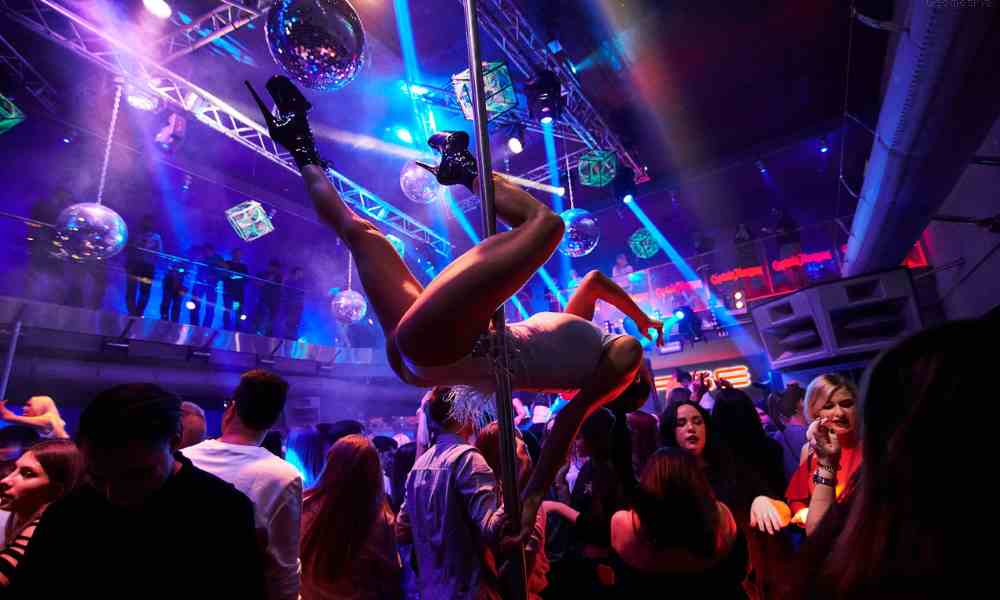 Indigo Club
Not far from Kiev central train station, is the elegant Indigo night club.
The complex consists of restaurant, karaoke, lounge bar and a dance floor.
Morning to afternoon the club operates as a restaurant, and then shifts to work as a bar. After 10:00 pm the night club is up and running.
Indigo enjoys a refined clientele that prefer to party on weekend (Friday and Sunday).
If I am to plan your nightlife tour in Kiev, I will first suggest to go on the weekend.
ID check is somewhat relaxed, with an average dress code.
Address: Kudryashova St, 3, Kiev.
Standard working hours: Open daily from 10:00 am to 6:00 am.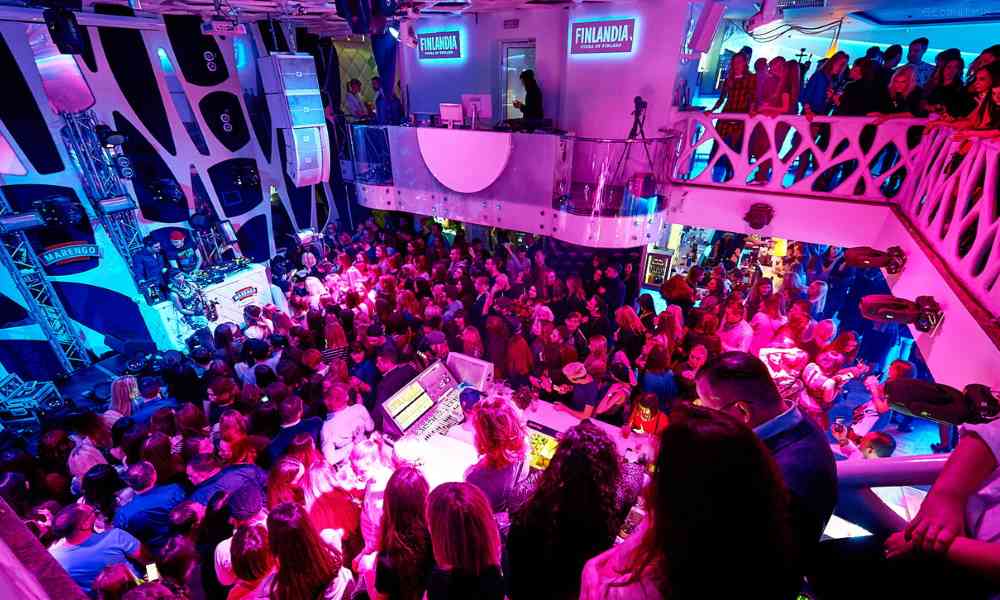 Famous Club
Famous for its daily parties, with quality music and skillful DJs, right at the heart of Kiev in Arena City.
Famous Club is a trendy night club, and an excellent choice for nightlife party lovers. Partying at Famous means energizing music, good drinks, fun karaoke and fine hookah.
This club is a real deal party and nightlife powerhouse. For most of the week it works as lounge bar with the real fun taking place every weekend with themed parties, live music, exotic dancers and dance shows.
Address: Arena City, Baseina St, 2 a, Kiev.
Standard working hours: Open daily from 6:00 pm to 6:00 am.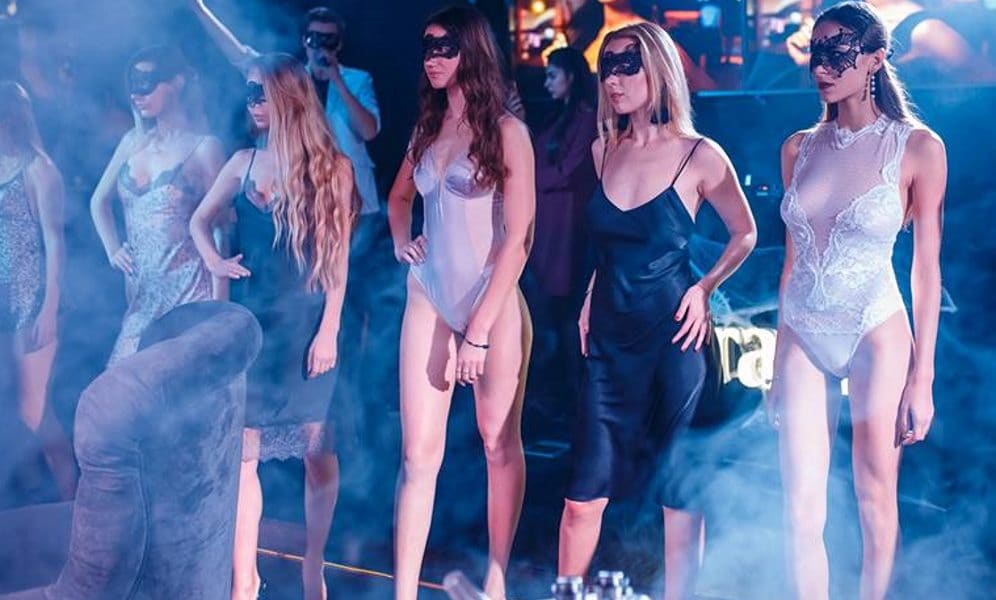 Dali Park
Located not far from two Kiev nightlife icons, CHI and D.Fleur, Dali Park is one of 'Kiev's top night clubs. It is known for organizing world class concerts and club events, with local and international participants from all around the world.
Kiev partygoers who prefer Dali Park night club include Ukrainian celebrities, many VIPs and some of the most attractive women in Kiev.
Prices are a little bit on the high side but totally worth it.
Dali Park is a seasonal night club and works exclusively during the summer. So if you are planning to visit Kiev during the summer time, just let me know and I will make sure to include it in your nightlife tour.
Address: Parkova St, 16, Kiev.
Standard working hours: Summer season, Friday and Saturday from 10:00 pm to 6:00 am.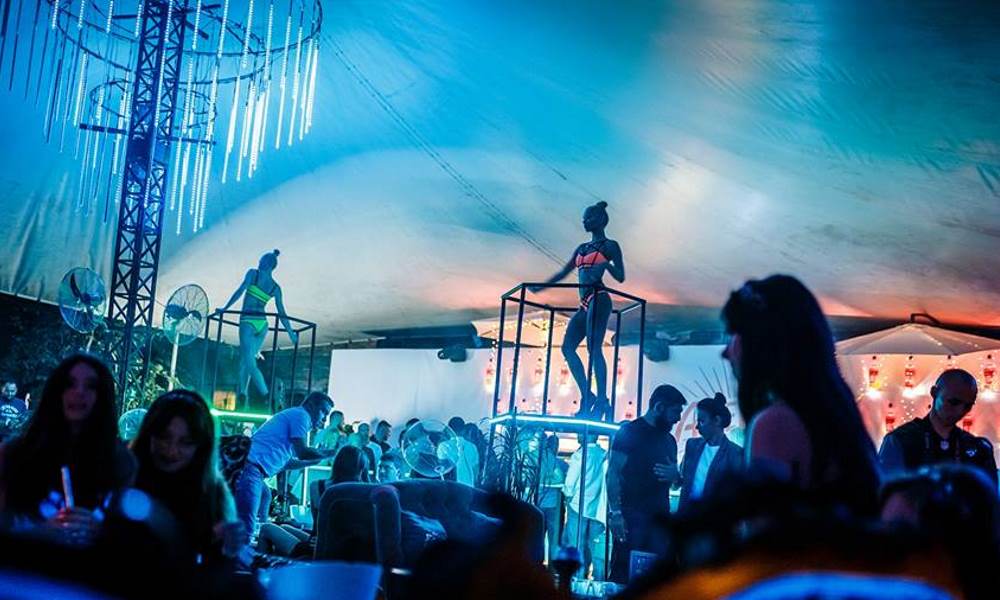 Kiev Summer Beach Clubs
Thanks to its geographic location on the banks of Dnieper, Europe's fourth longest river, Kiev enjoys long beautiful river beaches that became the home for a variety of entertaining beach clubs.
These clubs are seasonal. They start working during spring, end early autumn, and are considered a unique interesting part of Kiev nightlife.
The top summer beach clubs that I always recommend to my guests are:
Bora Bora Beach Club
It is located on a beautiful part of the Dnieper riverbanks with a white sand beach overlooking Kiev City Park, not far from nude beach.
At night, Bora Bora is a buzzing open-air night club, where you can have fun and enjoy the best beach party.
During the peak of summer, Bora Bora invites some of the best local and international DJs to light up Kiev beach, celebrate the sunny days in Kiev, from morning to late afternoon around its private swimming pool.
The club offers great food menu, edgy cocktails, and a chance to have and amazing sexy time at the Bora Bora Beach Club in the company of friendly partygoers.
Address: Hydropark, Kiev.
Standard working hours: Open daily from 10:00 am to 5:00 am. Only during the summer.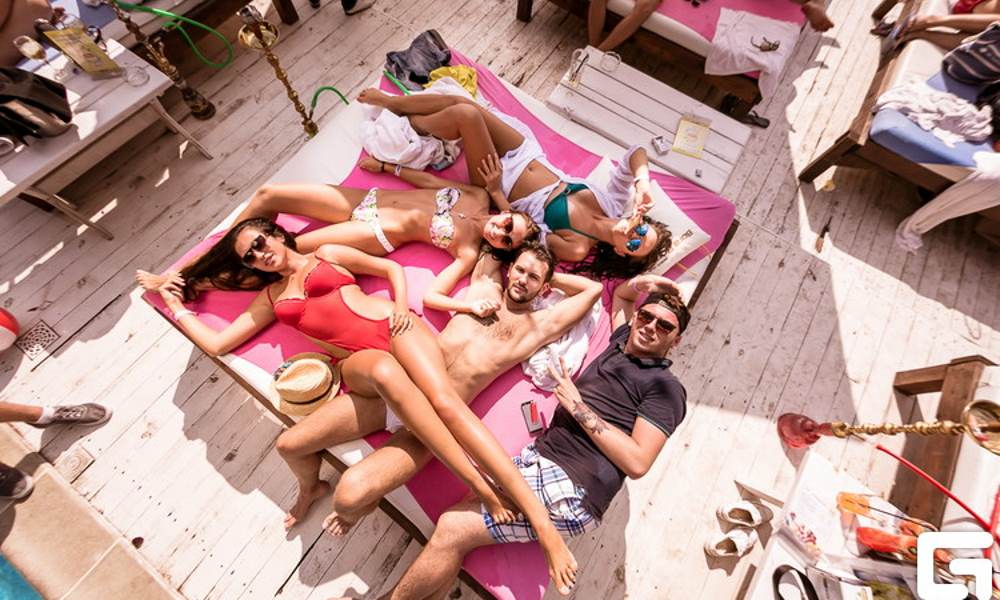 City Beach Club
Daily go-go dance performances, live DJ music, competitions, themed events, competitions, shows, great food menu, amazing cocktails, tempting swimming pools and all around sexy party atmosphere. This is City Beach Club in a nutshell.
The club occupies the roof of Ocean Plaza shopping and entertainment complex in Kiev, making for spectacular views.
The average age of City Beach Club clientele is between 20 to 35 years.
The club is basically built around two large swimming pools with a bar, restaurant zone, many tanning ledge pool chairs, dance floor, and unlimited possibilities to flirt and make new friends.
View my article on City Beach Club to get more detailed information.
Address: Antonovycha St, 176, Kiev.
Standard working hours: Open daily from 9:00 am to 12:00 am. Only during the summer.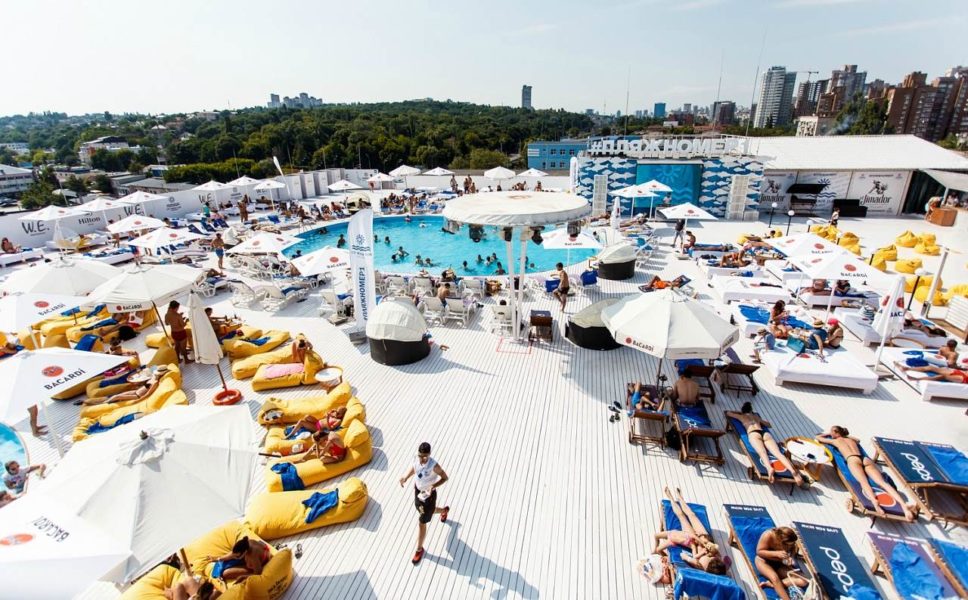 Olmeca Beach
Olmeca is an exclusive VIP beach club. Music, style and themes vary and it is known for organizing fabulous private events during summer.
Located on the beach of Dnieper river, Olmeca Beach (Olmeca Plage) is well reputed luxury beach club in Kiev. It has its own river beach and separate large swimming pool and volleyball play areas.
Olmeca Beach is not a permanent Kiev nightlife entertainment complex. Administration tends to take the decision of operating at night during the summer at the beginning of each season.
Contact me in advance. I will let you know if we should include Olmeca or not when we plan your tour together.
Address: Brovarskyi Avenue, 5, Kiev.
Standard working hours: Only during the summer, depending on the event.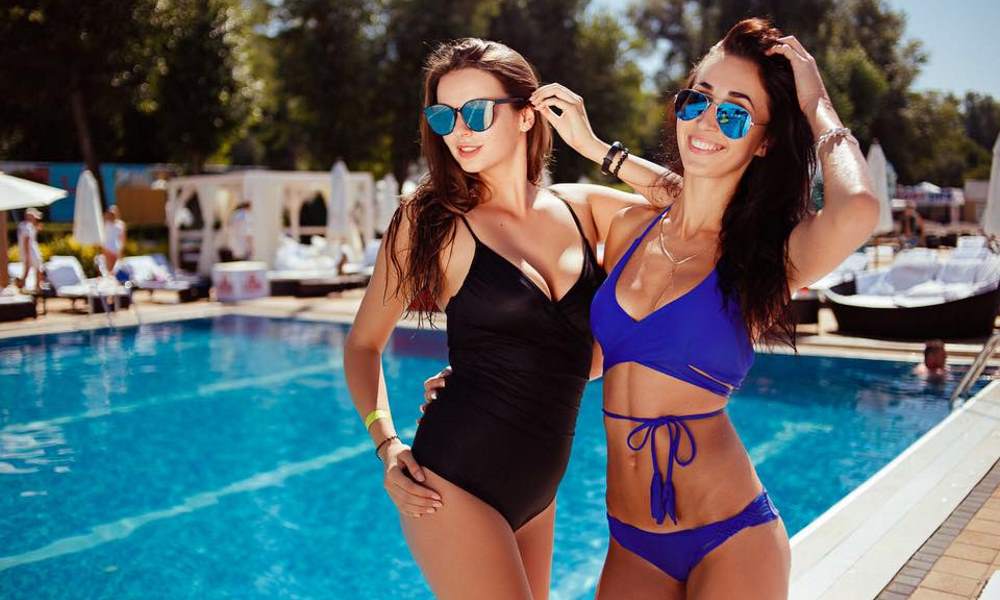 Best Bars and Pubs in Kiev City
The Bar
Located within the famous Arena City Kiev, The Bar is one the best bars – if not the best – in Kiev.
It consists of two sections, smoking and non-smoking. The former enjoys a small dance floor with life DJ stand, where life DJs often paly RnB, Pop and club music, making for pleasant atmosphere.
Add to it dimmed lights, the smoking section is like a mini night club, making it more fun for smokers!
The Bar deserves the "The" before its name as it is known for serving quality drinks and cocktails, both alcoholic and non-alcoholic beverages. That's why starting your Kiev nightlife journey from The Bar would be a great idea.
The female clientele age range is 18-30 years, mainly local Ukrainian women. As for males, the vast majority are foreigners, with some local presence.
Let me know if you feel like starting your nightlife tour in Kiev at The Bar.
Address: Arena City, Baseina St, 2 a, Kiev.
Standard working hours: Open daily from 6:00 pm to 6:00 am.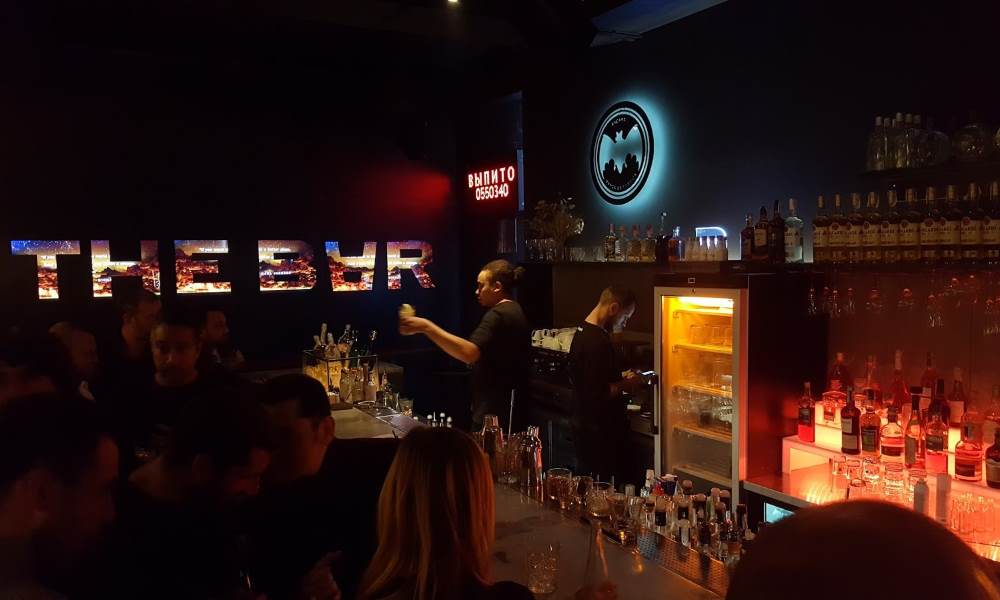 Alchemist Bar
Alchemist Bar is located at the center of Kiev in an old looking building with not much to tell that a bar is anywhere around.
The bar itself occupies part of the building's basement. You can enjoy the drinks, but no smoking is allowed inside.
Live music and DJs often play at Alchemist Bar making it cool to spend some time there.
Due to its location, this bar is very busy every day. So, if you prefer a table to sitting at the bar, you will need to make a table reservation in advance. But, don't worry about it. If I plan your nightlife tour in Kiev, I will take care of this part.
Address: Shota Rustaveli St, 12, Kiev.
Standard working hours: Open daily from 12:00 pm to 3:00 am.
Touch Café
This Café/bar is located right at Kiev's center. It has Middle Eastern interior design and decorations making for warm atmosphere.
Touch Café serves as a great pre-party establishment. It is a good place to start your night adventure in Kiev.
Touch has decent bar and food menus. You can also enjoy smoking hookah there and there is a section for smokers.
Live DJ music plays from 10:00 pm. It is wise to reserve a table in advance if you plan to go there on weekend evening.
Prices are on the high side, when compared to the average café/bar in Kiev. However, quality and cost are well balanced. Rest assured you'll enjoy your drink, meal and time there in Touch Café.
Address: Shota Rustaveli St, 16, Kiev.
Standard working hours: Open daily from 12:00 pm to 2:00 am.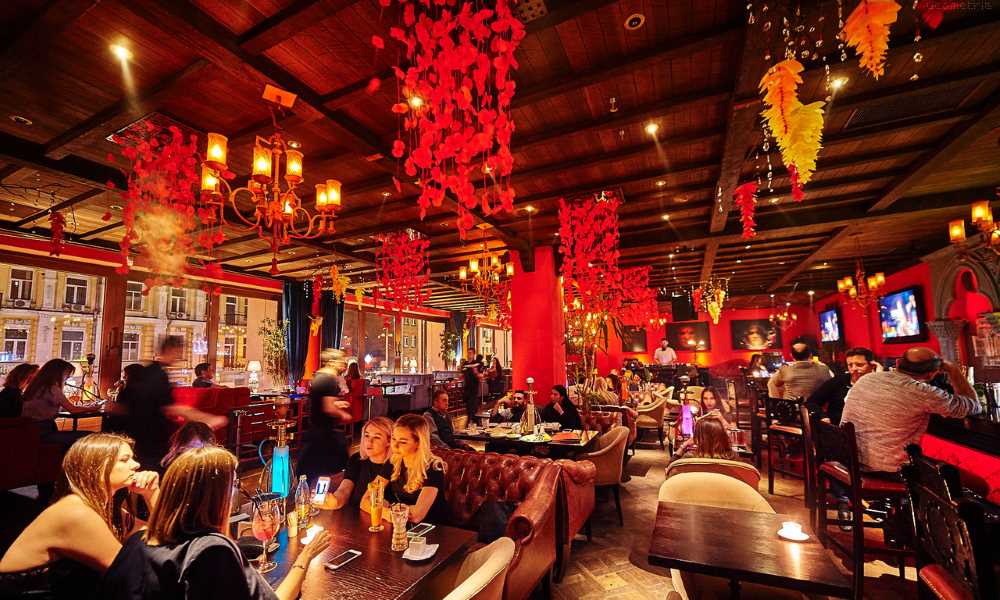 Buddha Bar
Located not far from Maidan square, Buddha Bar is one of Kiev's favorite bars among both locals and tourists.
Buddha is not only a bar but also a restaurant. The first floor is a restaurant with main mainly Asian cuisine while the lounge bar and dance floor occupy the second floor.
Entertainment peaks on the weekends with go-go dancers dominating the dance floor as part of the weekly program.
Address: Khreschatyk St, 14, Kiev.
Standard working hours: Monday to Thursday from 1:00 pm to 2:00 am, Friday and Saturday from 1:00 pm to 4:00 am, Sunday from 2:00 pm to 2.00 am.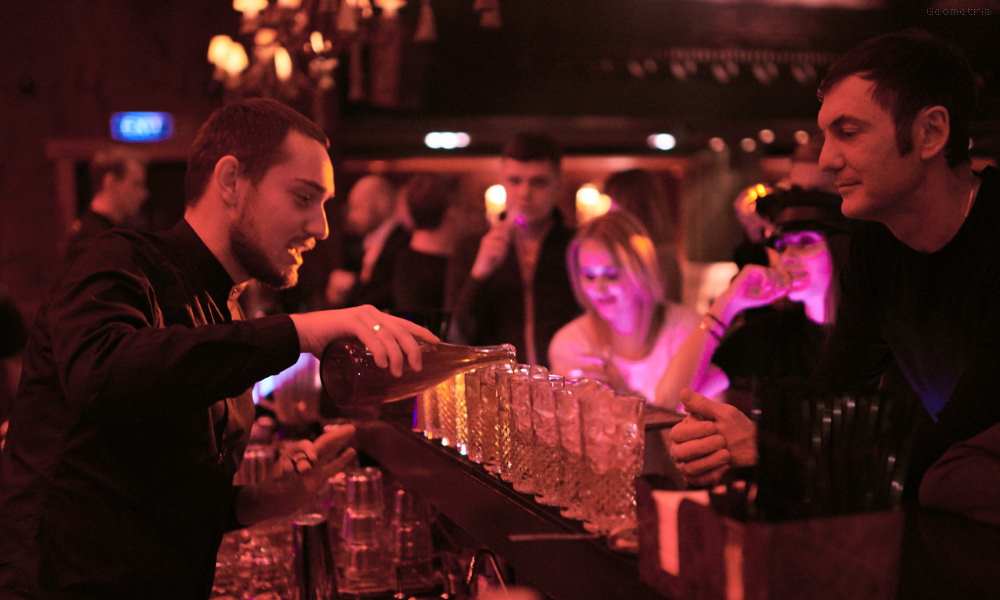 Par Bar
Known as the perfect spot for hookah lovers, Par Bar is a modern loft with high ceilings, large windows, and soft, comfortable furniture.
Using muffled lights, pleasant music, and rich wall drawings, the owners aimed to replicate a warm cozy feeling, and they succeeded!
You can pass your time while enjoying hookah and a good drink or cocktail.
Address: Shota Rustaveli St, 10, Kiev.
Standard working hours: Monday to Thursday 12:00 pm to 1:00 am, Friday and Saturday 12:00 pm to 3:00 am, Sunday 12:00 pm – 12:00 am.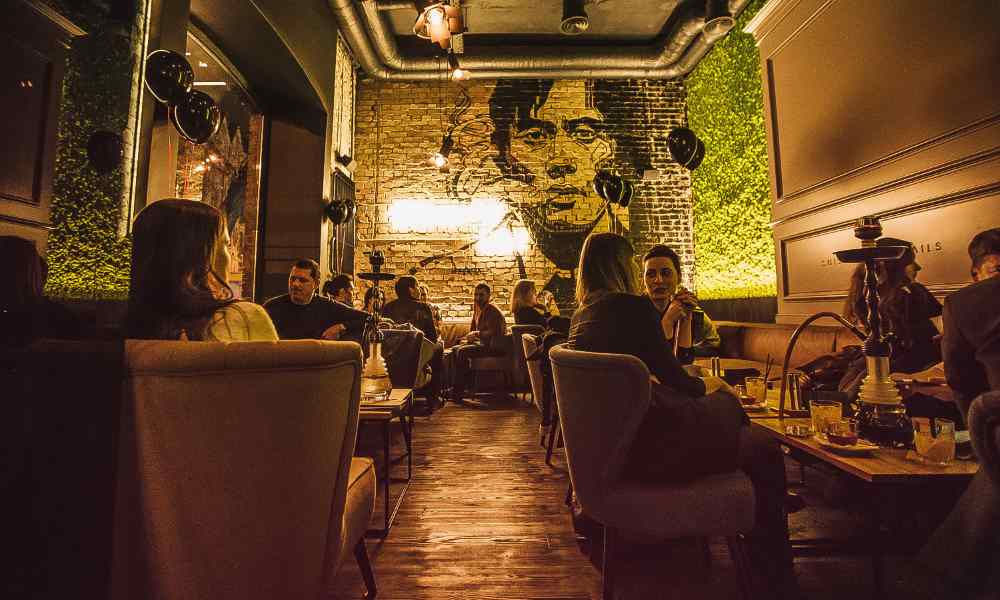 GODZ Hookah & Cocktails
An authentic hookah bar in Kiev gained attention of vast clientele with a bold claim of serving up to 700 different flavors of hookah tobacco.
Hookah is not the only thing served at GODZ: fresh drinks, exclusive cocktails and decent food menu add to the smoky experience!
Live DJ music is not rare at GODZ. Depending on the day's program, RnB, house or trance music is played by skilled DJs.
It is another place that can put you in the mood before you move forward to explore the nights of Kiev and its endless exciting parties.
Address: Arena Kiev, Baseina St, 2 a, Kiev.
Standard working hours: Open daily from 12:00 pm to 5:00 am.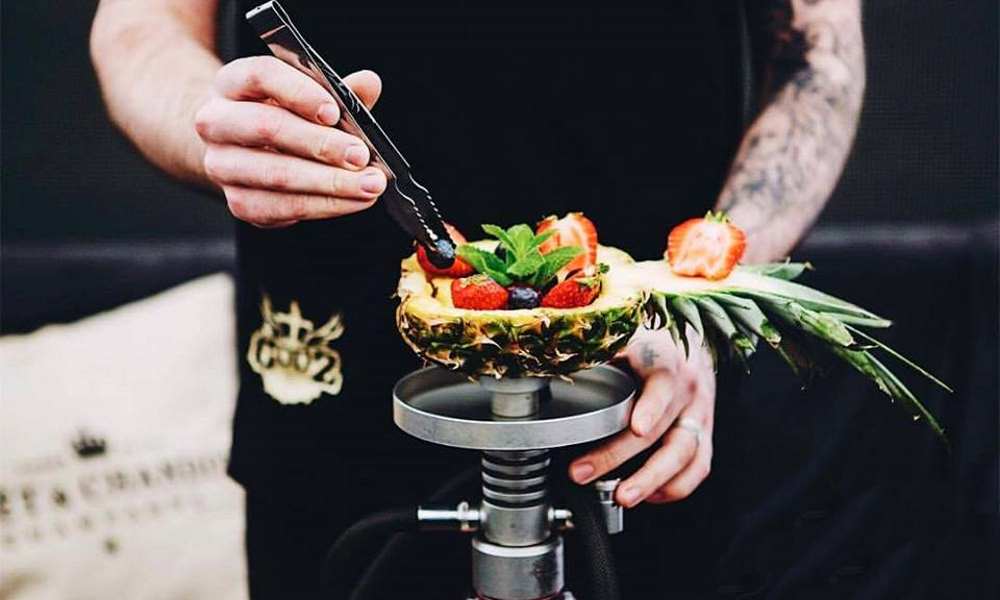 The capital of Ukraine is an amazing city, its nightlife is incredible, and you should really experience it at least once in your life.
With me, Alexandra, as your tour guide in Kiev, you are guaranteed to experience the best Kiev nightlife events, clubs and activates.