I thought a lot about how to start my compact Kyiv travel guide, and decided to do so by describing the city itself at the beginning of this article, and I find myself re-typing and deleting words, and unable to do it justice no matter how hard I try!
So, I decided to just say this:
Kyiv is the most underrated, overlooked capital in the world, when it comes to tourism!
It is a treasure for all tourists and travelers. Kyiv is a place where you can walk the streets admiring 1000 years of marvelous architecture, experience wild nightlife to the fullest, enjoy sandy river beaches, socialize and make new friends, and even drive a tank among other things to enjoy an adrenaline rush!
Many mega-cities around the globe claim to have it all. Rarely does that prove to be the case. I'm proud that my city, falls within this rare category.
I know you have a lot of questions about it, how to get here, where to stay in Kyiv, what can you do in the city, about Kyiv nightlife… So. let's start with the first question:
Is it safe to travel to Kyiv?
The short answer is yes, it is safe for tourists!
Contrary to the bad 90's actions movie made you think, the mafia is not roaming the streets in their long black leather coats, black shades, carrying AK-47 machine guns, robbing banks and shooting people randomly!
East Europe in general, and Kyiv in particular, are victims of negative stereotypes.
Just try mentioning your plans to fly to Ukraine to family and friends, who have never been here before, and they will be more than likely express worry and might try to discourage you from going on with your journey, and suggest you avoid this "dangerous" place!
The reality is that the capital of Ukraine is as safe as any other European capital.
Nothing testifies to that like the increasing number of tourists visiting Kyiv every day especially at its downtown, and other popular tourist attractions.
Of course, incidents and crimes do take place just like any other major city in Europe and the United States. Taking some normal caution should be enough.
One thing dominating the news, fueling doubts about the safety here, is the Ukrainian-Russian conflict.
Despite the situation in the eastern two regions of Luhansk and Donetsk, on the far east of Ukraine, no tanks are cruising the streets as the conflict is limited to a small area on the eastern border of Ukraine, about 700 km (~430 mi) from Kyiv.
The conflict zone is isolated with the extensive presence of various Ukrainian security units making the rest of the country safe to locals and visitors alike.
Is it safe to travel to Ukraine (Kyiv) alone?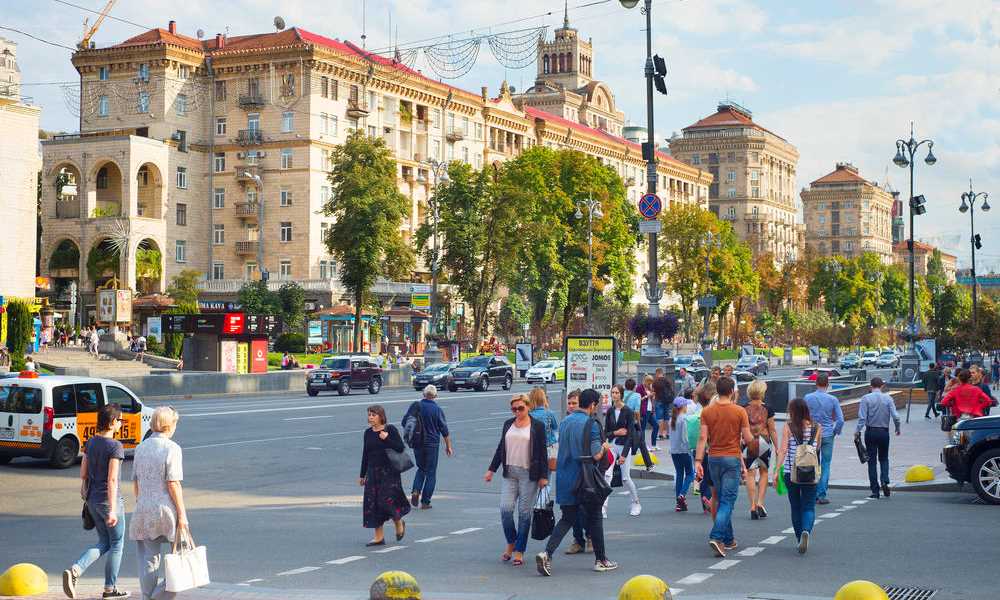 Yes!
There is not much difference between traveling to Ukraine alone versus Paris, New York, London, or Rome alone.
The same common-sense rules apply to solo travelers as well as to couples and groups of friends traveling together. However, if you are traveling alone to Kyiv, take note of my five simple safety rules:
Rent a good hotel/apartment in the center of Kiev
Do not casually flash your money on the street
Avoid late-night solo adventures in far areas
Avoid walking alone in the dark streets late at night
Hire me as your tour guide in Kyiv to plan and organize your visit to Kyiv from A to Z!
Simply treat Kyiv the same way you would treat your city, but with some extra caution.
Select a good area to stay, preferably at the city center, and ignore questionable characters who approach you on the street with strange offers!
I am a professional and friendly tour guide here, in Kyiv. Why don't you allow me to help you to plan your visit and keep it safe and enjoyable? 
Do I need a Visa for Ukraine?
Needing a Visa to travel to Ukraine depends on the passport you are holding. To know if you need a Visa or not, please visit the Entry regime to Ukraine for foreign citizens on the official website of the Ministry of Foreign Affairs of Ukraine.
In general, citizens of the United States of America, Europe, the Persian Gulf, India, China, Australia, among others, enjoy Visa-free, online, or Visa on arrival entry.
However, the duration of stay is different for each category of entry and Visa type; for that, you should review the official Visa information on the Ministry of Foreign Affairs' website.
If you find that you require a tourist Visa to visit Ukraine, then you should apply for it directly through the appropriate Ukrainian consular office in your country.
Acquiring tourist invitations can be helpful to ease the process. Try Googling tourist agencies offering this service.
If I can be of help, contact me and let me know!
What is the currency in Kyiv (Ukraine)?
Our currency here is the Ukrainian Hryvnia. Today, the exchange rate is 1 USD to 28 Hryvnia. However, it often changes. Check updated information displayed below;
  Hryvnia Exchange Rate
How much money can I take to Ukraine?
You can cross the border with no more than the equivalent of 10,000 Euros in cash.
I do not recommend that you use this limit to the fullest; better keep the rest on your credit/debit card which are widely accepted in shops, restaurants, supermarkets, and shops. And if you need cash, simply use any ATM in the city.
Are prices in Kyiv affordable?
Yes, it is very affordable for tourists. And I dare to say that the value you will get for your money in Kyiv is not even possible by any other capital on this planet.
Make no mistakes, Kyiv is a very fancy city. We, Ukrainians spare no luxury when it comes to clubs, bars, shopping malls, and entertainment.
Just experience the nightlife scene to get a hint of the glamourous city that Kyiv is.
Nevertheless, the costs of living, food, transport and even partying is among the lowest in Europe.
Kyiv was affordable before, however, the events of the revolution (2013-2014) had taken their toll on the Hryvnia (the local Ukrainian currency), and caused it to devalue three times in value.
Of course, prices followed and went up, but a 100 USD (or 100 Euro) can still go a long way.
A decent meal in a good restaurant with drinks and maybe some desert starts from $5 to $7 per person. A 10-15 minute Uber ride outside of rush hours tops $3 to $4.
Enjoy an entire evening drinking at a bar spending only $50!
Staying in a fancy one-room apartment at the very heart of the city can be $50-$80/night. Some museums are as cheap as 10 cents for entrance!
Want to know more about prices in Ukraine?
I know!
This is why spending a minute or two reading my article Kyiv Budget Guide will give you a better idea about budgeting and how to better manage your finances when visiting Kyiv.
Read ⇒ Kyiv Budget Guide: Your Budget for Visiting Kiev
Do people speak English in Kyiv?
Yes and no.
The vast majority of Ukrainians do not speak English. A lot of people do understand English, however, speaking tends to be challenging.
Unlike native English speaking countries (UK, USA, Canada, Australia, and others), Ukraine is a post-soviet country in which the dominant language was Russian.
That is why you might struggle to find English speakers among mid-age and older people, while the younger generation is much savvier with English and other languages in general.
They may be a little hesitant out of shyness, but approaching people with a smile, using simple English words, and learning a few Ukrainian or Russian words will go a long way.
Regardless, the language won't disturb your stay, entertainment, or food.
Ordering food at restaurants and cafés should be no problem as all of them have English menus and employ a couple of waiters who do speak English.
All decent hotels, including the ones I will recommend when you trust me to plan your visit to Kyiv, have English-speaking employees at the reception.
And if you need a good interrupter in Kyiv, just contact me!
How many airports are there in Kyiv?
Kyiv has two civilian airports that are open for international flights. Arriving at either of them is fine, Boryspil Airport and Zhuliany Airport.
Boryspil Airport
The first is Boryspil International Airport; its international code is KBP.
This airport is the bigger and busier in Kyiv. It is 29 kilometers (18 miles) from Kyiv.
Transport options from Boryspil (besides taxi) include airport shuttle bus. It has two stops: Kharkivska metro station and the Kyiv central railway train station.
You can also take airport shuttle trains from Boryspil to the railway station.
It's a good option if you are not planning to stay in Kyiv and need to proceed with your journey to another city.
My advice is to use Uber. It is reliable, safer, and cheaper than the average taxi.
Zhuliany Airport
The second airport is Kyiv International Airport (Zhuliany), easily differentiated with its international code IEV.
It's more compact than the first and also the nearest airport to Kyiv as its located within the city limits. Zhuliany is only 8 kilometers (5 miles) from Kyiv's center.
So, transport is not an issue with even the tram line being not far from the airport.
Getting a taxi would be better than the tram, but forget about taxis, order an Uber!
Just in case you don't want to hustle, I can arrange for your pickup.
Where to stay in Kyiv?
For you as a tourist, the best place to stay is around Kyiv's city center, or an elite part of Podil historic district.
These are the best and safest areas in Kyiv, especially for foreigners.
I recommend the area around Arena City. It is a favorite among my tourists with many nightclubs, restaurants, and tourist attractions within walking distance from it.
There are three types of accommodations for tourists: hotels, apartments, and hostels.
Couchsurfing is not a wide practice here, so better stick to hostels if you are on a tight budget.
Should I rent a hotel or an apartment in Kyiv?
The last 5-10 years have been good for Kyiv's hotel business. Both quantity and quality went up rapidly.
Today, there is a hotel in Kyiv for every taste and budget. Many luxury hotels have their spas, so you can take advantage of that while staying there.
In my opinion, Premier Palace, Aloft, and 11 mirrors will give the best value for your money.
Apartments are generally cheaper than hotels with an extra bounce of privacy. However, hotels are always safer.
Renting an apartment is not dangerous, on the contrary, they can be as safe, or even safer. It all depends on selecting the right area and the right apartment.
There are many websites and apps like Airbnb, offering hundreds of options all around the city. Nevertheless, they don't guarantee to get the best possible option.
In case you prefer to rent an apartment, but hesitant about doing it online, you can trust my expertise and contact me to assist you with your choice.
I went through the pros and cons of a well-detailed article about How to find good accommodation for tourists in Kyiv; you will find many interesting things inside. I highly recommend reading it!
Read ⇒ Where to Stay in Kyiv
What is there to do in Kyiv?
Kyiv is a modern, vibrant European megapolis with a rich history.
The city's attractions are limitless, and you can spend an entire month in it, having every meal in a new restaurant/café without visiting any restaurant twice, partying in a new place every day, exploring and enjoying a new tourist attraction every time.
I am discovering new things to do and places to visit every day!
So let me share my opinion of the top things to do in Kyiv:
Descend into the world's deepest metro station
Riding the never-ending escalators of Arsenalna metro station is something every tourist in Kyiv should experience.
The metro system was designed and constructed during the Soviet era. The Ukrainian capital desperately needed this addition to its transport network.
Taking into consideration Kyiv's geology and geography, engineers were forced to go deep under building the tunnels. That resulted in Arsenalna, the deepest metro station in the world.
Arsenalna is 105.5 meters or 346 feet deep below the surface. To visualize it, the Statue of Liberty to the edge of the torch is 93 meters or 305 feet, and Big Ben is 96 meters or 315 feet.
The distance is so long, it takes two-stage mega escalators to connect the entrance with the train platform.
The journey from the entrance until you board the underground train takes 5-6 minutes on average.
Tour the golden-domed churches of Kiev
Kyiv is famous for its beautiful historic golden-domed churches and cathedrals.
The architecture and design of these sites were influenced by Byzantine architecture. They have been and still are major landmarks of Orthodox Christianity.
Among them are Saint Sophia Cathedral and Kyiv Pechersk Lavra (Kyiv Monastery of the Caves), both are UNESCO World Heritage Sites, which were built around 900 years ago.
The 1000-year-old Saint Sophia's Cathedral is the oldest major orthodox cathedral in Ukraine, and one of the holiest sites in Eastern Europe.
Fun fact, the cathedral is illustrated on the two Hryvnia bill!
Besides the cathedral, the complex also includes Yaroslav tomb (Sarcophagus of Yaroslav the Wise) and the spectacular southern entrance tower.
If you are a fan of architecture, touring Pecherska Lavra will be an exciting experience. It is a large complex, with over 100 monks residing inside.
The complex is built on a system of narrow tunnels connecting underground caves that contain chapels and living quarters. You will get a chance to explore some of them during your tour.
St. Michael's Golden-Domed Monastery is another spectacular site deserving of your attention.
The monastery is a living example of resurrection and deep routed orthodoxy in Ukraine.
It underwent painful demolition by the Soviet regime between 1934-1936, then reconstructed and rebuilt from the ground up using many authentic parts of the historic monument, saved during demolition.
St. Michael's Golden-Domed Monastery opened its doors again in 1999 in an independent Ukraine. Also worth your attention when you visit Kyiv.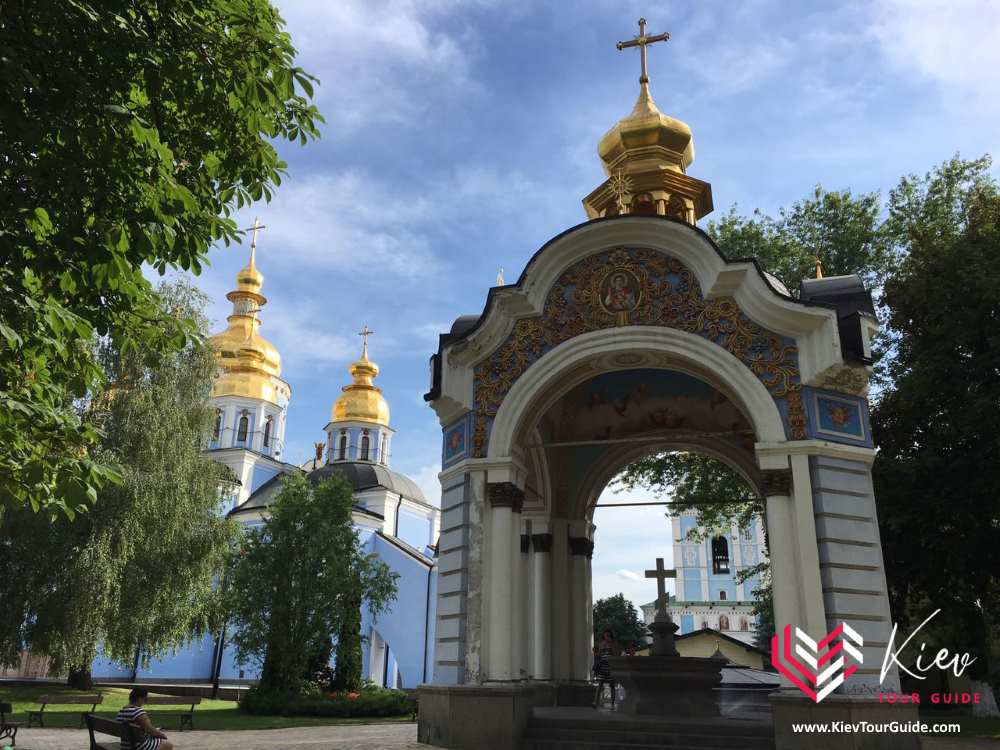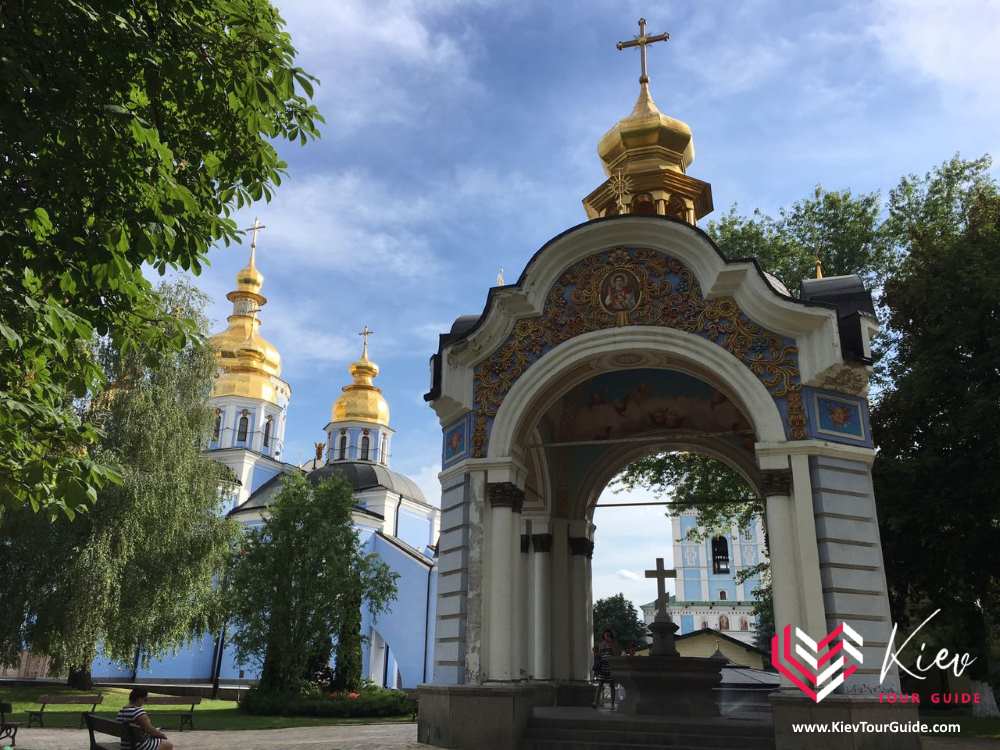 Other historic churches I suggest you also visit St Volodymyr's Cathedral and St Andrew's Church. Both are among the city's top tourist attractions and are an illustration of Kyiv, and Eastern European art and architecture.
Explore Motherland Monument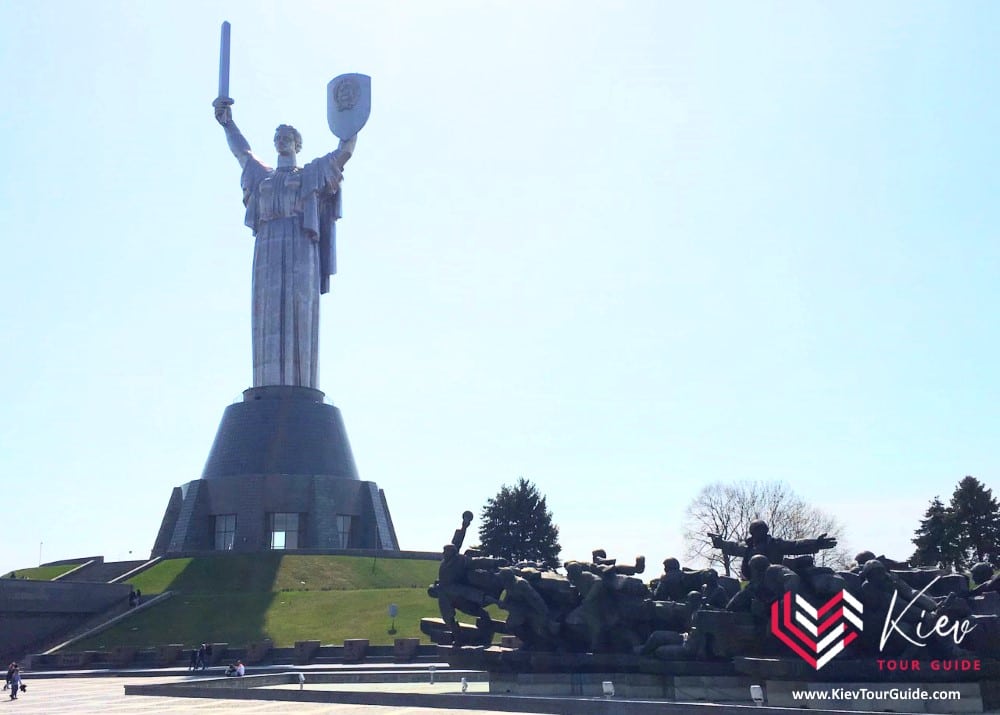 It seems that many major projects that start as controversial transform into monumental landmarks.
Motherland Monument in Kyiv is one of the. It is one of 10 tallest statues in the world (7th according to some sources), and an internationally recognized symbol of Ukraine.
The monument was built out of steel and designed to stand tall for more than 150 years.
With its base, Motherland is 102 meters or 335 feet tall. Meaning it is taller than the iconic Statue of Liberty in New York which is 93 meters or 305 feet.
There are observation decks at 36 meters (118 feet) and 91 meters (298 feet) height.
The statue itself is part of the National Museum of the History of Ukraine in the Second World War.
The massive memorial complex occupies over 27 acres, it also includes an exhibition of various Soviet area weapons and equipment, and I am not talking about guns and pistols, but tanks, heavy artillery, armored boats, fighter jets, attack helicopters, and even a mobile strategic missile unit for nuclear weaponry!
Don't worry though, it is harmless and without any real warheads inside!
The complex itself is a masterpiece testament to Soviet-era art and architecture.
Before you reach Motherland Monument, you will pass through a tunnel.
There are various art exhibitions all around, the most exemplary ones are The Flame of Glory, Battle of the Dnieper Monument, and the breathtaking war panorama on the walls of the tunnel midway between the main entrance and Motherland Monument.
If history is your horse, you can easily spend half your day at the National Museum of the History of Ukraine in the Second World War.
Sounds interesting? Let me know to include it to your tour then!
Spend a day on the beach
Many of my tourists express their surprise when I introduce them to the beach life in Kyiv.
My city is located on the east and west banks of the Dnieper, one of Europe's largest rivers.
The river beaches are wonderful, ideal for tanning, and relaxing after a long day of work.
Trukhanov Island is a great example of Kyiv beach life. You can meet people and socialize, rent a kayak, jet ski, or even go water skiing!
There are many beach nightclubs all around Kyiv, so why not stay after dark and join the party?
Go on an adventure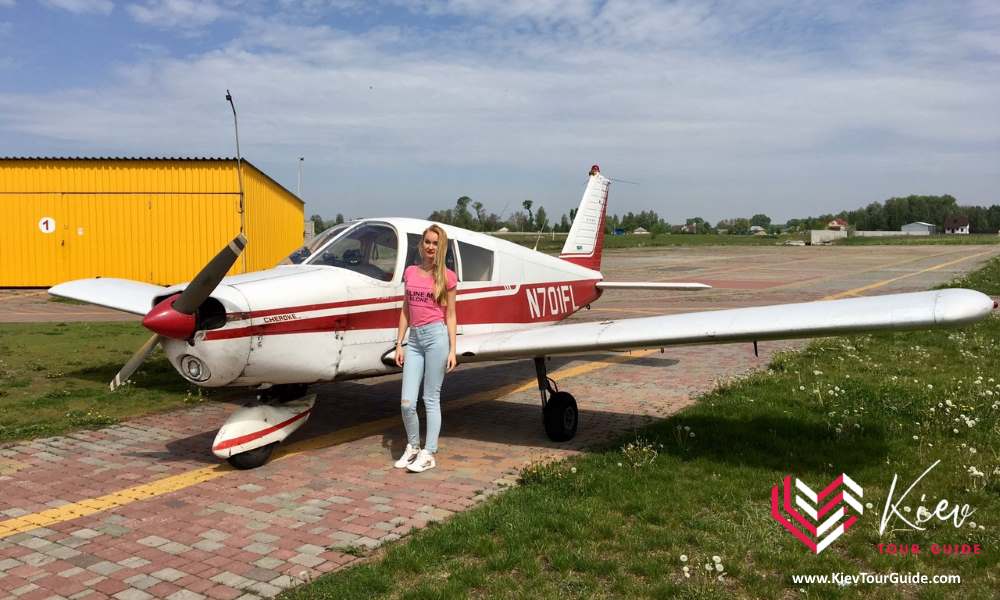 If you are looking for an adventure, you will find many!
There are limitless sources to make your adrenaline rush here. Some of them are exclusive to Kyiv and Ukraine.
The most famous among them is exploring the ghost town of Chernobyl. Surely, the name sounds familiar!
How about flying a plane?
Even better, jumping off one!
You can also ride a tank, and drive it after short instruction.
Extreme tourism is big here. I think we like it so much, that we unintentionally perfected it!
I wrote a detailed article about adventure tours in Kyiv, which I regularly update with new information.
I recommend you read it first for better orientation before requesting a tour so we can better plan your visit to Kyiv.
Read ⇒ Kyiv Amazing Adventures: Experience These Crazy Extreme Tours in Kiev
What to do in Kyiv at night?
A lot!
You can start the evening at one of Kyiv's best bars, or pre-party spots, then go clubbing, meet new people, and continue partying if you still have the energy as the city has many amazing after party clubs.
Kyiv nightlife is an amazing beast that tourists find themselves tempted to try to tame. It has developed to become a major industry with various outlets, attracting tourists from all around the world.
The nightlife scene in Kyiv has it all: a romantic atmosphere, stunning clubs, buzzing bars, and friendly partygoers!
Nightclubs dominate the nightlife and are its main component. Clubs here love to organize lavish themed parties and various events.
There are many good nightclubs in Kyiv ranging from elite glamourous to underground.
Bars are not a place to get hammered, but a vibrant cultural addition to the nights of Kyiv. Spending an evening in a bar can be for the drinks, spending time with friends, while enjoying live music performances.
They can also be pre-party and after-party spot. Many bars in Kyiv organize live DJ music performances on weekends.
Many bars can be described as mini clubs themselves.
I have heard it repeatedly from tourists who travel from the States, Europe, India, Australia, and others: Kyiv nightlife is amazing!
To summarize: the night scene is exciting, glamourous, wild, safe, and affordable.
Nightlife is my most requested tour. If you are a party fan, you will find my Kyiv Nightlife Guide very useful.
Where to eat out in Kyiv?
When it comes to food, my city has too much to offer for you to be punishing yourself with McDonald's and KFC!
I always try to place my tourists in Kyiv downtown. This gives them the bonus of being in short walking distance from my favorite restaurant Koya.
It's located within Arena City complex that also hosts a large number of the best food places like The Burger, where you can enjoy a specialty burger as the name hints, or get something light to eat and socialize as in Casual Food.
If you happen to be in a hurry, just grab a fast meal at Noodle Doodle.
When it comes to class, try Coin, which is another favorite of mine and my tourists. There you are guaranteed to enjoy every meal.
If you are looking for an outstanding dining experience, going on a date, or simply want to treat yourself, look no further than Veranda. It is an elite restaurant, with an outstanding menu, great service, and a warm atmosphere.
In many aspects, Ukraine is a melting pot for cultures. Our food and restaurant scene is one clear reflection of that.
There is one street at the heart of Kyiv where you can find within 200 meters walking distance restaurants specializing in Ukrainian, Japanese, Iranian, Vietnamese, and Italian cuisine! And a Mc Donald's, too!
I hope you are better informed now about Kyiv than before. If there are any questions you have, or want to request a private tour, feel free to contact me.
Since you are here, you might also be interested in: