Kiev is not a city that goes into hibernation during the winter!
Although it might sound unbelievable for people who have not been to Kiev before during winter, the city is very active throughout the colder times of the year.
I even have the impression that our city is livelier during winter than any other season of the year, especially when it comes to nightlife entertainment, café/restaurant scene and cultural life.
It seems to me that the winter breeze ignites rather than paralyzes the vibrant city of Kiev. You will be surprised how amazing Kiev winter life is and how many activities you can enjoy during your winter trip to Kiev!
Where to go in Kiev in winter?
As I mentioned above, for a vibrant city like Kiev, cooler weather is never a showstopper. In fact, this season has its own pace of life with many things to see and do.
Although, indoor activities do in fact peak during winter season, there are not only indoor activities, but also plenty of outdoor activities
Winter in Kiev gives you amazing opportunity to have great time and experience:
Kiev's Christmas and New Year festivities
Go skiing and snowboarding in the middle of the city
Hang around and socialize with people in popular cafés and hookah bars
Enjoy popular plays at Kiev theaters
Party at Kiev nightclubs
Spend a day relaxing in popular waterparks
Learn to skate and much more!
Let us explore some of Kiev's winter activities that you can experience yourself during you visit:
Skiing and snowboarding at Protasov Yar
You do not have to spend a lot or travel far away from Kiev to enjoy skiing.
Our city has its own skiing resort not far from the city center of Kiev. It is called Protasov Yar and is a popular winter attraction for everyone who enjoys winter sports.
You should give it a try, and even if you have never tried skiing before, do not worry, there are many trainers on site who can guide you and give you one-on-one training sessions for $20-$30 per hour.
Gear and equipment can be rented from the specialties booth at the base of the resort, near its entrance.
I highly recommend you go there and give it a try, just dress warm and get ready for an exciting experience.
Enjoy New Year festivities in Kiev
New Year is the mother of all holidays in Kiev, and in Ukraine in general. It is our main festivity and party of the year. No other event can even come close to it.
The New Year festivities start on the first day of December and continue through the first 7-10 days in January, until the holiday aura starts wearing off.
Our Christmas and New Year village that hosts the main festivities is located around the area of Sofiyivska Square and Mykhailivska Square.
The village has beautifully themed wooden booths that serves a variety of food, desserts, hot chocolate, and mulled wine making for good food tour. They occupy the short street, Volodymyrs'kyi Passage, which connects the two squares.
Sofiyivska Square is where you will find Kiev and Ukraine's main Christmas and New Year. In the background, you can see the iconic bell tower of Saint Sophia's Cathedral; it is a UNESCO world heritage site and one of Kiev's top tourist attractions. There is an entrance to the cathedral's complex territory at the tower's base, make sure to spare sometime to explore the spectacular 1000 year old cathedral.
Take a cultural tour
Winter in Kiev is the spark that ignites its cultural life. The movie theaters are always busy, art galleries and exhibitions take place all over the city, with the most interesting at Pinchuk Art Centre and Mystetskyi Arsenal. As for the opera, despite its almost daily performances, it is a popular attraction and you will be lucky to get a ticket!
My personal tip for any tourist who appreciates Ukranian culture is to not miss the chance of enjoying one of the outstanding performances at the National Ukrainian Opera in Kiev. Our ensemble is among the best in the world with their breathtaking opera and ballet performances.
You might also entertain yourself by watching a play in Kiev. It is a good way to have a view into the art culture of Ukraine. If you cannot find an English performance, contact me to arrange a cultural tour that includes one.
Music concerts are also a common winter theme. Well-known singers visit, and local bands have life music performances throughout the week.
Many nightclubs host their own concerts during this season, so try to find one with an interesting program, or send a tour request and I will arrange it for you.
Spend a day at the water park
It might be cold outside, but you can still enjoy small piece of summer in Kiev's favorite indoor water amusement park. Dream Island is probably the best waterpark in Kiev, with variety of slides and its own spa zone that comes with several hot jacuzzis.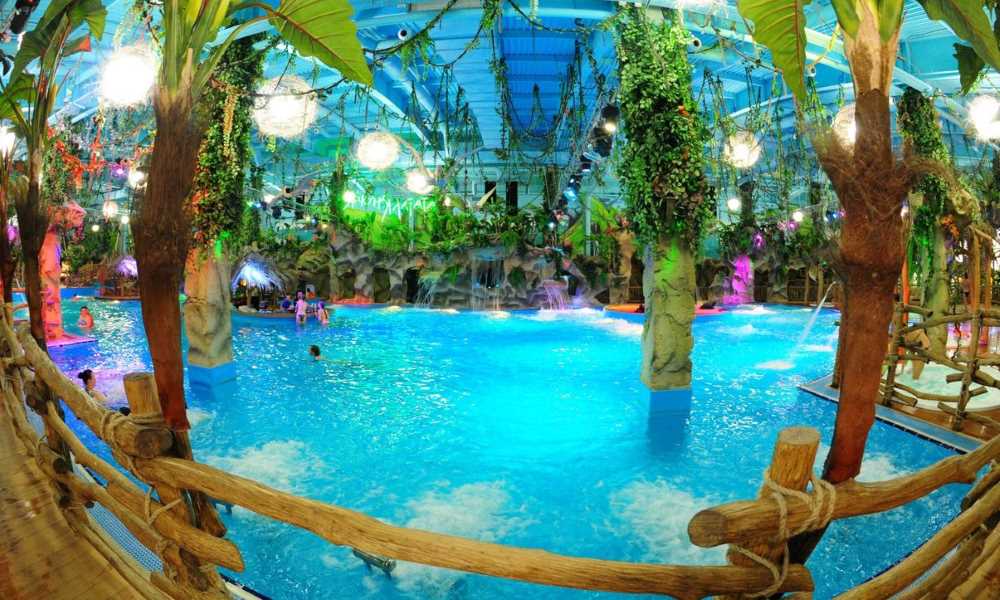 The water park is a great way to rid your body from the cold of the day!
The waterpark is family friendly, located in a separate wing of Dream Town shopping and entertainment complex, covering 24,000 square meters (~6 acres). In that complex are also three restaurants, a sushi bar, and another bar that you will need to swim to in the middle one of the park's pools. The price for a full day access is around $10.
Party at a nightclub
Winter is a good time to hit the clubs in Kiev, so why not join the party in one of Kiev best nightclubs?
I am sure that you will find it to be an amazing experience.
Our city is known as one of the best party capitals of Europe and its reputation as one continues to grow, leading to trends such as tourists who travel to Kiev for the weekend to experience the parties of its legendary nights.
I recommend going to Caribbean Club; it is an established nightlife destination and one of the best nightclubs in Kiev. Caribbean Club is very tourist friendly, as well as affordable.
The entrance fee is between $9 and $14.50 on average, depending on the type of event and day of the week. There are free days as well, but not according to the regular schedule (that I am aware of); you will need to confirm in advance.
Drink prices at the bar are similar to any midrange bar in Kiev. Also, you will not have a hard time entering because of their relaxed dress code.
If you prefer high-end clubs, then aim for the top of the mountain, and head straight to CHI, the flagman of Kiev nightclubs. It is pricier than Caribbean Club, has a strict dress code, and a "face control" policy.
You need to dress up, otherwise you will probably be disappointed at the entrance. I have more detailed information about Kiev nightlife, its best clubs, and bars in another post. Check out Kiev nightlife guide to find out how to navigate the nightlife scene in Kiev and make the most out of it.
Go ice-skating
There are number of ice skating rinks in Kiev. The best, in my opinion, is Dream Town ice skating skirt on the third floor of the complex. It is large enough that over 100 skaters can be on the ice and skate comfortably without feeling that it is too packed.
One hour of skating there will cost you between $2.50 and $5. That includes ice skates and protective gear. The interiors of the skating area are cool, so long as you ignore the weird artificial trees!
I think the interior designer went for a pool in a forest concept, although it seems to be missing something. But, New Year decorations are always magical!
If you prefer an open-air ice skating rink, you will like the Expo Center of Ukraine rink. Full day access will cost you around $3.50. It is usually active for one month, between mid-December and mid-January, as part of Kiev's New Year festivities.
The place is well organized and the Christmas and New Year spirit makes it a favorite destination for families and young people. The positive energy and smiles there are infectious!
You should give it a try when you visit Kiev 🙂
Take a stroll in the snow
Walking the streets of Kiev after a snowfall is an enchanting experience. The weather feels warmer than what you would expect, giving you a cozy feeling as you stroll around the city. Do not be surprised to see some adults having a snow ball fight on the streets!
There are many spectacular places to go to in Kiev after a snowfall, like the monastery of caves, botanical garden, Andrew's Descent, and Mariinski Park to name a few. A stroll along Khreschatyk Street after or during a soft snowfall will fill you with that New Year/Christmas vibe. Do not forget to capture the moment with pictures for an unforgettable reminder of your pleasant time in Kiev.
Enjoy a game of bowling
If you come to Kiev with some friends, and would like some indoor entertainment, going bowling will be a great idea. Go to Gulliver shopping center, it has a nice trendy bowling alley on the 5th floor.
There are other places like Dream Town and Jumbo Bowling Club that you can also try, but my recommendation is Gulliver as it is enjoying higher popularity mainly due to its location in the center of Kiev.
The cost is between $6 and $13 per hour, depending on the alley and time of the day. If you are a beginner, do not overthink it and just go, you will have even more fun!
Watch a movie
Why not?
It is not a bad idea to watch a movie if you have a unplanned time in your trip program.
Movies in all Ukrainian major movie theaters are played with Ukrainian voice over, so unless you know the language, you probably won't understand anything.
Your options will be limited to movie theaters that have English movie nights. One that I can recommend is Zhovten Сinema. The English session is referred to with the shortcut ENG on the website.
Drink something hot
Kiev has incredible cafés where you can enjoy warm drinks in winter. You can read my short post about Warm Cafes to Stop by in Kiev's Cold Weather for my top suggestions of places where you can enjoy a warm drink.
We also have a tradition of drinking mulled wine in winter, so join us for a cup during your winter trip!
If you do not drink alcohol, do not worry, barmen are creative and will show off a large collection of warm drinks unique to every café or bar you choose as your warming place.
You should also try a cup of warm hot chocolate at any of Lviv Chocolate Factory's locations in Kiev. Personally, I prefer the one on Andrew's Descent. The hot chocolate is too thick to drink; instead, you eat it with a spoon!
Lviv Chocolate Factory is a household name in Ukraine; all the chocolate they use is an in-house crafted chocolate. They also sell marvelous chocolate souvenirs, so do not forget to buy one before you leave.
Kiev winter is another dimension of entertainment and excitement that you should try if you have the opportunity. Learn how to stay warm in Kiev winter and you will be ready to enjoy your visit to our city.