In this busy world of travel, many come to me with questions about who can travel to Ukraine, and what those requirements may be.
I have had many ask if visitors from the USA will need a visa to travel, or if others are able to visit as a green card holder.
I have seen some myths out there, and would love to help clear up the confusion.
So, here are my top tips and advice for those wishing to travel to Ukraine from the USA.
Can US citizens go to Ukraine?
Yes!
US citizens are welcome to visit Ukraine, and explore everything our country has to offer.
These visits have some stipulations, however, similar to any other country.
If you wish to travel to Ukraine from the USA, you can travel both to and through out country with no visa, provided you are here for business, leisure, or for holiday purposes.
This visit has a limit of 90 days, which is a general standard worldwide.
When do US citizens need a visa to travel to Ukraine?
US citizens enjoy a visa-free access to Ukraine, and only require a visa to come to Ukraine for a few reasons, including when one will be working, studying, or if you are planning to visit us for more than 90 days.
Citizens of some nations will need an E-Visa to visit Ukraine, while the rest will need to apply to the consulates of Ukraine in their respective countries.
For the last option, it would be wise to apply at least a month in advance, in order to ensure there is time to process your application.
Checkout Ukraine Ultimate Visa Guide: Do You Need a Visa and How to Get One for more details.
Are green card holders eligible to travel to Ukraine? Do they need a visa?
Your travel to Ukraine from the United States on a US Green Card is only a bit more complicated than traveling as a US citizen.
Most nations and entry points welcome visitors based on their current passport, so if one is not a citizen of the USA, your current passport will be accepted as your form of identification.
It is possible that you will need a visa. Therefore, depending on your passport, you can check Ukraine Ultimate Visa Guide to find out if you need visa or not, and if yes, then I it will guide you about how to apply and get one.
However, US Citizens and US Resident Permit Holders (green cards) do not have to be interviewed for their visa process, so one's green card can absolutely make travel easy to and from Ukraine, even without US citizenship.
I can summarize it by saying that US Citizens do not need to apply for a Short Term visa, while green card holders US Residents do, however their visa paperwork is slightly less complicated.
So, if you're a resident or citizen of the United States, you have no excuse not to travel to Ukraine from the USA!
Is it safe to travel to Ukraine?
Yes!
The US State Department has listed Ukraine as a safe place to visit, while recommending travelers "Exercise Increased Caution" while visiting.
There are some areas of Ukraine which are not especially safe for visitors, but cities like Kiev welcome travelers from all over the globe!
It is worth adding that a number of nations are listed with an, "Exercise Increased Caution" listing, including Italy, Brazil. France, Mexico, Spain, Germany, Denmark, and the Netherlands.
These are all popular destinations for travelers, and Ukraine is listed among them in terms of safety.
As with any visit to another nation, keep your wits about you, and make smart decisions when traveling, just like you might when visiting a new city, even in your own country.
IF you are big on safety, you can also checkout my Ukraine Travel Safety Guide and browse through Ukraine Safety Tips, for useful information on this matter for your next visit to Kiev.
Tours and tour guides are excellent ways to see the best parts of what a city has to offer, while staying away from areas you should avoid.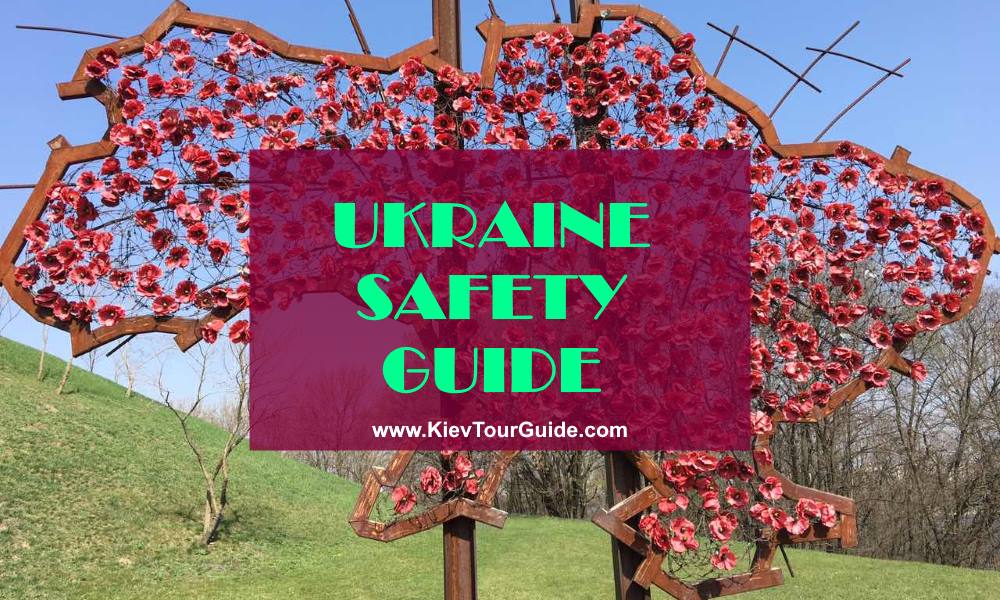 Tips for US travelers to Ukraine
Finding cheap flights
Many might book a trip to Ukraine during the summer holiday months, but your best bet for finding good deals will be just on the other side of these seasons!
Traveling to the capital Kiev in cooler season is a good idea, especially if you are there to enjoy the party and explore the nightlife, which boom during winter. Not only flight cost will be cheaper, but also hotel and accommodation.
For best price, consider looking for flights from November to early May.
Try using Momondo or Kiwi for the cheapest deals on flights to Kiev. Also, make sure to also check Ukraine's main carrier Ukraine International Airlines, they occasionally offer great deals on their tickets.
Many booking companies offer a calendar of dates which include estimated flight costs, here your travel agent will come in handy!
Stay local, shop local
There are countless local businesses and shops which can help you experience an authentic visit, while supporting local artists and business owners.
With our long history, and depth of culture, shopping and staying in the heart of the city or town you are visiting can open your eyes to what makes our city, culture, and country so vibrant and colorful.
Book a tour!
Tour guides have incredible knowledge of the area, and love showing travelers the best, most wonderful parts of their cities.
Booking a tour means that you'll hear about local customs, history, and see what makes our cities shine.
Tours are fun and interesting ways to make the most of your time, and in a new place.
At KievTourGuide.com, my team and I are happy to help you arrange a private tour of Kiev, filled with fascinating knowledge and an engaging, customized visit to the best our city has to offer.
You can find more tips about traveling to Kiev and Ukraine here, so feel free to check them out.
So just contact me now and let's start planning your trip to Kiev together!
See you in Kiev 🙂