If you are planning to travel to Kiev during the winter, it is important to learn about how to dress for the season, and thereby stay warm to make the most out of your trip. I think you would agree that running from a building entrance to your Uber and vice versa is not the best way to overcome the cold!
Now, if you have been living in a warm country all your life where winter is nothing but a cool refreshing breeze that might only require you sometimes to wear light spring jacket, then we really need to talk before booking your ticket to Kiev my friend!
The first thing you need to do to stay warm in Kiev in winter is dressing up for it. Take into consideration your travel plans and what outdoor activities (like skiing and ice skating) you would like to experience.
The essential winter gear for every traveler to Kiev must include:
Thermal underwear
Warm socks
Coat
Winter boots
Hat
Gloves
Scarf
Also, making some adjustments to your diet and skin care routine will help keeping you warm while walking the streets of Kiev and enjoying different outdoor experiences.
Now, let me share with you how to do that, starting with your wardrobe:
What to wear in Kiev during the winter
If you lived all your life in a warm environment where the coldest of days needs only a light spring jacket, you will need to make couple of new purchases before traveling to Kiev. Your checklist of winter wear for Kiev should look like this:
Thermal underwear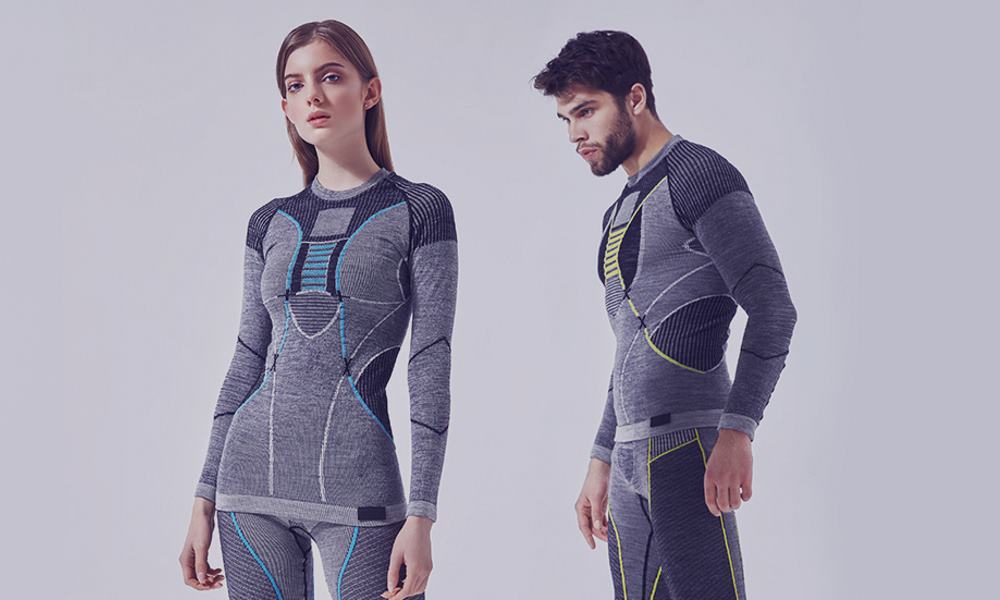 This is available for both men and women, yet for many women a pair of thick stockings is enough. While some winter thermal underwear comes in one piece, a traditional full thermal underwear includes a pair of pants and separate long sleeve top. The pants are essential, but the top is a matter of preference so at least get one pair of pants.
Warm pair of socks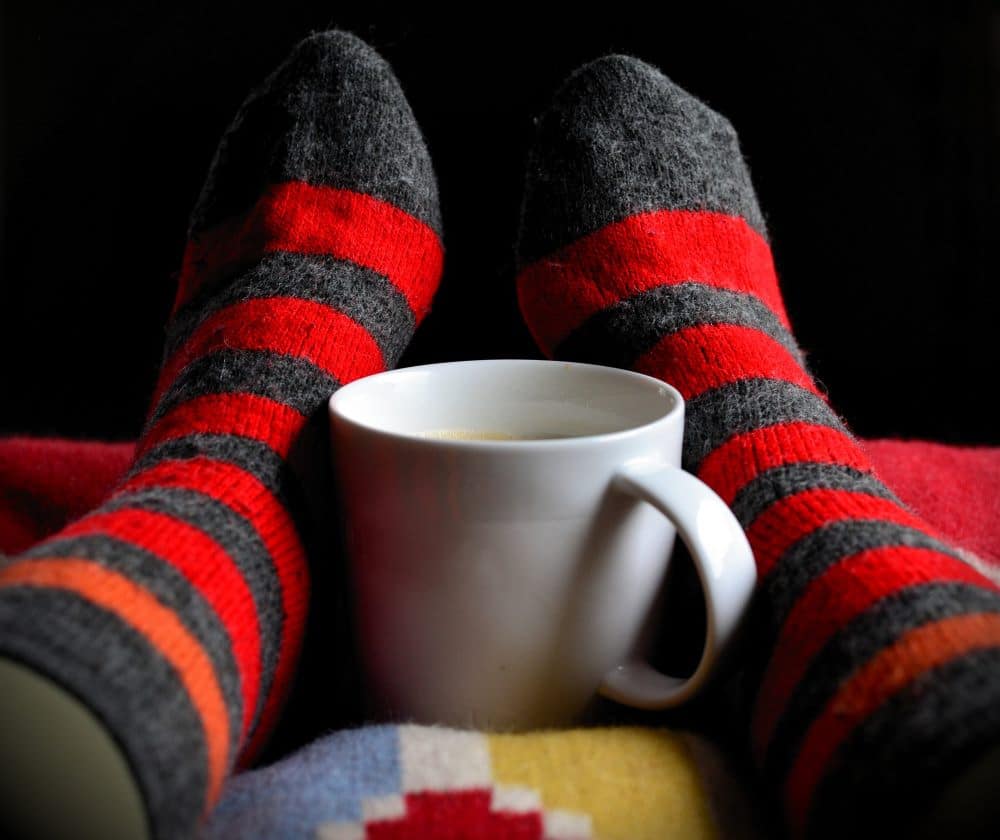 You will need to keep your feet warm, find two pairs of good, thick wool socks. This is better than experimenting with layering and wearing several pairs of socks together at the same time. While that might work, it can also put pressure on your feet, and reduce blood flow to them, causing you start feeling colder instead.
Coat
You will need a heavy waterproof winter coat. Ideally, it should cover at least one-third the length of your thighs, never too big or too tight. Get one that fits enough for you to feel comfortable in it. Winter coats that come with a hood are more practical, especially when it starts snowing while you are outside. Search for something like Columbia or Parka's winter coats within your price range.
If you are planning to use this coat only during your visit, consider buying a good secondhand coat in Kiev for around $18-$25, or a new cheap one on discount for around $35-$50.
Winter boots
Winter boots are the best footwear for the snowy or dry winter days of Kiev. Remember to look for three things in your pair of winter boots:
Thick sole
Waterproof surface
Good warm winter lining (usually fur or faux fur)
UGG and Columbia boots are among the best winter boots I have used, so if you have a pair bring it with you, or you can look for something similar to them within your budget. Another practical and cheap option is to purchase a good pair of boots from one of Kiev's secondhand markets.
Warm winter hat
You need to protect your head and cover your ears from the cold when you go outside, this is why wearing a winter hat will be essential for you, unless you want to spend the days following your vacation sick in bed!
I hope you are not thinking about wearing something like this:
It is so retro (very warm though!), and you do not need it. Any decent winter hat will be fine. Just make sure it stretches down to fully cover your ears. Trust me, you do not want them out in the cold!
Gloves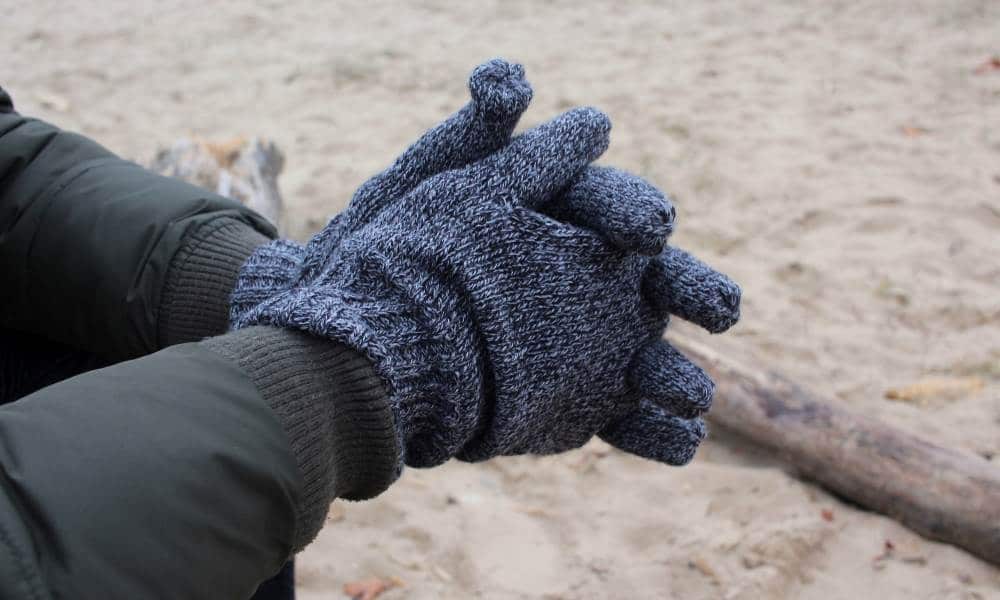 This one is totally up to you, but I will recommend getting a simple pair of wool knit gloves. You can buy a pair here from any small shop near the metro underground stations in Kiev starting from $2 -$5.
Scarf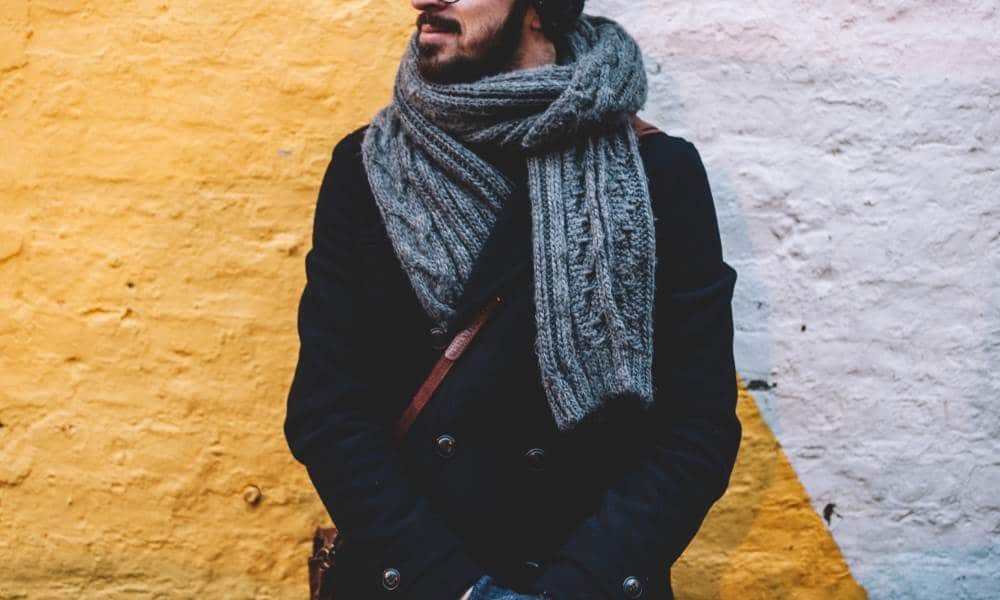 While gloves can be optional, dismissing wearing a scarf during winter might cause great deal of discomfort to you every time you go outside. You will need a knitted or soft wool scarf and wear it any style you like as long as it fully covers your neck. The simplest and most practical is the Parisian knot. It works for men and women, will properly cover your neck, and give you stylish look. Play the video below to learn how to do it.
How to stay warm in Kiev in winter
In addition to the right clothes, there are couple of things you can do to stay warm in Kiev during the winter. These are my essential tips for travelers to stay warm in Kiev during the winter:
Drink water
You need to hydrate and drink fluids throughout the day, regardless if you feel thirsty or not. Failing to do so will cause your body's core temperature to fall and you will start feeling cold despite being properly dressed.
Water is the best drink for all seasons, especially in winter. My doctors jokingly prescribe it as medicine, but there are no jokes about its value. It is better to avoid drinking it cold; have it at room temperature instead.
When outside, buy a warm drink on the go from any booth along the main streets like Khreshchatyk, at the entrance of entertainment and shopping centers, or any mobile coffee cart in Kiev. Try ginger tea with lemon and mint; the ginger in it will help boost your metabolism and immune system, as well as keep you warm.
Minimizing your consumption of alcohol and coffee based drinks will help keep you hydrated, but do not let this stop you from enjoying a warm cup of mulled wine in one of my personal favorite Warm Cafes to Stop By in Kiev Cold Weather.
Moisturize
Dry skin and winter are not a good combination!
Avoid this by always moisturizing your body to help retain its heat. Any good lotion will be fine, however, natural oils are better. You might also want to keep a moisturizing lipstick in your pocket. In Kiev, you will find variety of them by the checkout counter of any big supermarket. My personal pick is the standard non-flavored Nivea moisturizing lipstick.
Eat your breakfast
Do not skip breakfast and remember to snack throughout the day.
As you know, your body focuses on self-preservation and it needs fuel to run on and will prioritize energy flow according to how much it has left. If you skip your meals, or do not eat enough while in cold environments, your metabolism will slow down to save energy and keep you warm, giving you that sleepy feeling throughout the day.
To avoid that, make sure to start your day with a good breakfast. Consider adding eggs and honey to this meal. Eggs are great source of energy, and honey will help boost your immune system.
As for snacks, you will need some dry fruits, cashews, and almonds; they will fuel your body and keep you warm.
Why less travelers visit Kiev during the winter?
People are hesitant about traveling to Kiev during the winter. After all, many have never experienced snow where they live, and the idea of doing so in what they believe is one of the coldest places on earth can be terrifying!
Moreover, it is easy to be afraid of traveling to Kiev in winter after all the history lessons and documentaries about how the brutal Russian/Ukrainian winter singlehandedly defeated two empires (France and later Germany).
Kiev winter should not terrify you
Well, beside this historic inaccuracy (that we are not going into!), and that Kiev is not the capital of Antarctica, winter in Kiev is not as brutal as you might think, and even the lowest of temperatures are manageable. For a start, we have central heating systems now and we have had them since the mid-20th century, so unless you plan to go camping during your visit to Kiev, you will be fine anywhere you go!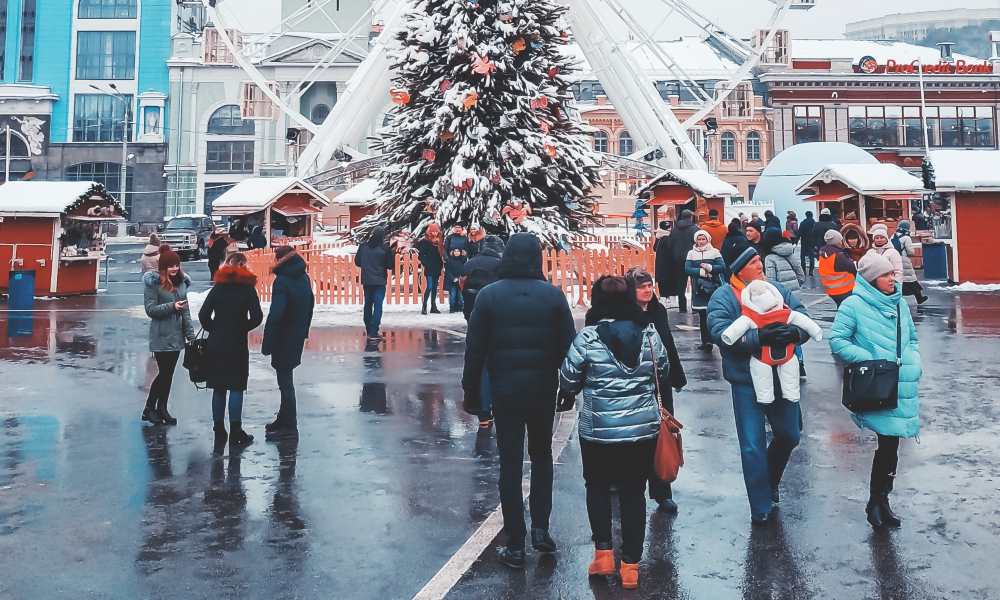 And although there are practically four months of cold weather, the coldest period of winter is usually between mid-January to mid-February, during which temperature in Kiev falls considerably to reach -15°C (5°F) with occasional rare anomalies of -20°C (-4°F).
Nevertheless, this brutal time of the year is manageable. Having a decent winter coat, hat, pair of good boots and gloves will get you through without any worries.
Why is it better to stay in a hotel during winter
Staying in apartments in Kiev is always a good option. There is great variety of them all around the city. But one thing you must understand is that most of these buildings are historic and the infrastructure is not aging well.
Because of this, central heating is not as efficient as in newer buildings, so that can make for an unpleasant stay sometimes. If that happened, the apartment will not be as cold as ice, but its temperature might not be comfortable. If you find yourself in such situation, contact the apartment owner and ask for additional electrical heaters.
On the other hand, all decent hotels make sure their rooms are warm and cozy. Many handle the renovation of their internal heating network themselves or have their own heating system.
Staying warm on the streets of Kiev is not complicated. Our winter, like any other time of the year, requires adjustment, many of which I covered here.
No need to worry about the snowy winter in Kiev, it is easy to adjust and you will be fine!
If three million residents can do it, so can you.
Contact me and we will plan your perfect winter trip to Kiev together!