Traveling to a new country is an exciting experience with many promising adventures. Visiting Kiev is a life-enriching experience that deserves the journey.
Where you stay at in Kiev can be a deal maker or breaker. So, it is natural that you give your accommodation more thought.
Being a traveler myself, I understand the concerns associated with accommodation in Kiev for tourists, and I try to address it the best I can when discussing private tours request with tourists.
Some questions are very common, so I decided to share them and my answers to them here. I hope you find them useful. So, here we go!
What are the best neighborhoods to stay at in Kiev?
Choosing the best neighborhood to stay at during your visit to Kiev depends on both the purpose and length of your stay.
For short visits such as for tourism, it is always a good idea to stick to Kiev city center, that is the area around the famous Arena City in Kiev, Khreschatyk Street, and around Independence Square (Maidan).
By staying there, you will be within walking distance from many supermarkets, shops, restaurants, cafés, nightclubs, banks, and currency exchange places. Among all hotels in this area, I highly recommend staying at Aloft Hotel.
Sophia Square
If you prefer a more historic atmosphere, the area of Sophia Square is great for you. It takes its name from the historic Saint Sophia's Cathedral, a UNESCO world heritage site, and a must go on your Kiev sight-seeing list.
Located right by the square are many architectural monuments and beautiful historic buildings making for a spectacular daily view. Hyatt Regency Hotel is right by the square.
Shevchenko Avenue
Another good neighborhood is along Shevchenko Avenue. Not much is going on there,  better to stay there during summer or spring.
If you prefer staying in chain or brand hotels, try the massive Hilton Hotel on Shevchenko Avenue or go for an exclusive premium stay experience by booking a room at Premier Palace Hotel.
Not far from it is Shevchenko Park which is a good place to relax, socialize and meet people.
Podil Historic District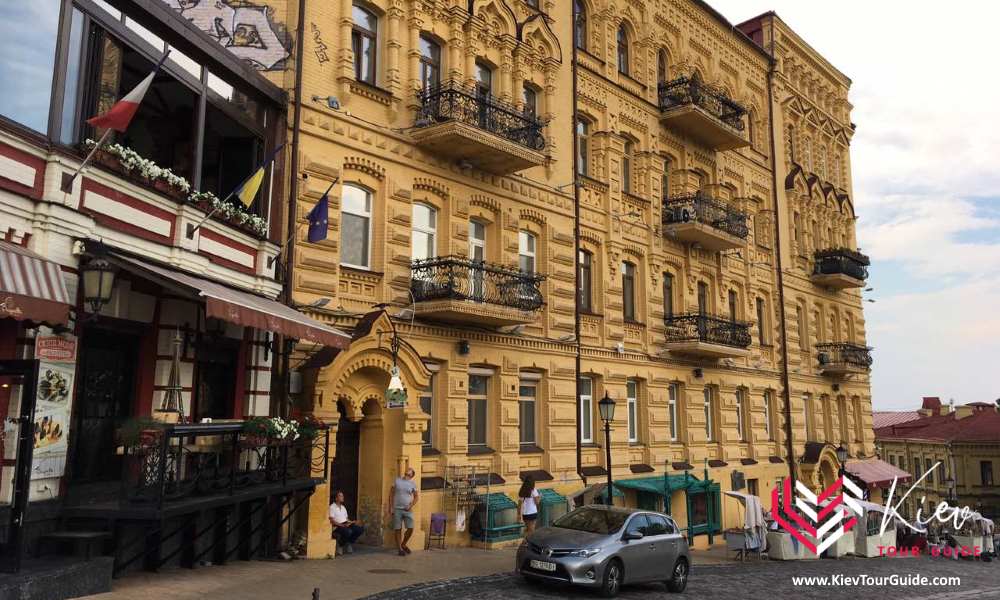 If you prefer a river view, consider getting a place in Podil historic district, not far from the banks of Dnieper River.
Thanks to funny habit of misleading advertising, getting a river view apartment there might be little bit tricky. Best to consult with me about this one or go for Fairmont Grand Hotel.
There are other neighborhoods that offer a more family-oriented environment as well as at considerably cheaper price. Some of these include the Pozniaky and parts of Obolon districts.
The downside to these however is that it takes 20-40 minutes (even more during rush hours) to get there from city center by metro, bus or taxi.
What are the bad neighborhoods of Kiev?
I wrote about the best neighborhoods in Kiev for tourists, and now it is only fair to let you know about the ones foreigners should avoid.
Like any other megapolis, Kiev has less comfortable neighborhoods that are not ideal for you stay in.
I would like to make it clear, I am not saying there are dangerous or bad for living, but they are simply not comfortable for someone who is foreign to Ukraine and does not speak the language.
If you are not Ukrainian yourself, do not know the language, do not understand the local culture, or even look different (just to state the obvious), I advise you stay away from Sviatoshynskyi, Holosiivskyi, Borshchahivka, Troieshchyna and Lisovyi Masyv.
I am taking into consideration several factors: distance, transportation, street lighting, cleanliness, level of basic infrastructure, regular police presence, crime rates, safety, and my overall feeling I get when I am there.
Where to stay for nightlife in Kiev?
In my opinion, the best place to stay for partygoers in Kiev is Arena City area around Khreschatyk Street and Independence Square (Maidan).
These are great areas to stay if you plan to explore Kiev's nightlife.
Even if partying in Kiev was the main reason for your visit, it does not mean that you must book a hotel or an apartment right opposite the nightclubs!
It is true that Arena City has it all when it comes to entertainment, but keep in mind, there are other high-end nightclubs and unique themed bars all around Kiev. So do not exclude the areas of Sophia Square, Shevchenko Avenue and elite parts of Podil from potential areas to stay in Kiev.
Should I stay at a hotel or apartment in Kiev?
Depending on your preference and budget, you can choose between staying in a hotel or apartment in Kiev. Both options are fine, each having its pros and cons.
Let me tell you about the advantages of each options so you can make a well-informed decision before you travel to Kiev.
Why stay in a hotel in Kiev?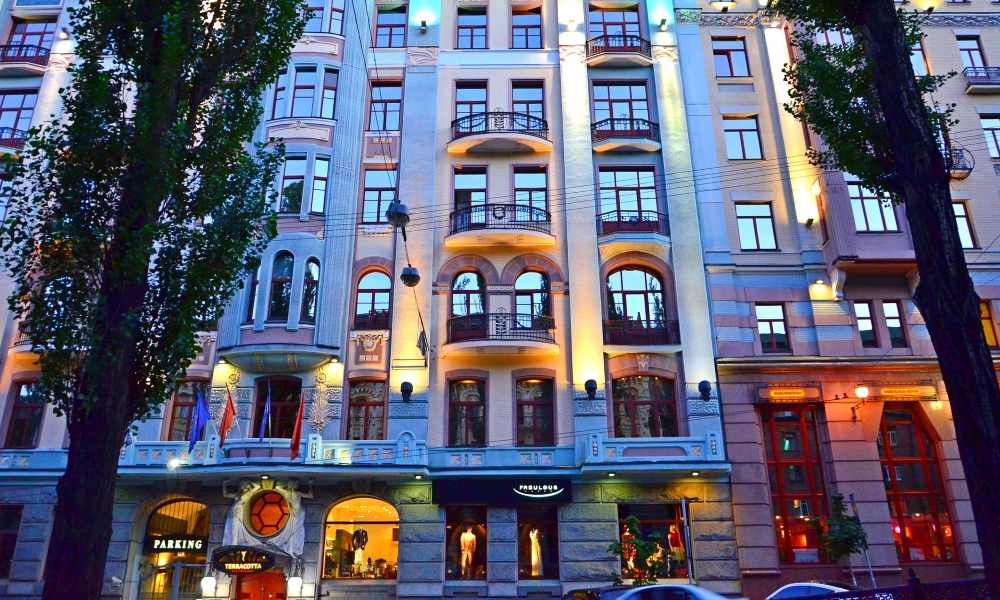 Kiev hotels are not different from hotels in main European destinations. Competition is high between hotels in the city, which is good for travelers. Rest assured, commitments to quality and excellence is a common theme in Kiev hotels.
Safety and security are the main advantages of staying in hotels. But, the same system keeping you safe, is the one invading your privacy, and the choice is yours.
Nevertheless, nothing beats hotels (especially 4-5 stars hotels) when it comes to:
• Room service, as you have access to 24 hours hotel service. You are always one call away from any snack, drink or even new sheets.
• Most premium hotels have a gym, so you won't miss your daily workout routine.
• Laundry is taken care of. You did not come to Ukraine to spend your time doing laundry, ruin clothes accidently, or looking for laundries in Kiev, right?
• Hotel lobby is a great place to socialize and meet other travelers, especially if you are travelling solo.
There are many international and local chain/brand hotels in Kiev, as well as boutique hotels, budget hotels, and bed and breakfast hotels. If you are interested in the best hotels in Kiev, click here skip to my list of the best hotels in Kiev for tourists.
Why stay in an apartment in Kiev?
Apartments come with more privacy, but you have to make your own bed!
Well, not necessarily; many premium hotel-like apartments offer great room service, including making your bed and changing your sheets daily.
In addition to privacy, there are three good reasons to choose to stay in an apartment in Kiev over hotel:
• Apartments are cheaper, and you get better value for your money by staying in them, especially for premium apartments.
• All apartments I get for my tourists come with fully equipped kitchens. That comes in handy for those who prefer to cook their own meals.
• Locations are more flexible. There is a wide range of apartments all over Kiev. It is possible to get a place in almost any residential building in Kiev city center.
At the end of the day, it is a matter of preference. Personally, when I travel, I stay sometimes in hotel, and sometimes I choose to rent an apartment depending on where I am, and what fits my needs best at the time.
You can find many listings of apartments and holiday rentals in Kiev on Airbnb and Booking. Yes, false advertising can be an issue here, so carefully read the feedback, and only book the ones with positive high ratings.
If you prefer me to take care of it for you, feel free contact me.
What are the best hotels in Kiev City Center?
In my opinion, you get the best value for your money when you stay in Aloft Hotel, 11 Mirrors, Premier Palace or Hyatt Regency.
The previous is my short answer to the question. But, I do have a much longer one if you are interested in more details. Here it is:
What makes a hotel the best for one tourist, does not necessarily make it so for you, too. I have even had tourists who are friends, but decided to book different hotels, or apartments, despite the fact they arrived together and were touring Kiev all the time in each others' company.
It all depends on what are you looking for when picking a hotel in Kiev for yourself.
Am I reading your mind when I say that you are concerned about: Hotel location, price and category?
Looking at hotels in Kiev, with these three things in mind, we can pick two categories to look at:
Best Luxury Hotels in Kiev City Center
There is no shortage of 5 stars hotels in Kiev. But I'm listing only the best three luxury hotels in Kiev, located in the city center area, based on my personal knowledge and experience.
• Rooms rates for Kiev luxury hotels start from $230 on average.
Arguably the best hotel in Kiev. Premier Palace is a reflection of royal elegance and classic elegance. The original building is a historic and architectural monument at the very heart of the Kiev city.
By staying at this hotel, you are only a 1-minute walk from Arena City and Khreshchatyk Street. Premier Palace has its own spa, restaurant, luxury boutiques and its own cabaret, with amazing artistic shows, that also include artistic striptease and pole dancing shows.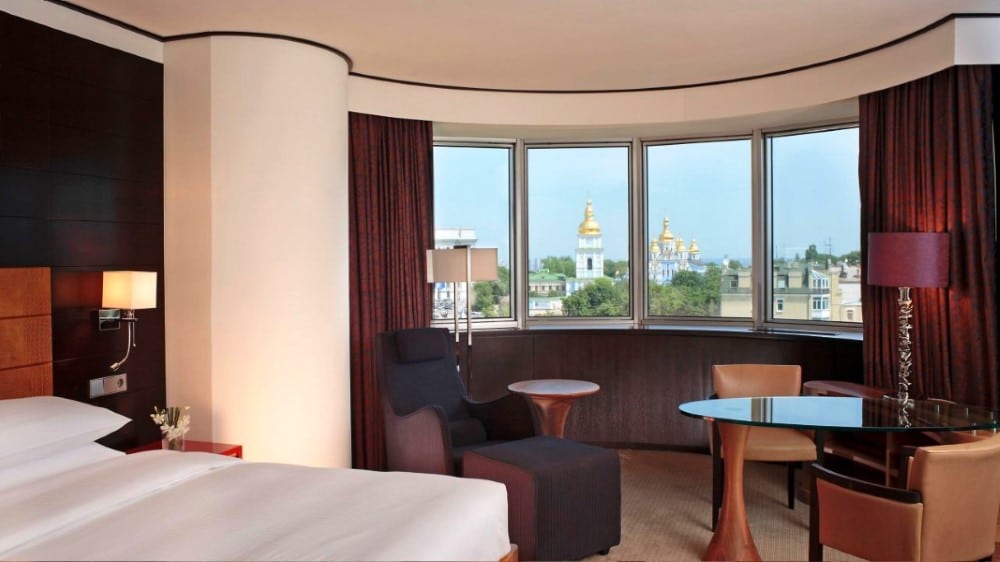 Another masterpiece from the world famous Hyatt hotel group. Hyatt Regency Kiev is located in the historic elite district of Kiev, right by Sophia Square.
Unlike Premier Palace, Hyatt has a modern design and look. And the services are nothing short of a perfect 5 star, fitting its category and reputation.
If you decide to stay there, treat yourself at the spa, it is amazing!
It goes in my book as the best boutique hotel in Kiev. 11 Mirrors Hotel is 5 stars compact and exclusive private hotel with modern touch. And although some rooms are not that big, they are among the best designed. By the way, the bar on the 11th floor is really cool, you should give it a try.
Best Budget Hotels in Kiev City Center
This will not be a list of the cheapest hotels in Kiev!
I know many of them and have had tourists who booked rooms in some of the cheap hotels of Kiev, and the feedbacks were not pleasant.
This is why, I'm only listing my favorite three affordable hotels in Kiev. Emphasis on affordable, not cheap!
• Rooms rates for Kiev Budget hotels start from $45 on average.
Big budget hotel in Kiev city center is 5-8 minutes walking distance from Gulliver shopping and entertainment complex and about 15 minutes from Arena City.
Premier Hotel Rus has a great money value. Such location for its price and quality of service are rarely matched anywhere else in Kiev. And despite its central location, the hotel is quiet and calm thanks to being within a good distance from the noisy streets around the hotel area.
The iconic Ukraine Hotel probably has the best location in Kiev. It is towering over Independence Square (Maidan), making for beautiful panoramic view, observed from the most of its rooms on higher levels.
Ukraine Hotel is 4 stars budget hotel, if such a category exists!
The well-hidden hotel in Kiev city center!
Dnipro Hotel is located on the European Square by the far edge of Khreshchatyk Street, right opposite Ukrainian House exhibition center. It would be great place to stay if you are taking part in an exhibition there.
The hotel is not far from Dnieper River and 2-3 minutes of walking is enough for you to reach Independence Square (Maidan).
Dnipro is not an elite hotel and does not claim to be. Nevertheless, it's a very decent hotel to stay in it. The hotel also organizes its own striptease shows and events.
Another great bonus is Marinsky Park, just across the street from the Dnipro Hotel. It is good place to wonder, relax or enjoy a night walk.
What about staying in a hostel in Kiev?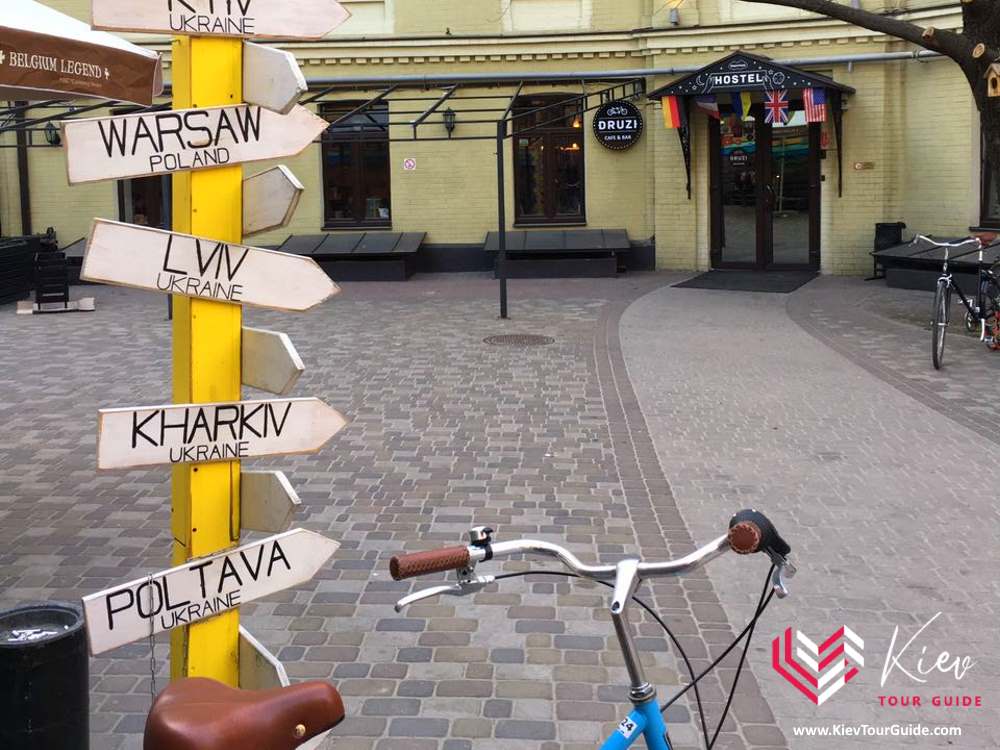 It is a matter of budget. If you are on a really tight budget, and don't want to spend more than $20 per day on accommodation, then staying in a hostel in Kiev will be a good option.
Sometimes I feel like a new hostel is opening every day in Kiev!
The best in my opinion is Dream House Hostel. All my tourists who stayed there are mainly solo travelers who were interested in a place where they can stay, socialize, and meet other travelers to Kiev.
Pricing is decent; it varies depending on the number of beds in a room for shared ones. Also, it is priced based on comfort level and if the bathroom is shared or not for private rooms.
The price range is:
• The price for one bed space in shared room, starts from around $8 per night.
• The price for one single room in the hostel starts from around $20 per night.
Hopefully, I made it easier to you to make your decision about where to stay during your visit to Kiev. If there are any questions you have, or want to request a private tour of Kiev with me, feel free to contact me.
Since you are here, you might also be interested in: